13 February 2019
Swiss promoters MDRNTY have finalised the line up for this year's edition of Caprices Festival. Arguably the festival which takes place in the world's most stunning location, Caprices will return to the Swiss alps this April. Housed on the slopes of Crans Montana, Caprices returns for it's 16th year.
From April 11th – April 14th dance music ascends to the top of the alps. I challenge you to describe a more idyllic location.Caprices Festival is a famous electronic music festival held in the Swiss Alpine resort of Crans-Montana. With the emergence of social media and live streams, the now iconic MDRNTY stage perched atop the mountain, with far-reaching views across the Alps, is sure to take centre stage once more.
The MDRNTY stage is the example of how underground house and techno can rise to prominence and bring a community together in the most unlikely of locations.
Across the weekend, the MDRNTY stage will bring the softer sounds of house and techno to the ravers. Across the weekend, the stage will house the likes of Audiofly, Bedouin, Behrouz and even Mathew Johnson returns to wow the crowds with his live show once more. Plus, Papa Sven and his Cocoon family will close out proceedings again this year. Following an emotional 2018, who knows what's in store this year? 🙂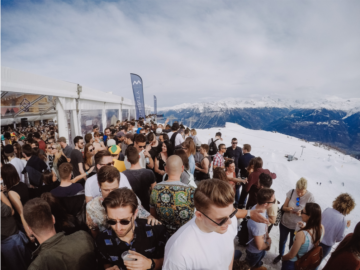 The night time brings the darker side of dance music to the foot of the alps. The Moon stage will play host to Jamie Jones, Peggy, Gou, Seth Troxler, Black Coffee on Friday 12th. If that wasn't enough, they will be followed up by the likes of DVS1, Marcel Dettmann & Len Faki. Excited? Yes.
What's more, this year the people behind the party have introduced a new stage to the mix. The 'Satellite' stage will open proceedings on the 11th. Acid Pauli will take to the stage on opening night and across the weekend we will see Mathew Jonson b2b Dandy Jack, Dana Ruh & Nico Stojan.
If the music is not enough, you have the chance to ski on some of the finest slopes the swiss alps has to offer before the last of the winter snow drifts away. The closest airport to the action is Geneva and from their you can take the train through the alps to Crans Montana. We're sick of viewing live streams, we'll see you on the slopes this April.
Get your tickets & Info here now before you're left disappointed.
Follow Caprices : Facebook // Twitter // Instagram