3 July 2019
This time we're turning to a joint venture in the music world, as our attention is focused on the Ukrainian act 8Kays who is taking control over 'Dance Alone' release recorded together with the American voice of Burning Man takeovers – Tone Of Arc. The release is coming out via the Ukrainian imprint Eleatics Records in July, so prior to this occasion we've decided to have a talk with her.
Iryna Shvydka, formerly known as 8Kays, has come a long way, forming and progressing her sound into distinctive fusion of heavy punctured bass leads, twisted together with melodic progressions and united with the powerful voices of the singers, whom she is fond of involving into the projects. Released with labels as Sincopat, Jee Productions and Eleatics Records, 8Kays has placed herself towards the thorny way of music experiments served to be played, so beware of 8Kays sound in future.
Meanwhile, at the opposite side of the bench we got a duo who need no introduction: the legendary German project Booka Shade, who have put a few questions to Ira regarding her upcoming music plans, thoughts and things in general.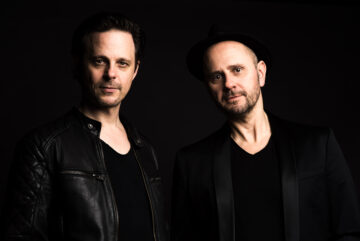 Enjoy this great read while listening to 8Kays' recent podcast.
Booka Shade: Firstly, thanks to When We Dip for this interview and to Ira for joining us for this short talk. Ira, let me know how you got involved in music?
8Kays : Thanks for the invitation 🙂 I came to the music world from jurisprudence, where I'd been working for 5 years. Was a bit of a hard thing, as my parents didn't really understand my choice: leaving a stable and well-paid job for the music and night clubs. I am happy that my persistence has overcome self-doubts thoughts, so now I can do what I love.
I'm very delighted when my father visits my studio rarely, one time I remember he told me: 'Oh, that sounds like Space actually!' As my father has always been interested in music, we were always playing the old records of Deep Purple and Pink Floyd off our old vinyl player. I also enjoy collecting the records, it would be stupid not to, as the next room from my studio is the vinyl shop 🙂
I like to listen Sade, London Grammar, Madonna, Diana Krall records at my home at my cosy atmosphere 🙂
Booka Shade: So when what was the year you started producing?
8Kays: My music background takes the countdown from trance world, it was 2012 when I had my first tracks done with my old friend Omnia, who is also Ukrainian, we are still friends since that time.
We made 'Fusion' together with Omnia then, which unexpectedly went to first ranks on Trance genre on Beatport. That was also the moment when Armin van Buuren did his edit for 'Fusion', so at that moment Omnia and I were very happy with what was going on 🙂
We had a big community of our friends and people, who were interested in Trance music, so we were doing a lot of events in Kyiv, and the atmosphere was really great. So this period of my life with Trance music shaped my love for melodies and music mind as one. But later I felt I needed a progression in my music, I needed to develop; as an artist, as a producer and I needed to leave the boundaries of the music where I couldn't experiment.
It was late 2013 when I decided to shut IRA's profile down and started to work under a new moniker 8Kays, where I could be free musically, without genres limits and across other styles. Back then it was a period of revolution in Ukraine: many things have changed, as well as the dance scene, so the quantity of parties has also reduced which led me to spend the most of time in the studio.
Booka Shade: Do you do some events in your city?
8Kays: I've pretty much played along the whole of Ukraine and I've been doing my monthly events with my close family, which is called APLAY. It's a unity of friends and we throw parties about once a month, booking our friends and similar-thinkers. This summer we expect WhoMadeWho to come in August to UBK by the way. I am always excited for these events: it's great to feel your friends' feedback and support, to test your new music (which I create 5 days a week or even more sometimes) and to spend a good time with people you love 🙂
Booka Shade: Tell us about your studio space, where we see you the most often. 
8Kays: My studio is my home. It's a place where I love to be. I've always been interested in new software and synthesizers. So to say, I've been always on the way to find my sound with it.
I own a few synths like Arturia Matrix Brute, Pioneer Toraiz AS-1, which I love to create bass on, Novation Peak and a bunch of different VST plug-ins 🙂
Booka Shade: What inspires you the most? How you get the inspiration to create music?
8Kays: I do love to travel, I've been visiting ADE many times, as, besides music things, I've got a lot of friends there. I really love Barcelona, where I want to come back again and again. But my soul belongs to Kyiv and I feel home here, you know what I mean 🙂 Kyiv is the city where I have everything I need: friends, people who think the same as I do, and my studio 🙂
Booka Shade: We can't help but asking you about your plans, as we are very happy to also say that you're having two releases with our label Blaufield Music. The first as part of a VA called 'Fourtunes' featuring your 'Rainbow' track and the second being a full EP of two tracks with Haptic on vocals. Please tell me the background for those tracks, how you created them?
8Kays: Yeah, I've got a very intense release schedule right now, as last year I'd really been hitting studio a lot 🙂
I have a single I did together with American singer Tone Of Arc, whose voice was so perfectly fitting into my track. It's going to be out on the 12th of July featuring remix by Alex Niggemann and another one by Olivier Giacomotto, which you can hear exclusively on When We Dip soundcloud link below, thanks for the pitch! 🙂
This one has already been supported by Solomun, Tale Of Us, Joris Voorn, Kollektiv Turmstrasse, Undercatt, Fideles and many more artists, so I can't wait for this one to be out. As for the Blaufield Music releases – all those tracks are very special for me, and I am excited to be appearing on the label 🙂
The vocal track 'Revelation' – the title says everything about the track as best as it can – 7 minutes of the musical revelation; full of secrets, hidden stories, and intimate feelings. The whole track's composition displays the life thread as it can be: sometimes sporadically coming to the intense moments and then suddenly slowing down to the opposite side of the moon. So when I had this idea done, I was definitely missing some vocals on it. Haptic was an artist I was wanting to work with for a long time, so I felt he can make this song fulfilled.
Firstly, when I got the peak part, and then after the spoken words appeared, I found the whole tune blessed to be complete. 🙂
For 'Circuit track – that was a very interesting approach, as I love to spend a lot of time searching for interesting sounds. So one session when I was commuting the cables, I heard the electric noise and later on started to build the whole track composition based on that. I think it worked pretty well.
'Rainbow' track was basically built after the main arpeggio and the only thing that was missing was the name. So it came when I went for the coffee outside – a rainbow was the first thing I saw, so the name came up.
Besides those releases, I am having a remix coming up on Anjunabeats very soon, and I can't wait to share more news with you 🙂
Booka Shade: We do thank you for this talk and wishing you luck with your music! Stay tuned with 8Kays releases on Blaufield, Eleatics and more 😉
Ira 8Kays: Thank you! Love from Ukraine 😉