22 April 2015
Oh boy, Dublin is in for a treat this weekend! Subject have announced a stacked line-up for Friday night. Not only will the Twisted Pepper play host to a fine ensemble of local talent including the likes of Mark Lynch, Rich Murphy and Glen Stefani but it will also act as the location for a ludicrously tasty B2B as Berghain regulars Prosumer and Head High (AKA Shed) will got head to head for a mighty four hours. What's more, the pair will be complimented by live visuals from Modeselektor's VJ team – Pfadfinderei.
Big shout out to Prosumer, who will be giving up his DJ fee on the night to support the #YesEquality campaign. Subject, Bodytonic Music and The Twisted pepper, are all also supporting the YesEquality campaign.
Wait! There's more good news, we have been kindly gifted a double pass to give away to this techno bonanza. Head over to our Facebook page to get involved!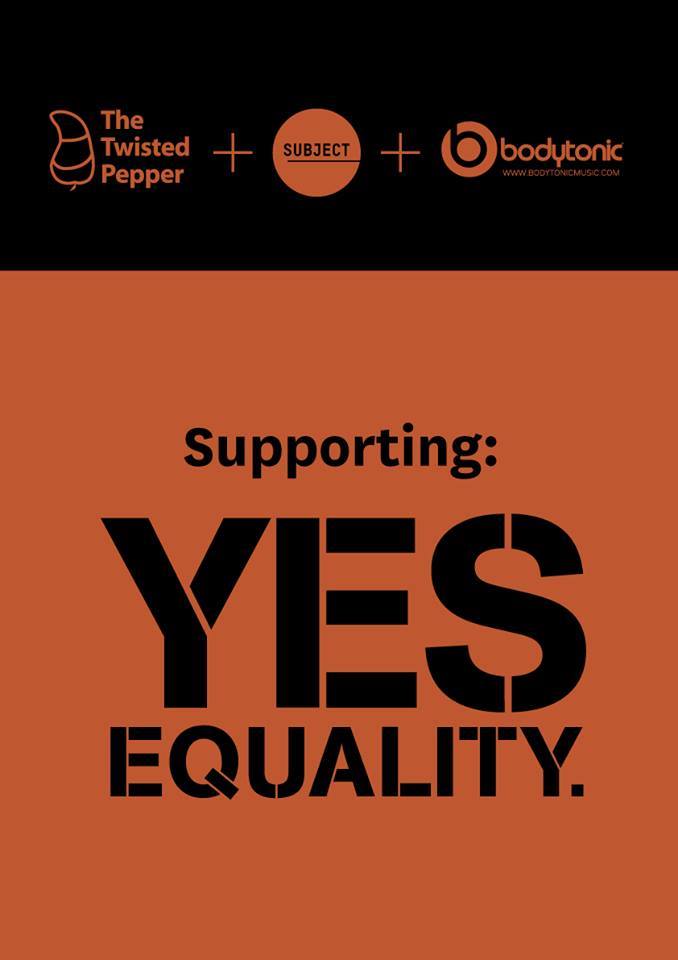 More info :
Room 1 – The Stage:
Subject x Power House
Head High [Shed] w/
& Prosumer – 4 Hour B2b Set
Pfadfinderei – VJ
Room 2 – The Basement:
Pick 'N Mix w/
Mark Lynch B2B Rich Murphy
Glen Stefani
Sean Whitty
Rory Turner
Room 3 – The Loft:
Betty w/
Daniel Cregan
www.subjectevents.com | www.thetwistedpepper.com