15 September 2015
WWD 040 welcomes Montréal's Esteban Lara AKA Van Did. The talented young producer first caught our eye with releases on Stephan Bodzin's Herzblut imprint before signing to Hernan Cattaneo's ever impressive Sudbeat label. 2015 has seen the Canada-based artist switch the focus to his own budding label Grrreat Recordings with new music from Lox D, FEM and Teho coming soon. In addition, he continues to drive forward the respected 8day Collective, a band of multi-skilled Montréalers excelling in the transmission of the audio visual arts.
This week, we stopped Van Did in his tracks to get the word on all the exciting project that he has on the go right now and he's provided a simply exqusite, exclusive-filled mixtape to accompany the chat. It's all below, enjoy!
WWD: Thanks for joining us Van Did. Your fresh from a Sunday performance at Piknic. How did that go?
Had a fantastic time! Piknic is becoming every year bigger and bigger, their idea is also reaching new cities like Melbourne, Barcelona, Cannes, Lisboa… So playing at Piknic is always a blast, I prefer the open air mood than playing on a club.
WWD: Can you give us one track that went down a storm?
Many tracks on our Live sets still unreleased yet, so it's always a great surprise to see people reactions. I play two of this tracks on the mix I recorded for you, unfortunately I can't give any IDs as some don't have a real name yet haha!
WWD: Things are moving fast with 8day. How has the collective developed since we last talked?
We launched recently a new concept called 'Émergence', the idea is to push forward and support new and talented music producers, Djs and Vjs. As we grow, we are also welcoming new resident artists into the collective such as young visual artist O\\\ (previously called Guilty Mesh).
WWD: The party at SAT Montréal was an incredible spectacle, audio and visual. Is that the kind of venue that allows 8day to showcase all aspects of the talent within?
Dômesicle party at SAT was completely sold out around midnight, this is the perfect kind of venue for 8day events, definitely a huge success! A friendly atmosphere, and fantastic sets by Chiino, Sinonim, Rafa and visuals by Azyl and Push1Stop!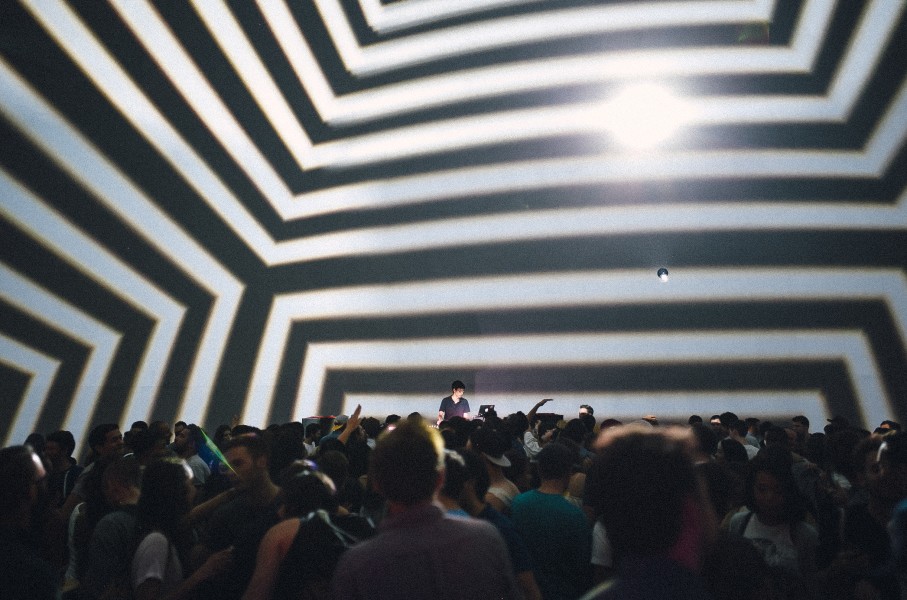 WWD: You're due to play Bacchanale Festival alongside the likes of Octave One, Phuture and Extrawelt in September. First off, can you tell those outside of Montréal a little be about the ethos behind La Bacchanale and how it relates to 8day?
La Bacchanale has been organizing a large number of shows working with some of the biggest names in techno and electronic music such as Ben Klock, Jeff Mills, Rødhad, Robert Hood, N'To or Worakls. 8day artists are invited to play in events organized by different collectives and organizations. We are very pleased to help to promote the local scene and the diversity of projects existing here.
WWD: In terms of your set at the festival, can you tell us a little bit about how you're going to approach it?
We're performing live using 2 laptops, Groj has some MIDI contrôlers and analog synthesizer, and I use drum machines inside Ableton Live controlling it with MIDI as well. We're playing some of the older released tracks, sometimes adding them some more energy to them. In the other hand, we're free to play and improvise a lot, creating new rhythms or melodies on the fly, we would like to create an unique Live every time.
WWD: Looking at the line­up, is there any sets you'd love to catch?
Definitely looking forward to see Extrawelt, there music inspired me since the beginning.
Lots of quality artists to discover among locals during this festival as well.
WWD: On the production front you've released with Teho on your own Grrreat Recordings recently. Is there any more new music on the horizon?
Sure, there's a new EP coming out this year with Lox D and remixes by FEM and Teho. It's been a long time I think about doing a compilation and release it as a mixed album on Grrreat Recordings.
WWD Aside from in the studio and behind the decks, where have you spent your time this Summer?
Spent some time in Mexico, taking a short vacations and visiting family!
WWD: Unfortunately the Summer is fast coming to a close, what will the Winter month hold for the collective?
Besides events like 'Émergence' and 'Grrreat Nights' at Salon Daomé, probably compilation will come out this winter, and we wish to organize a cool party to celebrate 4 years of Grrreat Recordings. Also, stay tuned for upcoming 8dayCasts! We have already 18 podcasts released and more yet to come! But to be honest I don't want to think about the winter yet ahahaha 🙂
WWD: You've very kindly put a mix together for us, what will one find in there?
I play some unreleased ones and music by Extrawelt, Omid 16B, Groj, Lox D, Sam Pauli, Toll3r, Eelke Kleijn , FEM, Minilogue and more..
WWD: Before we leave you, what are the big dates coming up in your calendar?
Of course, there's Ancient Future next friday, on september 23rd Grrreat Nights at Salon Daome with Tone Depth and Rafa Pineda and planning a trip to south america before the end of the year.
Follow: Van Did // Grrreat Recordings // 8day Collective