14 July 2017
When We Dip first spotted theatre group, In Bed With My Brother, at the Edinburgh Fringe Festival last summer. Their show, We are Ian, was passed around as one of the festival's must sees and so we took to The Pleasance Dome to catch some of the run. Winning both the Charlie Hartill award and the Brighton Fringe Award for Excellence, this young theatre company are on the up and up. We Are Ian is a fast paced, energetic tale of Ian, an acid house raver of 1989. Ian, represented on stage by a flashing light bulb, tells the story of one of the most influential music scenes in history, the political upheaval of the 80's and the essentials of "Brown Biscuit" culture. With the show reviving classics like Can you Feel it?- Mr Fingers and Hallelujah Club Mix- Happy Mondays, Paul Oakenfold it's only a matter of time before you join the rave. We caught up with Nora, Dora and Kat to see where the show has taken them.
Hi Guys. Thanks for chatting with us. How's your day going?
Hey! Thanks for having us to chat… yeah it's pretty good. We live in Devon, and it's really hot at the moment so it's all sunny and sandy everywhere. Which is nice.
For our readers who don't know much about In Bed With My Brother, why don't you tell us how it all started. Where did you guys meet?
We met whilst we were studying together at University. When we graduated, we wanted to start making Theatre. All three of us are really close, we live together, work together and are generally just in eachother's faces most of the time, so it was inevitable that if we wanted to make Theatre, that we'd make it together.
We Are Ian is your most successful production, and we're big fans of the show. Can you give us a bit of a run down?
Oh cheers, glad that you guys like it! Yeah, the show's about the Acid House movement in 1989 and our mate Ian's experience as part of it. He was our age back then; living in Rochdale dabbling in some DJing and generally having a great time getting off his peanut. It all started when Ian asked us to make a show about his life, so we sat down and recorded a few conversations with him over some beers. He gave us all his favourite tunes from back in the day and we got hooked on House. The show is all Ian's tunes and Ian's voice. We don't speak at all in it. We're like Ian's hype men. We just bounce about like idiots and eat loads of biscuits… It's not conventional Theatre, we get everyone up, we get everyone dancing. The soundtrack's a massive part of the show and the whole trajectory of the music is a really visceral experience. Sometimes people who refuse to join in with us at the beginning, are the first people to get up and jump all over the stage with us by the end, which is pretty satisfying.
When we saw the show at last year's Edinburgh Fringe, we were completely entranced by your raving, but after an hour of non-stop dancing, we had one question: HOW do you keep going? With a 30 day run in Edinburgh and your recent tour of the show, you must have some stamina.
Haha, yeah, you would think so. It was pretty bad, we all thought we would be really slim and toned after the Fringe last year, but we just became really wide and stocky. We all had massive muscular necks, which was sort of cool, but we all also looked like really strong aliens. Straight after Edinburgh we were so exhausted, we just lay down for a month and then became all flabby again. Must have been the biscuits catching up on us. We need to get our stamina back up for this run, the show in itself is a massive work-out, so by doing it loads of times in a row gets us back into the swing of things.
We Are Ian poses the demise of the Acid House era and Thatcher's vendetta against rave culture alongside issues of drug use and modern day clubbing. What's the most important message for you guys?
When Ian talks to us about the House Movement and the raves he used to go to, he always mentions how accepted everyone was. Everyone was welcome at the rave. There's a really amazing preach in the Mr. Fingers track we use, 'Can You Feel It' that perfectly sums up how unifying House music was at that time. It wasn't a political stance, people were just getting together, having a great time and letting themselves escape from the shit that the eighties had thrown at them. And then Thatcher stamped it out and vilified the rave. The whole movement became inadvertently political. Music is a really uniting thing, and that's an important message for us. Ian's always telling us we have 'fuck all' now. And we guess it's kind of true. With our current political landscape, it seems everyone's so divided and angry and our generation is being hit hard by the choices of our government. We could probably learn a lot from Ian's generation.
At the end of your show, we were quick to have a jump around on stage with you guys, and were surrounded by some pretty intent dancers. What's the weirdest thing to ever happen at one of your shows?
It's great dancing with everyone at the end, sometimes it can get a bit intense. There was a preview we did in London, and one guy was just shouting 'BROWN FUCKING BISCUIT' at us over and over again while we were performing. We had to stop jumping up and down and stare at him until he stopped. It was great though, it's really amazing when everyone gets proper into it. Once, when we were at festival in Liverpool, a guy brought his own maracas and joined us on stage, like our own personal Bez, which was pretty cool.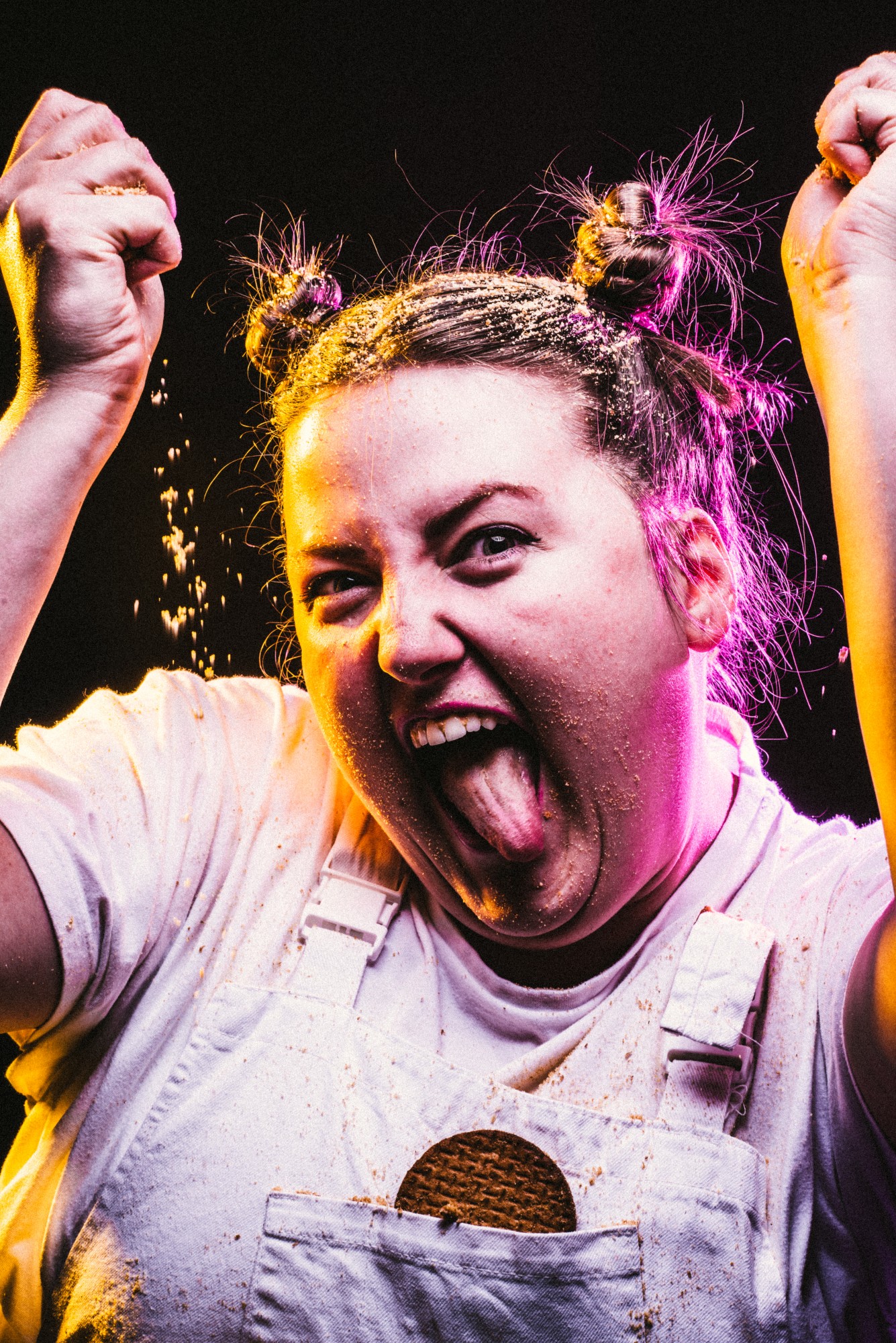 Maracas sound like a nice addition! So, we really like the sound of Ian, did you guys ever take him out raving? What was his first reaction to the show?
Yeah Ian's a great guy. We don't go out with him that much, but when we do, he throws the moves down hard. We tend to just chill out at his a lot, listening to his records with some beers. Dora and Kat lived with him in Bristol a couple of years ago, so we've spent loads of time with him. He comes to our shows sometimes and he ALWAYS shouts things out, which is funny, but also really annoying because he's got such a recognisable voice everyone automatically clocks who he is, which takes away the mystery. Whenever he comes to the show, we always do a shoutout to him at the end. He came to one of our shows in Edinburgh, and everyone started chanting his name. He got bought a few beers too, which he was more than chuffed about.
Sounds like he really admires the work you guys have put in. Which one of you is most like Ian? Who is the best raver?
Well Ian is Dora's step-dad, so Dora's probably the most like him, because they know each other so well. But in terms of raving, it's probably Nora. Yeah, she can keep going for hours…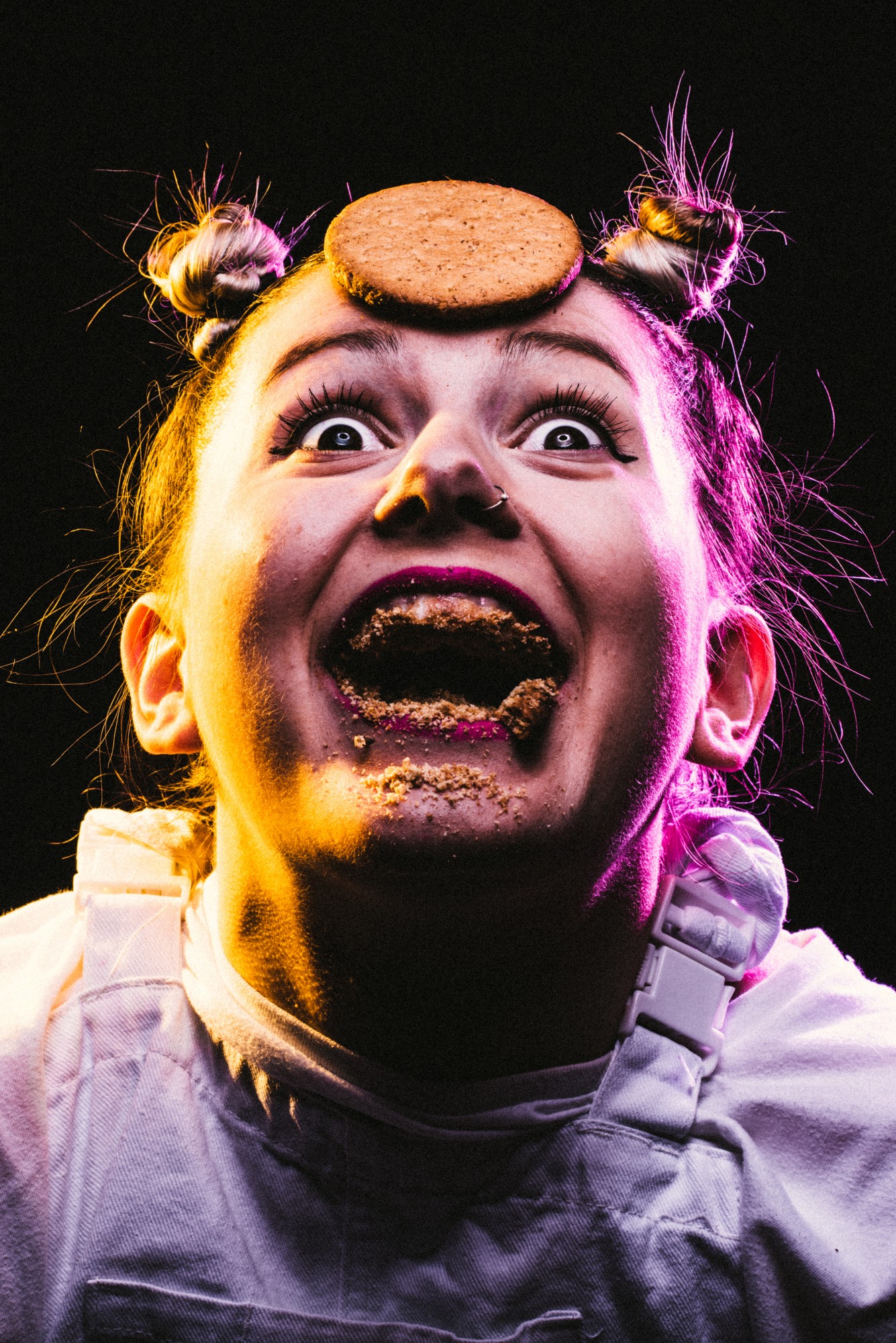 The tracks chosen for your play are iconic. How is music important to you guys? 
Yeah we love all the music in our show, even though we've performed it so many times, we still can't get enough of the soundtrack. Music is a really important component for us in our work – mostly because we hate speaking on stage so we need something to propel us and keep us going (and we love a good lip-sync). If a show has a really cracking soundtrack it's so satisfying, and especially if you know the tunes, you're instantly on board. Music will probably always have a place in our work.
We've had your Spotify playlist on the go since we saw the show, and we hear you are House converts- so what's on your headphones at the moment?
You can't really not like House music, it's so easy to like. We've got a warm-up playlist that we always play before we get ready to go on stage to get us hyped. On that we've got Black Box, A Guy called Gerald, Inner City and some Carl Cox mixes. We listen to the old house, we haven't been listening to much new stuff. But we probably should. We're gunna check out some stuff on your site. We're bad House converts.
Glad to hear it! But don't worry, we trust the classics too. So, what's next for you guys? When the tour finishes up, can we expect your own line of light up trainers? Will you collab with McVities?
We're probably still going to be on tour until next year, so we're gonna keep doing that. We've also got another show in the pipeline, which is a bit of a secret at the moment. Mostly because we don't know exactly what it's going to be yet. But there will be music, we can promise ya that. We are well up for a collab with McVities though, we've tried to contact them loads of times for sponsorship, but they haven't got back to us yet. We'll just keep waiting by the phone.
Catch We Are Ian when In Bed With My Brother return to Pleasance this August 7th-28th.