Culture, Deep House, Events, Features, House, Melodic, News, Progressive House, Rest of World, Reviews, Tech House, Techno
16 October 2017
While it goes through one of its most chaotic phases in recent times, Rio de Janeiro saw an exciting atmosphere of peace, love, harmony and of course, music, to bring people together and infect the whole city, emanating from the official home of samba. But there was another kind of beat going on there… It was Ultra Music Festival Brazil which took place at Sambadrome Marquês de Sapucaí for its second consecutive year and over 3 days of intense celebration (October 12th, 13th and 14th) it drew a crowd of circa 100.000 people.
All across the avenue of samba, the electronic beats were heard and danced to, and at each of its extremeties, different branches of dance music ruled. While global hits of POP with 'Big Room' arrangements pumped things up on mainstage, a dark atmosphere shaped up in the other side, where much deeper sounds covered the area.
RESISTANCE stage showed up in its best form yet (talking Brazil of course) and improved a lot on its visual, with way more ambitious size and design. Sound definition did also improve. It wasn't bad at all, but this year it sounded even better, more pure and powerful, making each beat sound like an earthquake.
So now When We Dip takes you on journey of sensations through music, beautiful images and written description, in a humble attempt of recriating the breathtaking atmosphere of Ultra Brazil's RESISTANCE 2017 edition.
The Acts
Expectations were naturally high as there was a superb team of techno heroes lined up for the three days. Nothing less than what the stage demanded, of course, but to sum it up, the selection did not disappoint at all.
One of Brazil's finest techno acts of the moment, BLANCAh was the great responsible for filling the stage area on the first day. She did so by introducing her usually pleasant sound and like an enchantress she summoned the mass. The first impact came with 'Axis' the lead track of her recently released EP 'OSSO' on Steyoyoke. Beautiful.
 [youtube https://www.youtube.com/watch?v=eTXp_zmsqCM]
"I tenderized things a bit right from the beginning" she told us in a quick chat after her performance (which amazed everyone). "The boys from GalviK did a nice job speeding things up, but that's not really me" she explained. "I got the decks from them and tried to bring everyone to my world".
She did so. In a majestic way she guided everyone through her magnificent universe of hipnotic, hazy sound elements.
After everyone was unplugged from that parallel dimension, Anderson Noise got to the stage to surprise everyone with an explosive performance. He added power to the kicks, in order to prepare the audience for what would follow. Warung boys Dashdot came groovier than their predecessors and suddenly you had all the elements in place for the return of a monster.
Mr. 'Saved Records' Nic Fanciulli, entered a bit softer than usual in his second RESISTANCE Brazil performance. The break of the first track he played even sounded like he microphoned a tiny music box. In the following tracks, some tribal vocals were heard during this 'melodic moment' of his. That was right before he opened up the hi-hats and shifted gears up. When you least expected, you were immersed in an infectious groove and everything came down to the epic moment when he dropped the Four Tet reinterpretation of 'Opus' by Eric Prydz.
[youtube https://www.youtube.com/watch?v=47nIoXraa_Q]
Just when everybody expected the entrance of Jamie Jones… Surprise! A last-minute schedule change brought Mr. Sasha's and Mr. John Digweed's appearance to a slot before…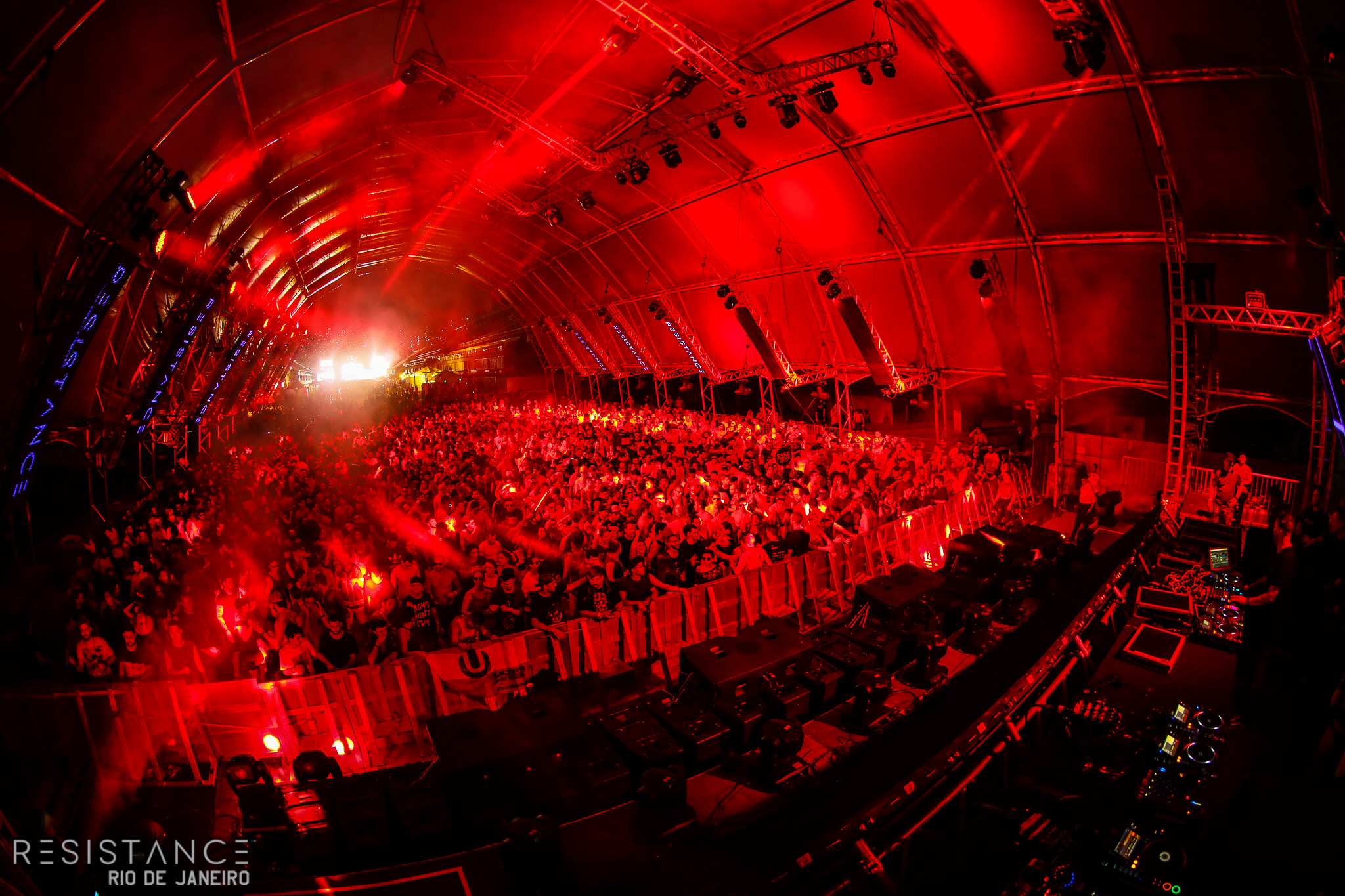 The intergalactic back-to-back act was on! They starded all off at a lighter groove with some proper 'progressive-seasoned' deep repertoire. Darker shades of house were presented on that moment, but the beats were still gentle. Bit by bit things were hardened and sped up, reaching out to the legitimate tech-house grooves in the core of their set. As the final moments approached, with smooth and surgically perfect transitions, they descended back into a more sober atmosphere, bringing melody to the floor in the shape of Jamie xx's remix of 'On Hold' by The xx. Touch of class from the magicians who showed above average serenity on stage, which is something you only get from years and years of solid partnership and experience.
[youtube https://www.youtube.com/watch?v=IYvEhgYy35I]
Last but not least (on the 1st day) the mighty 'Hot Creations' boss Jamie Jones showed up for a funky mix. Showcasing the current sonorities of tech-house, as the influential label boss he is, he brought some long breaks full of industrial, mechanical sounds and of course, explosive drops to send vibes sky-high! A linear, less melodic but equally exciting set with hi-hats running ultrageously high. It was an up-to-date, on-point tech-house set.
The 2nd day of festival saw great atmospheres being built by some titans who definitely know the game very well. Brazilian techno talent Victor Ruiz who's living a great moment in his career having recently dropped an outstanding EP on Suara, followed by Elio Riso who also made his second (and huge) RESISTANCE Brazil presentation and POPOF who made his debut on this marvelous arena. But people on that stage was still about to witness another epic B2B act. That's right, Adam Beyer went back-to-back with Paco Osuna… Needless to say they killed by mercilessly unloading tons of 'highly-energetic' dance music in the shape of thick techno drums. All of that with the confidence and perspicacity of the giants they are.
When we least expected, the last day was on and in its first hours we found brazilian classy couple Flow & Zeo conjuring a rather obscure climate over the stage. That could be properly ilustrated by 'Argo' from André Winter, a track that came out on Oliver Huntemann's Senso Sounds and was dropped by them in a hot moment of their mix.
[youtube https://www.youtube.com/watch?v=w8FkIq15Edg]
Leo Janeiro and Eli Iwasa with their back-to-back exhibition boarded this ship and flew the same wind, followed by the founder of the legendary D-Edge club, Renato Ratier, who threw hard sounds but added generous doses of swing as his set neared the end… A tailor-made approach just in time to handle the turntables to the american brothers Chris & Steve Jr. Martinez, better known as The Martinez Brothers.
In one of the most acclaimed acts of the entire festival, the brothers delivered a soulful mix full of attitude, both in their lively stage behavior and in their carefully picked repertoire. Extremely groovy, from the beginning to the end, it was a trully surrounding, high-minded tech-house mix coming from two guys you could see from a distance that really enjoyed what they were doing. An irreverent selection with loads of playful elements all over it and occasionaly, some disco vibes. Truth is they brought all of their enthusiasm to that stage and really conducted the vibes into higher levels. Needless to say the crowd went nuts and the bros kicked asses!
Than, the italian legend Joseph Capriati walked in and from the very first second it was clear he meant business. There was no interruption in the music, he quickly mixed his first song into the last one from the brothers and the show went on and the temperature kept climbing! A full force straight-up techno set with thumping basslines, hard hitting drums and skipping hi-hats to provide some groove. The man hammered a linear, 'not-too-melodic' mix that was just what the audience demanded by that time. Really well done. In one of its highlight moments, he played a recent track of his…
[soundcloud url="https://api.soundcloud.com/tracks/311022856″ params="color=#ff0000&auto_play=false&hide_related=false&show_comments=true&show_user=true&show_reposts=false&show_teaser=true&visual=true" width="100%" height="300″ iframe="true" /]
In the final hours of the festival it seemed like a 'darkness tsunami' had covered at least half of the Samba avenue. That dingy atmosphere meant something was going on. A myth that had duly been selected to close down RESISTANCE Brazil for 2017 had taken over the stage. It was no other than Richie Hawtin who didn't take long to slam some 'strong-punched' gloomy techno tunes. He kept things dark untill the very end and blew minds away with long 'trippy-synthed' breaks. An impressive repertoire. An intoxicating performance.
For everything above, this will definitely go down on the history of Brazilian electronic scene. Impossible to forget…