Arts & Culture, Berlin, Berlin, Culture, Disco, Electronic, Europe, Features, House, Ibiza, Interviews, News, Other, Progressive House, Rest of World, Uncategorized
9 February 2018
He's a multi-project and multi-talent man, resident in one the most relevant clubs of the Americas (Warung Beach Club) and guardian of legitimate House Music. Radiola Records founder, Albuquerque is unquestionably of the big names of Brazilian electronic scene and that is due to everything he's done and still does for it. In this amazing interview (and pleasant conversation), we went through most of trajectory untill now and also talked about great things that are still to come.
The Curitiba based DJ really is the kind of guy who pushes the scene forward and makes things happen. We were lucky enough to have Albuquerque and one his managers Igor Rodrigues (who also manages Aninha and BLANCAh) spend an afternoon of good chating with us as he provided the latest edition of When We Dip's 'Select Cuts' series.
The mix was recorded during the official BPM party in Warung where he properly made his resident duties and warmed things up for the later entrance of Marco Carola.
So here it is, for your delight…
[soundcloud url="https://api.soundcloud.com/tracks/396891219″ params="color=#ff5500&auto_play=false&hide_related=false&show_comments=true&show_user=true&show_reposts=false&show_teaser=true" width="100%" height="166″ iframe="true" /]
WWD: So, it's a great pleasure to have you here… Let's go back to where everything began. How did it all start for you?
Albuquerque: I began my path as a resident of a House club, later working there by writing releases of the parties and doing the social media work.By that time I met my friend Haustuff (Gone). He would later become my partner at Radiola Records. The event business is a tough one, so I decided to also focus on studying music production… As my first tracks came into life, I found great difficulty to release them as I didn't get many feedbacks on my demos. Also, I was using a friend's studio and I felt like I was bothering him by monopolizing it too much, so that was kind of how Radiola came about… As a way to supply the needs of both a studio of mine and Haustuff's and an output for my productions. So my story is tied up to Radiola's.
WWD: So, the evolution of Radiola was a consequence of that?
Albuquerque: Well, our studio was in a co-working space, a big house, which quicly became a hub for other DJs/Producers and we turned into the Radiola House, which now counts with 14 studios and a DJ agency, all in one place.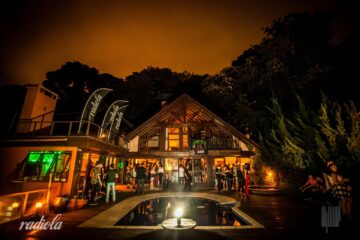 We also kind of pioneered the video streaming of parties in Brazil, hailing from our own Radiola House. So, whenever intenational DJs were touring Brazil, we invited them to visit our house and of course, play us some music. That way, we've had guests like Lee Foss, Adana Twins, Joyce Muniz and others, streaming mixes from our place. We've made over 25 live party transmissions.
Radiola aims to be something else when it comes to visuals, so we like to take care of every little detail in our label parties, wherever they're hosted. We want it to be much more than an imprint, but a strong brand, with outstanding experience.
WWD: … And what's the philosophy behind this work?
Albuquerque: We have a mission of finding and shaping new talents, developing careers. I'm always looking for something extremely original, that kind of song that makes you think: "Holy Sh*t! How did this [email protected]#cker manage to do this?!" Hahaha
WWD: Hahaha! Did someone catch your attention recently?
Albuquerque: Yes, actually! Luca M & JUST2 are on fire right now, they're being played by the best DJs! I'm really  excited about the possibility of a future collaboration with them!
WWD: So, studio focus on 2018?
Albuquerque: Yeah! 2017 was all about touring, which was wonderful! I've played some of the most important venues and festivals in the world, like the BPM Festival, both Mexico and Portugal editions. In Germany I played Watergate and Sisyphos in Berlin and Pacha in Munich. I played Amnesia and Sankeys in Ibiza, Fabric in London and have been able to host a Radiola label boat party in Amsterdam, during ADE. That's just to highlight a few, so it's been a lot of touring, which will of course happen in 2018 as well.
Touring always brings you amazing things! For instance, me and Marco Resmann have become great friends. Actually, I've become friends with the entire Watergate family. I learned a lot from them… Have participated of one of their barbecues on the deck of the club… It was epic! Hahaha! Played a B2B set with Marco and even got a couple of unreleased tunes from La Fleur to play on my sets! That is priceles… Music connection for real!
January was already a month of many GIGs and this weekend I'm playing the Circoloco party in Warung's carnival, with Seth Troxler and The Martinez Brothers lined up for the evening. But I'll definitely try to keep focus on my studio work.
WWD: Anything special on the way?
Albuquerque: Yes, I just dropped two originals recently, 'Oriente Reverso' and 'Dragão Chinês', and there's a remix for 'Hierbas' by Gabe that has recently been featured on 'Cocada', a brand mew mix-compilation by Leo Janeiro (another Warung resident) which will be out soon on Get Physical.
[soundcloud url="https://api.soundcloud.com/tracks/389471403″ params="color=#ff5500&auto_play=false&hide_related=false&show_comments=true&show_user=true&show_reposts=false&show_teaser=true" width="100%" height="166″ iframe="true" /]
Also, I'm working on an album project that is a very special collaboration with Isis Art, a Jazz singer that's become very popular here in Curitiba. It's going to be a little bit different, but we're excited with the results we're getting. One of the tracks has even been featured on the official aftermovie of the Portugal edition of BPM Festival. She really is a talent! We'll also produce videos for some of our tracks, so, I'm sure this project is going to be a very special one!
WWD: Oh, man! That's probably taking all of your time, right?
Albuquerque: No, there's more! There is indeed a good criative moment going on for me, but I never give up on my solid curating process. I'm easily bored so whenever I think my DJ sets are sounding very similar to each other, I make sure to make changes… That's why I'm always looking for cutting edge House Music! Also, there's this other project…
WWD: Another one?!
Albuquerque: Yes, and this one has been kept a secret untill now, but I'll reveal it exclusively for When We Dip… I'm releasing sublabel of Radiola soon. You know, my roots are on the more Progreesive kind of sound, So I'm creating an imprint dedicated to that style. It will be called Sonido Profundo.
WWD: WOW! Thank you for the great news and for your time!
Albuquerque: My pleasure!
Connect with Albuquerque and Radiola Records to know everything that's going on.