6 February 2019
One of Italy's most innovative electronic music producers, Nihil Young, aka Less Hate, is a polyhedric artist, producer, remixer, DJ, and Frequenza label boss, considered a trendsetter by many in the international underground dance scene. As he releases his rather special new 'Ascension EP', WWD caught up for a chat to find out more about his music and 10 years of running his successful Frequenza brand.
WWD: Hi Nihil, thanks for chatting to us today, please share with us some of your career highlights so far and what was your big break?
My pleasure, thanks for having me! 🙂 As you might know I've had a few monikers. As Nihil Young I had a pretty decent start back in 2009, when Frequenza was born, my first vinyl release, 'Bye Bye My Brain', sold out all its copies in a few weeks and included an excellent Ramon Tapia remix that's still a great tune now. One of the highlights was my collaboration with the legend John Acquaviva, which included Olivier Giacomotto and Simon Doty remixes and my single 'Unreal' on his Definitive Recordings label, which charted for a few weeks and was included on "Sensation White Into The Wild". I also had a number one Techno record on Beatport when I remixed Spektre. In 2012, I created the Less Hate project, which got me a deal with Kindisch (Get Physical) with my first big single 'Soul Doubt' played by Hot Since 82 on BBC Radio One and it was also mentioned among the best titles of the year by some key industry figures. I also did another EP for Kindisch called 'Yesterday' and the b-side tune 'Bambino' got played by Sasha at Ushuaia. On the remix front, I was asked to remix French house extraordinaire, Etienne De Crecy's single 'You' and Moonbootica's 'Superdrive', which was played for a whole year by Wally Lopez. More recently I signed a few releases to Toolroom Records, with a good one being 'Opal', a collaborative tune with my good friend MARII in 2018. And a couple of tunes that surprised me the most were my collaborations with my friends Wolf Story, the first one is a crossover song we did with Gathier titled 'Align' on BKMLTSCH RCRDS – which recently notched up 1.1M streams on Spotify – and 'Voice Of Reason' on Yoshitoshi Recordings, which has more than half a million plays on Spotify and was played by Kollektiv Turmstrasse at Tomorrowland. The followup single on BMKLTSCH titled 'High On You' is also performing well on Youtube right now.
WWD: What first drew you to Djing and making dance music and what influences or experiences have helped to shape your sound?
I first got into djing as a turntablist, I used to love Disco and Hip Hop and grew up listening to the Sugarhill Gang, Grandmaster Flash, Run DMC among others. I think Jam Master Jay was the first to turn me on to scratching and Djing, I was just caught by that sound and I wanted to reproduce it badly, so I got my first turntables and mixer when I was 14 and started practicing at home. I became a pretty decent turntablist and decided to compete at the Italian ITF when I was 16, it wasn't a podium because I was the only performer doing a freestyle routine, but I got complimented by my favourite Dj's ever, D-Styles from the Invisible Skratch Picklez – a project that was founded by him and Q-bert. That was a big compliment for me personally and I still have a signed copy of 'Scratch The Movie' and and the animated masterpiece 'Wave Twisters'. Back then I loved all styles of electronic music and hip hop growing up and played a few matinees and afternoons in my hometown. I then started to fall in love with House Music and later on one of my best friends introduced me to a label called Minus and he showed me this song called 'Seeing Through Shadows' by Loco Dice. I immediately fell for it and decided I to pursue that kind of sound. It wasn't before long I discovered the likes of Stephan Bodzin, thanks to a wonderful compilation by Moonbootica that got me hooked. I couldn't believe I got to remix them a few years after that!
WWD: You've been making music for a long time, releasing on great labels such as Toolroom, Ultra, KMS, Gem Records, Planet E Communication, Poesie Musik and Kindisch, as well as your own label Frequenza. What's been your own personal favourite release and why?
I must say my personal favourite release is yet to come, because it's really hard for me to be happy and satisfied with anything I put out. I am always learning and I always hope to better my self. That said, I liked what happened with Less Hate's 'Soul Doubt' and I love what happened with 'Align', not for the streams per se, but because the song was very different from what I was putting out and different to a lot of music, I don't want to sound like an ass, but I think it's quite unique in a way. So that and the fact that it worked well makes it a success for me.
WWD: Your new 'Ascension EP' has just come out with two stunning tracks 'Ascension' and 'She'. Can you tell us a little about each and what you wanted to achieve production and sound wise with this EP?
Thank you for your kind words! I wanted to create a trippy and emotional tune when I produced 'Ascension', something that would convey who I really am and what I really feel, along with something that would make you think about transcendence somehow. I hope I did it. For 'She', I always wanted to create a tune for the women of my life, my lovely wife and my mother. It is also dedicated to the mother figure and mother nature and I wanted to express gratitude in the music. Production wise, I actually worked a bit longer on these than I usually do with my other tunes, trying to strike that balance and make them enjoyable both for the dance floor and home listening.
WWD: What was the production process like? Did you run into any obstacles whilst producing the EP?
I tried not to put too much content on both of these, and I must say mission accomplished on 'Ascension', giving depth and space to the main synthesizers and keeping to just a few sounds with respect to what I originally intended. Technically speaking, right now I am using Live 10 and Logic X, I love both, I usually record my synthesizers on Live and arrange there, but I still love a lot of the old native stuff from Logic, like the monophonic vsts and the excellent modelling synth Sculpture. Also the new ones like Alchemy, so sometimes I put my midi back to logic and design some sounds there, then bring them back into the arrangement on Live, that way I can do double the stuff I could normally achieve by using only one DAW. I used to use Live as a slave on Logic, but even though it's a little bit more time consuming, i prefer to use both separately now. I did some of the harmonics on Logic and the main basslines and synthesizers on Live. I used a Moog Sub37 and a Juno 106 emulator i bought from Tal – it's really really good and very similar to the real deal! – for the strings and the brassy sounds. My main studio tool is Sylenth from LennarDigital. I love the fact that it has 4 OSCs and gives me a lot of room to create many different sounds.
I did encounter a bit of a block whilst working on Ascension, the track was going nowhere. But i know it had something. I was tempted to trash the whole thing but then i didn't think about it for a week and when i got back to the project i knew what i had to do. Now i'm satisfied with it. I had to reverse the whole harmony to find a pleasing combination and i added the modulating leads bending up and adding that transcendental vibe to it. With She it was a little simple because the melody was floating in my head exactly as it is. So i only spent some time to make it sound as weird and raw as i wanted to.
WWD: it's been a while since you released your 'Decay LP', have you any plans to make a new album or are you sticking with the singles format moving forwards?
I absolutely intend to make a new album as soon as possible. I just need to make time and feel in the right place to do it first. I was talking with my friend, who was formerly known as Mehrklang, who now runs a project called Tyger Tyger also releasing great tunes on Frequenza – the other day and we agreed to make a new rendition of the title song 'Decay'. Can't wait to do that!
WWD: You also produce under different guises, please tell us some more about those and how they sound?
I had a project called Less Hate, as I mentioned before, where I explored deeper organic sounds, but I don't know if I'm actually going to carry on with that one for now. Another pseudonym was 7th Star, expressing my love for cinematic sounds and electro and I released on labels such as Toolroom Records and Secret Cinema's Gem Records.
WWD: Let's talk more about the label. You set up Frequenza in 2009 boasting an impressive artist repertoire including Kostas Maskalides, Christian Schwarz, Louie Fernandez, Kellerkind, Teenage Mutants, David Herrero, Talal and your own releases, among others. How's it all going and what have been your most successful releases to date?
Frequenza was blessed to begin with, we had some great sold out vinyl releases which included Maetrik, Gary Beck, Dustin Zahn and many others. I think the most successful ones were my own releases 'Bye Bye My Brain' and 'Doomed', with Gary Beck and Alex Bau's remixes. I haven't been promoting the label too much and I just wanted to keep it as an underground hub, giving opportunity to young, talented and up and coming producers to express themselves without having to worry about genres and so forth. Frequenza has never been genre bound and for this reason its allowed me to release everything from Electronica to Minimal to House and Techno.
WWD: You also design all the artwork for the label, what inspires your creations and how important is continuity of identity for a brand?
The invisible is what inspires me mostly, or the most usually negligible detail, like mold, rust, mushrooms and their aesthetically excellent spores and so forth. I also love to put microscopic photography, cymatics and anything that looks trippy and visually pleasant. I am in love with sacred geometry and alchemy, so I tend to put some sacred symbols here and there. I think I will stay on this direction for a while and hopefully get better at what I do and try to achieve. I'm hoping to meet and collaborate with more talented visual artists and photographers too.
WWD: In an increasingly competitive market, how have things changed since you first started the label and what is the secret to upholding a successful music brand like Freqenza?
Things have changed so much. Back in 2009 with a tiny bit of promo and a decent tune you could make actual money. The market was probably less crowded and the hype about Beatport, Techno, Minimal and Tech House got a lot of DJs and music lovers hooked to one or two music retailers, tops. Vinyl was also selling a lot, you only needed a decent distributor to get the releases to the right stores and you could sell your whole catalogue in a few weeks. With the advent of online music retailers, piracy and then Youtube and streaming, we saw a large decrease in sales over the years. First and foremost I do everything I do for the love of music, so I've never felt like doing anything else. I've maintained various degrees of success with a little bit of coherence and signing quality tracks, avoiding too many releases per year and changing genres abruptly, making decent artworks that make Frequenza a recognisable brand and growing it into a well know label even without major promotion. These days there is more to consider and you need to always stay on top of how the industry is evolving with new trends and streaming services, curating playlists, updating many social media accounts, Youtube, Soundcloud, having your own radio shows, label showcases and so on. It's a bit stressful keeping up, but if done right, it pays off in the long run.
WWD: Outside of music, what's your No.1 favourite thing about the winter season?
The blissful feeling of being alone in the woods in the snow. Oh, and the wonderful feeling of being snug under the sheets or close to a warm fire. When I die, I'd love to come back as a bear so I can hibernate. Lol!
WWD: What other projects do you have in the pipeline that you can tell us about?
I have so many things to sort out musically, collaborations and tours as well as label showcases. I can't wait to travel to Northern and Central America and meet some friends. Right now I have new things coming out on Spinnin', Toolroom Records, KMS and of course, many releases and remixes on Frequenza. I've also confirmed a remix package for 'Ascension; which will include Teenage Mutants and Johnny Kaos remixes. And soon I will be able to announce a home for Frequenza label nights in Italy and Europe too.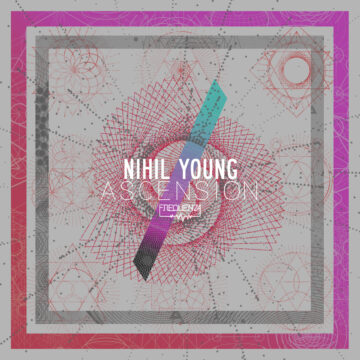 Nihil Young, Less Hate 'Ascension' will be released on February 1st 2019 on Frequenza Records.