26 July 2019
As an original member of the Dip Artist Management roster and a friend of XYZ since its inception in 2018, Wuachuma has been an integral part of the When We Dip extended family for the past 3 years.
While producing and DJing for over a decade, he has continued to pursue many paths and projects. After finishing law school, he is now focusing his energy on developing a holistic healing centre in Montreal bringing together naturopaths, osteopaths, acupuncturists, massage therapists, yoga and meditation therapists and life coaches connected by a motivation for permanent healing through alternative therapies. In his spare time, he produces music that has been supported by the likes of Sebastien Leger, Guy J, Hernan Cattaneo, and Lee Burridge, and been released on top labels such as Kindisch, Tale & Tone and Saisons, the imprint of his dear friend and collaborator, Kora.
As a humble artist and passionate contributor to the community, we are very excited to officially welcome Wuachuma and his emotionally atmospheric, groove driven sound to the XYZ roster with a track made in honor of his Grandmother, 'Irene'. Wuachuma, aka Adrien Malka, headlined our first XYZ showcase earlier this month at Piknic Electronik in Montreal. A natural performer, his groovy house set with live instrumentals was the perfect soundtrack to an incredible sunset over the skyline.
We caught up with Adrien to get his thoughts on the new release, as well as all the happenings in his busy day-to-day.
WWD – Adrien, thanks for stopping by today! How has your summer been so far in Montreal?
Wuachuma – It's been lovely, Montreal's my home and I find that during the summer there's no place quite like it. It's green, luscious, and vibrant. I love it here, especially spending time in the north, around the lake and mountains. It can be very peaceful and enables me to recharge… at least until the winter gets here.
WWD – How has growing up in such a vibrant & artistic city influenced you as a musician?
Wuachuma – In a lot of ways, I am who I am because of this city. People are real here… for the most part. There's something about the creative spark in this city. We're very lucky to have such a strong artistic vibe here.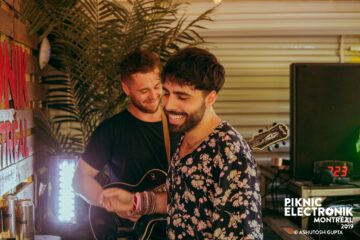 WWD – What makes the Montreal music scene unique when compared to other North American locales?
Wuachuma – Well people here just want to let loose anytime they can! It's amazing the energy you'll receive from people on a dancefloor in Montreal. People are just so curious to listen to different kinds of music and will be appreciative towards so many different genres of music.
WWD – Last year you launched your new artist project, Wuachuma, after previously releasing music under a different alias – what's the vision behind the new endeavor?
Wuachuma – Wuachuma is an artist project that began while I was traveling in Peru. This project has brought me a lot of inspiration in the creative process of music-making. My vision behind this new project aims to create compositions that reflect my feelings at that particular moment in time and to allow my authentic energy to come thru every in piece.
WWD – You are also developing a few non-musical projects at the moment. Can you tell us about your other endeavours?
Wuachuma – Sure.. Well I've been involved in the health and wellness space for some time now and I recently opened a clinic in Montreal called Holistacure. The idea behind the project is to provide valuable information to patients regarding holistic health by teaching them how diet, lifestyle, and environmental factors can positively affect their lives. Helping family and friends is at the at the core of this project, but I also realize that I will have the opportunity to positively affect the lives of a lot more people. The whole project makes me so happy and I feel very grateful for the help I received along the way.
WWD – Your new release 'Irène' comes as a gorgeous first track on the Dimensions EP. Can you explain the story behind the track?
Wuachuma – This song is for my grandmother Irène. I have a lot of love for her and she has a huge place in my heart. This song is just a small piece to pay tribute to how amazing of a person she is. She means a lot to my family and I, so this song is just a little token of my appreciation for all that she has done for me and my family.
WWD – This marks your first release with XYZ. What can you tell us about your relationship with the label thus far?
Wuachuma – My friends at When We Dip… Love these guys! They've been around since I started to release music 3 years ago. I have a lot of appreciation and respect for all the hard work they do. I'm very happy to collaborate on this E.P. and release with my close friend Dexter Crowe. He also happens to be releasing his first single on XYZ, which is such a wonderful piece called Eucalyptus.
WWD – You are also an important figure for Kora's surging label, Saisons. How does creating long-term, family-style relationships with labels benefit artists?
Wuachuma – Friends and family means everything to me. Long term, family style relationships are vital for artists to explore their sounds and feel the respect they deserve when releasing music. We're a team and we all want the best for each other, which is very rare in this industry.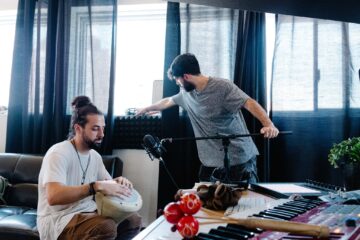 WWD – While we're big fans of your productions, we also have really enjoyed the mixes you've done recently. How do your selections behind the decks compare to your projects in the studio?
Wuachuma – I like to make people dance and smile. I curate my sets to make sure that LOVE is felt throughout the party. In the studio I tap into the feelings of my heart and soul, so it's a little more personal for me. Both give me a great balance in life.
WWD – What's on the calendar for the next couple months?
Wuachuma – Music, music and more music… Very excited to be lining up a lot more music and will be releasing some tracks under my new project ADRIUS, a live outlet with good friend Darius. We are so excited to be working on this project together, we hope that our music will touch a lot of people.
PURCHASE Dimensions I [XYZ007]
Follow Wuachuma