15 August 2019
Take a trip down minimal deep house lane and you'll quickly stumble upon the name Adisyn. A Miami native whose work speaks for itself and easily shines light on a very bright future. We stumbled upon his track 'Digital Heart' a few months back, the second track from the beauty that is the Departure EP on Berlin's celebrated Kindisch label, and it still hasn't left my queue.
Most recently he found himself climbing the charts with the big Postrel brother m.O.N.R.O.E. who has proved the family has talent running in their veins, following in the footsteps of their father who worked as a producer alongside legendary 70's producers.
The EP begins with a hypnotic tune 'Acid Mating Call' that you'll easily get lost inside before exposing the dark and sexy 'Terminal Bliss' followed by remixes from UK veteran producer Martin Iveson aka Atjazz and Ultrastation, the new techno collaboration between Cosmic Force and Nuno Dos Santos. The EP was released on Atish and Mark Slee's beloved Manjumasi label and below is an exclusive interview by both of them.
Atish & Mark Slee : Hi guys, we're really excited about your Acid Mating Call EP going live this week. We've received a lot of great feedback on this one and it's been doing great on the dance floor. Tell us about the creative process that lead to Acid Mating Call and Terminal Bliss?
Adisyn : We wanted to create something that was right for the label. There was a mood we were trying to evoke, something playful, quirky and groovy. We actually worked on several ideas before landing on these two songs. Jordan (m.O.N.R.O.E.) and I work in different studios. We are both control freaks and don't work so well in the same room. hah. With these tracks I started the basic ideas and would send them back and forth with Jordan.
Atish & Mark Slee : Acid Mating Call in particular has two really interesting and unique lead sounds in the high end (one evokes a sort of metallic string, the other is like a modulated bell). To our ears, the call and response fits the title of the track perfectly. Can you tell us a little bit about how you guys developed those sounds and the way they work together?
Adisyn : We don't want to give away too many secrets, but they are basic sounds. We are exploring different types of synthesis. In this case we are using FM and AM Synthesis. Before we added the "metallic string" patch there was this terrible quirky acid synth I made that Jordan absolutely detested. He ended up removing it and creating that crazy modulated synth… I think it fits the track better this way.
Atish & Mark Slee :Does the fact that you two are brothers affect the dynamic in the studio compared to a normal production collaboration? Do you both get on each other's nerves in the studio, or does your sibling relationship help move things forward more quickly?
m.O.N.R.O.E. : We very much get on each others nerves! But there is also this intense criticism and brute honestly. We definitely push each other and aren't afraid to say if there is something we do not like. We hold a competitive edge with one another, but it's all love at the end of the day.
Atish & Mark Slee : Tell us a bit about how your collaboration has evolved over time. At what age did you guys get into dance music? Did one of you find it first and share with the other, or was it something you discovered independently?
m.O.N.R.O.E. : We got into dance music at an early age. Around 14 or 16 we were introduced to DJIng. It wasn't long after that we discovered music production software. We got into production around the same time and became seriously addicted. Since I made my first shit song (when I was 16) I don't think there has been many days where I haven't worked on music.
Atish & Mark Slee : Speaking of family and music, your dad has been deeply involved in music for many years. In what way has that shaped your approach to music as a career? Do you ever feel pressure to follow in his footsteps? What does he think of house music?
Adisyn : Our dad never tried to get us into music. He left the music industry in the late 70's and never looked back. It was by chance that we got into music. He taught me a lot when I was first getting into it. I don't really feel pressure to follow in his footsteps, I just want to get better at what I do. My dad does not know much about house music, but he knows when something is good or not. He is all about the grooves.
Atish & Mark Slee : Which one of you is the favorite child? Do you agree?
m.O.N.R.O.E. : Depends on the day!
Atish & Mark Slee : Both of you have risen quickly in the last year and a half with releases on notable labels such as Kindisch, Get Physical, Cuttin' Headz, Akbal, Little Helpers, and Desert Hearts. What advice would you give to producers just starting out who want to make a name for themselves early on?
Adisyn : This is a tough one because so much comes to mind. Take time developing your sound. Make sure you are happy with your work before sending to labels. I feel like when the music is ready people will notice. Make the music you want to make!
m.O.N.R.O.E. : Listen to yourself. Don't let other peoples opinions dictate the music you want to make. Experiment with many techniques and listen to all types of music. You never know what techniques or styles you'll develop and apply to your work.
Atish & Mark Slee : We were really happy that you chose to release on Manjumasi. Adisyn, this is actually your second release on the label, with the Dance Spirit/Adisyn Kinships EP that came out earlier this year. Why did you choose to work with us?
Adisyn : I love the music. Before we sent the Kinships EP I would play a lot of the label's music at parties. Was always a big fan, so it's pretty cool to be be part of the team!
Atish & Mark Slee : Jordan, we saw a photo you shared recently of your mobile production setup. As you guys are taking on more gigs, how has that changed how you think about making time for production and your workflow? Has a portable setup been liberating, frustrating, or maybe both?
m.O.N.R.O.E. :When I first started producing I just used a laptop and became pretty comfortable with that. So I'm pretty fine with working on the go. When I work with my friend Daniel Dubb, in Toronto, all the work on my end is off my laptop and recording his gear. I can write music in my bed with headphones or in my studio with my gear, it's the same to me. Once I get home I like to take the projects I started on the road and touch up the mixes on my speakers. When traveling I keep it simple, usually I just take a laptop, headphones, and iPad (for Midi). If on longer trips I take my push, small midi oxygen25 (cause its super light) and portable speakers iLoud + the other things I mentioned. I can fit all this into a backpack except my push and midi controller but I only take those on the road sometimes. It's essential to keep a mobile studio light and easy, if you don't need it don't bring it cause you might loose it.. well at least I would haha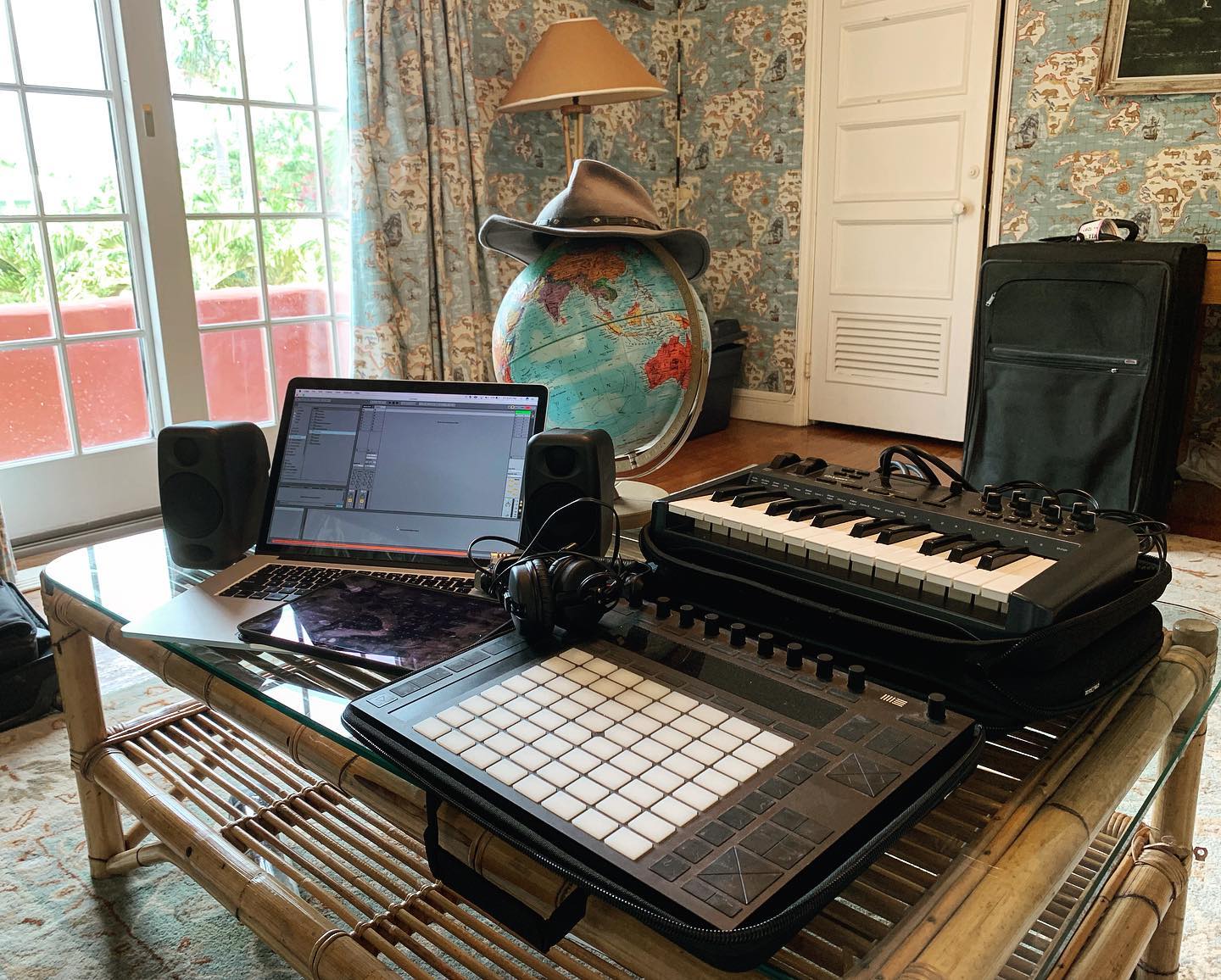 Atish & Mark Slee : Matt, perhaps this is related, recently you took a little break from Instagram, putting in studio time. Can you talk to us about that, what was the experience like and will that become a regular practice for you?
Adisyn : Instagram gives me hella' anxiety. It's difficult for me to post and create content all the time. I'd rather be making music in my studio. I'm a studio nerd and thats what I like doing. I was also going through a heavy moment in life and just couldn't keep up with the social media stuff. I needed time to myself. I ended up recording some pretty romantic songs, it was my way of venting. In the end, it was a healthy reset from the stress of social media. It is for sure something I will implement from time to time.
Atish & Mark Slee : Changing gears slightly, let's talk style. If you guys could each give your brother one fashion tip, what would it be?
Adisyn : Look more saucy!
m.O.N.R.O.E. : Cut that hair!
Atish & Mark Slee : Now cuisine. We're both from Chicago originally, Atish addresses his email list as "hot dogs." So, the all-important question, what do you guys put on your hot dogs?
Adisyn : PICKLES!!!
m.O.N.R.O.E. : I keep it old school. Sauerkraut, pickles, chopped onions, ketchup, mustard.
Atish & Mark Slee : Jordan, lots of folks are probably wondering, what does m.O.N.R.O.E. stand for?
m.O.N.R.O.E. : Party animal in greek.
Atish & Mark Slee :Matt, how about Adisyn – is there a story behind your artist name?
Adisyn : Not much of a story, it is my middle name!