7 August 2019
Olivier Mateu's wide-ranging inspirations and interests find their ultimate outlet as Rodriguez Jr., positioning him as mobilee's new master of eclecticism.
As one half of French electro act The Youngsters – best known for their two studio albums and singles for Laurent Garnier's F-Communications – Mateu has already received enough plaudits and praise to last a lifetime. The Youngsters' award-winning productions catapulted them into the international arena, taking them to some of the biggest clubs and festivals around the world.
Rodriguez Jr. reveals a different incarnation of Mateu's musical psyche, one that strides ahead, guided only by his kaleidoscopic vision; moving through shimmering, contemplative electronica, to deep and urgent techno, leftfield melodic accents and quirky pop refrains, Rodriguez Jr. is the by-product of an untamed brand of creativity and a thirst for the new and unexpected. Drawing inspiration from artists as diverse as Stockhausen, LFO, Carl Craig, Eric Satie, Kraftwerk, and Michael Polnareff, Rodriguez Jr.'s spirit of adventure translates as soaring creativity, and music that cannot be pigeonholed.
Mateu manifests Rodriguez Jr. in his MLab Mk5 studio, which brims with vintage synthesizers and dusty analog gear. Acclaimed Rodriguez Jr. releases for imprints such as Mothership, Boxer Records and Giant Wheels, prefaced the quirky melodies of his bass-driven house hit Princess Guacamole for mobilee records, and the tropical techno of Kids of Hula for it's sister label Leena Music. Drawing both pleasure and inspiration from live performance, Rodriguez Jr. relishes the opportunity to realize his project on the stage, and has done extensively throughout Europe and America. In 2017, he released his debut album on mobilee.
As he restlessly seeks out the ultimate intersection between all of his disparate influences, Mateu explains it best: "Good electronic music is not a jail," he says, "It should be enjoyable everywhere, from dancefloors to living rooms, and by everybody." Now an integral part of the mobilee family, Mateu will continue to channel his vision, passion, and love of music into all that he does, and all that will come.
We had the chance to have a quick talk with him about his upcoming performance at We Are Lost Festival happening in Toronto, new music from himself, his current studio setup and more… Have a great read while listening to his recent Anjunadeep mix.
WWD: Hey Rodriguez, thanks for chatting with us today. Where are you in the world right now? And what have you been up to recently?
At the moment I'm home in Paris, in between travels. I just got back from Budapest and touring throughout Europe and I'm getting recharged for the upcoming North America tour where I'll be hitting Toronto as well New York & Washington. Recently it's been lots of remixes, new releases and a new EP coming out soon on Anjunadeep!
WWD: You'll play Guy J's We Are Lost Festival in Toronto next week. What is your relation with Guy J ?
I've been following him as an artist for ages and I have a lot of respect for his music and DJ skills, I feel close to his sound which is emotional and melodic. We played together a few times, the last time was in San Fran alongside Nick Warren who's another legend, and I think it's a great combination music-wise.
WWD: You played a few time in Canada already. What is your affinitiy with the Canadian crowd ?
I have a special relationship with Canada since the beginning of my career. The crowd is particularly warm and intense and I really appreciate this. Last time I played in Toronto was last year for Electric Island and I remember it was a lot of fun, the connection with the people and it helps to have a couple of very close friends over there.
WWD: In terms of music and shows, what have you got coming up over the next few months? Can we expect a Lost & Found release soon ?
A new EP to be released on Anjuna, I'm producing a remix for my friend Hannes Bieger and most importantly I'm preparing my next solo album as well as a full album in collaboration with Liset Alea.
WWD: What else are you listening to these days? Favorite artists to sneak in to a set?
I only play my own music or my own remixes. Of course I listen to lots of other things but at the moment I'm not listening to so much electronic music. Recently I've been returning to my vinyl collection, old French soundtracks from the 60's & 70's such as Michel Magne, François de Reubaix, Georges Delerue. Electronic music has as formatted as it is nowadays and I think extremely important to find new sources of inspirations and look back at the masters of mood.
WWD: Can you share with us some information about your current studio set up?
I have a hybrid configuration based on a computer running Ableton & Logic Simultaneiously. I use a lot of hardware synths, not only because of the sound but also because I need a physical connection with my instruments, I need to feel the electricity inside the machine and the way it reacts to my actions. The core of my set up are the ARP2600, LK Syntex, Roland Jupiter 6 SH101. And its the same for the mix, I love to mix 'outside of the box', sending everything through the Chandler mini mixer and cranking It up so I can capture the electricity that's flowing through the transformers and not just a lifeless combination of zeros and ones.
WWD: Do you have a production ritual? If so, what is it?
I always begin by looking for melodies and/or textures and then build around this with a rhythmic structure. The most important thing is to generate accidents and surprise oneself.
WWD: Going back in the past, what would you say are some key moments that were pivotal in your career?
Meeting and working alongside Laurent Garnier in the year 2000. He taught me everything I know and helped to launch my career on an international level. The connection I made in the United States with the Robot Hearts & Desert Hearts crews, it was a connection to the burner scene which infused my music with a fresh identity, like it lit a different light upon my sound.
WWD: Best piece of advice you have received recently?
Cut the internet in the studio. Leave the phone outside. And this really works!
WWD: Thanks a lot for chatting with us Olivier ! 
Buy Rodriguez Jr's latest EP on Anjunadeep HERE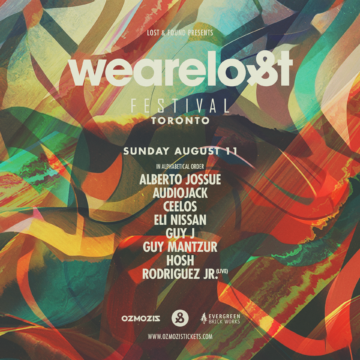 Facebook Event for the festival HERE