16 September 2019
Following a couple of days of cloudy skies and rain, the sun finally revealed itself and continued to shine bright over Folkets Park during the two days where close to 3000 people gathered to attend Backyard Sessions Festival. When the gates opened at 13:00 on Saturday, a wave of curious families, kids and ravers came through the gates to find an area filled with music, art and activities for anyone to enjoy and indulge in until some of the awaited main acts took to the stage.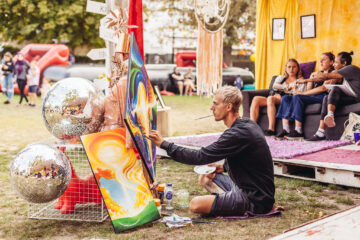 Familjen, a Swedish electro-pop band left no stone unturned and played hit after hit to a very excited and hyped up crowd consisting of people from all walks of life, and all ages. Even the littlest ones were vibing to the groove, most on the shoulders of their parents and wearing little earmuffs.
Coming in straight from South Africa was Culoe De Song, with the mission to close down the Saturday in the park before moving in to the beloved Moriskan venue. Sent through the crowd was soundwaves of Afro & Deep-house tunes which really set the tone as the sun was setting over the festival area. The lights coming from the stage started dominating the entire space while bouncing off the decor suspended from the ceilings, creating an intimate and warm space, with the old beautiful buildings surrounding the park as a backdrop.
The Saturday continued inside the sold out Moriskan venue with three different stages and acts such as 박혜진 park hye jin, Kim Ann Foxman and the ever so legendary Booka Shade. They each delivered massive sets to an absolutely packed dance floor with basslines that put the entire structure to the test.
Madura, a very talented local dj & producer started the Sunday off with a bang, delivering a well-rounded set of minimal and tech house before the local hero Per Hammar took to the stage. The Malmö crowd is no stranger to Per Hammar and his bouncy tech house, and it didn't take long before the park was filled with bobbing heads and stomping feet.
La Fleur was the last artist out on Sunday, and closed the festival down with a bang. Flawless mixing and a track selection including house, tech house, techno and some classic bangers saw the park sending out waves of applause as she finished her set, and with that, officially ending this year's Backyard Sessions Festival.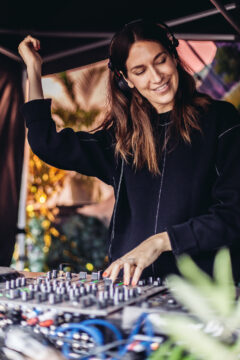 Backyard Sessions are looking to expand the festival for next year, as well as increasing the amount of warm-up events taking place leading up to it. With some really cool ideas in the works,  they're looking to give Malmö something really special leading up to the 2020 festival. They also have a brand new YouTube channel where recorded dj/live sets, as well as artist interviews will be uploaded!
To keep up to date with everything Backyard Sessions related, you can follow them here – Facebook // Youtube // Instagram