26 February 2020
Greece's DSF is at the forefront of a surging wave of modern deep house producers, blending sounds from across the international electronic spectrum. He is well known as one of All Day I Dream's most forward thinking artists, with arrangements focused on groove and rhythm, all the while delighting listeners and dancers with joyful and light-filled melodies.
After catching the ear of Lee Burridge, the scene's most enigmatic taste-maker, he has made a name for himself with releases on the likes of Radiant, Hoomidas, Shanti Moscow Radio, and TrybesOf. His remix of Hosini's Centauri was one of XYZ's most well received tracks thus far, and we couldn't be happier to welcome him to the label in full with his Fraoula EP.
Pouf leads the way as the A-side. Funk isn't something often associated with new forms of deep house, yet DSF has masterfully asserted a ridiculous amount of funky kick into this EP. Pouf is dance-forward right from the start, with an upbeat melody meeting a revolving bassline. Seductive vocals ease in and out of the arrangement, capturing attention before the true star of the show arrives – the keys. One of the funkiest piano grooves in recent memory propels Pouf into rare territory, igniting exhalation. Just as we reach critical levels of groove, DSF gives us a quick respite during the bridge before launching us right back into the dance.
The B side comes in the form of Fraoula. DSF has a distinct knack for playful tones and summer-centric vibes, and he presents yet another production dripping in sunshine. Opening with an afro rhythms and hazy vocals, Fraoula gives way to a sumptuous melody. Well timed bridges are primed for special dancefloor moments, allowing the complex rhythms to capture footwork.
Emotional Tourist steps in on remix duty for DSF as he's revisited Pouf, placing a laid-back rhythm under DSF's melody. The track brings the vocals into more distinct territory and teases the original funk of Pouf in a delightful arrangement.
To celebrate the EP's release and find out a bit more about DSF's journey thus far, we caught up with Ioannis for a quick chat about how the Fraoula EP came to fruition.
WWD – Ioannis, thanks for joining us today! Congratulations of the Fraoula EP, it's really a super duo of tracks which we've been jamming to in the office all week.
DSF – Thanks for having me guys, and for your kind words.
WWD – You seem very supportive of your hometown scene, and proud to be a Greek producer. Tell us about your early days in electronic music growing up in Greece.
DSF – Well, we have to go back to when I was a young clubber. I was always stuck with electronic music. In a magical way, me and my friends knew of every cool party in Athens. At the time, this particular scene was very new and addressed only a few people. Very few people were interested in house music at the time.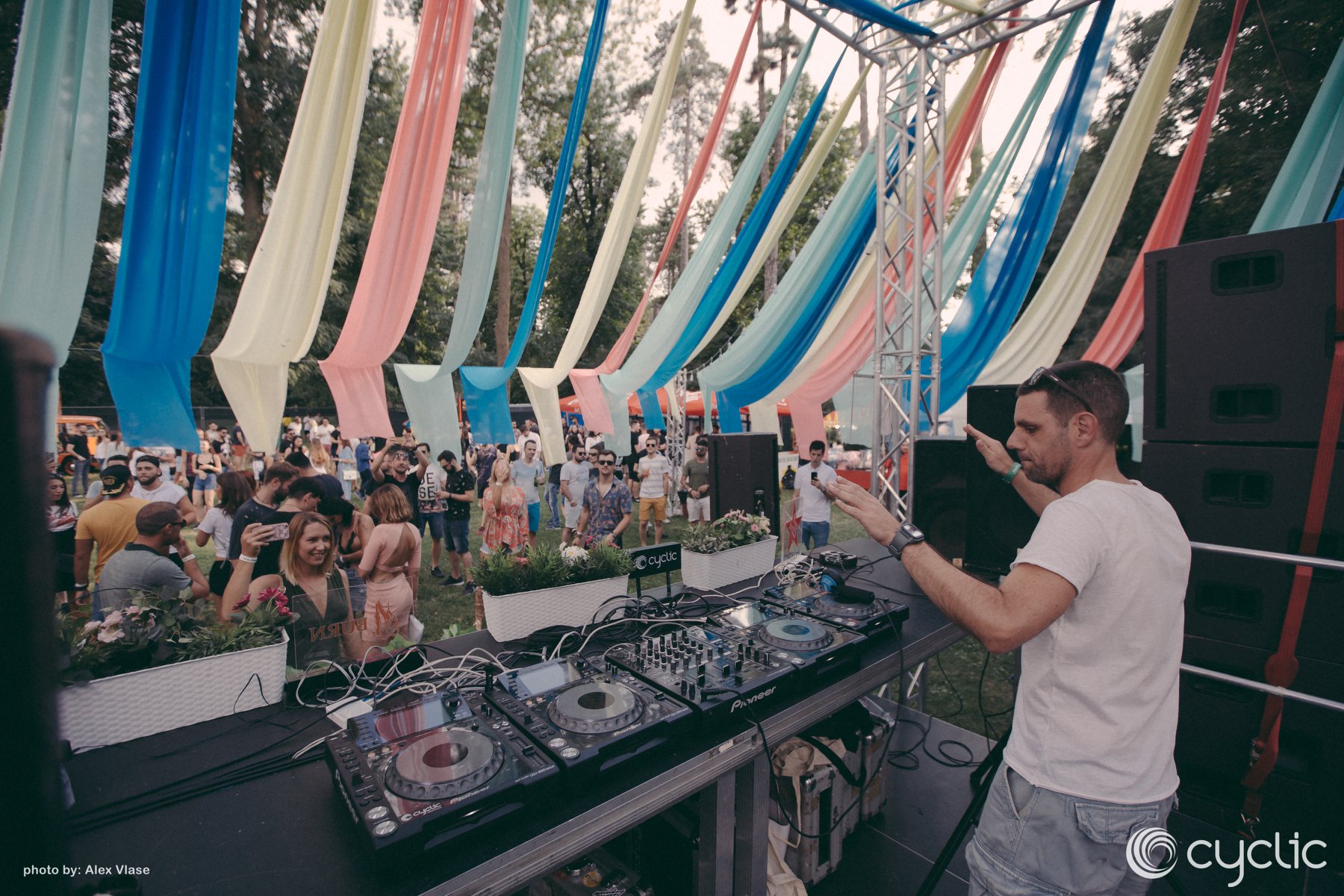 Year by year things got better and more people came to the scene. Then, around 2005 I think, house music became very popular in my country. House parties were taking place all over Greece. It was like a bomb explosion. I believe a lot of us have the best memories from around this period.
WWD – What can you say about the current Greek scene? Is there a thriving underground community outside of the big destination towns such as Mykonos?
DSF – Speaking specifically in regards to our Melodic Deep House scene, it's not developed enough here and that makes me sad. I think people haven't really realized its existence, because venues and promoters don't invest on producing new things. I hope one day they will see what they are missing.
WWD – What is a typical day like for you when you find yourself at home in Athens?
DSF – Family and music for weekends – normal daily job, family and music midweeks.
WWD – The Fraoula EP exudes positivity, playfulness, and sincere energy. I'd say these are qualities present in the majority of your productions. How would you describe the 'DSF' sound?
DSF – Everybody is telling me that I have my own ID (DSF sound) on my music. Someone very easily can understand if a track is mine or not. I couldn't understand this, but lately I think I finally got it. I could say DSF sound is groovy and melodic. Sometimes more groovy, other times more melodic. These two elements are "must-haves" for me.
WWD – It's a sound that caught the ear of some important figures early in your career. What can you say of the importance of the support for Lee Burridge and GHIZ as you grew on the international stage?
DSF – Probably you wouldn't know me if I never met Lee and Ghiz! Or it would at least take a few more years to discover me. I have no words to do their support justice. I feel blessed and what I love of this connection is that it came naturally. No push, no rush whatsoever.
WWD – Pouf has an incredibly funky groovy. Tell us about the studio process behind this gem.
DSF – When I first finished Pouf, it didn't include the piano parts. I had played something like a riff – not actually solo – and I wasn't very satisfied. I left it for a few months and one night I was in a beach bar drinking cocktails and listening to a fantastic afro, jazzy, funky band of which the singer is a friend of mine. I was amazed with the keyboardist and then came up with an idea… why don't I ask him to jam on my track? And he did! He took it to the next level. It's not me, it's him.
WWD – Labels play a crucial role in the electronic scene, yet especially in the deep & melodic realm. The likes of All Day I Dream and Anjunadeep have crafted immensely dedicated followings through releases and events. What benefit do you see in releasing smaller, artist-run, or niche labels such as XYZ?
DSF – My opinion is to release with labels that you feel good about. No matter if it's a huge label or a very new and small one, it's all about getting your music out to the world.
WWD – Are you making music full time, or do you support yourself through another career?
DSF – I do editing on a Greek National TV Channel, which is how I'm supporting my family. Editing is something that makes me happy, but if one day music becomes my biggest income source, I would be happier.
WWD – Emotional Tourist has provided a stunning rework of Pouf. He's quite a talented producer, and one that surely has a great journey ahead of him. How did you connect on the remix?
DSF – I met Cosmin (Emotional Tourist) in Bucharest last summer. We were playing together in an event organised by Cyclic. I stayed there for 3 days. I knew him as a producer but I didn't know how special of a guy he was, I think we connected immediately. We have the same agent, who suggested Cosmin to me, when we agreed that we needed a remix for Pouf. To be honest he was also in my mind.
WWD – Which other producers have you been listening to often or playing out lately?
DSF – I love a lot of producers and I admire their work. Sometimes I ask myself "how did they make this track?", "what were they feeling?", "am I able to do something that special?". Yesterday I received a promo EP and I listened to it 4 times in a row and I thought "should I keep making music?".
So, I'm taking other artists' work very seriously. It's an inspiration for me. I wouldn't like to name someone, because it would be really unfair. Don't forget that most of my favourite artists are also friends of mine, and I don't want to forget to mention someone.
WWD – Ioannis, thanks for the chat! We hope to see you on XYZ again soon 🙂
DSF – My pleasure. Looking forward to the next time!
DSF – Fraoula EP [XYZ014]
Stream & Purchase : ampl.ink/eml6E
Follow @DSF-Greece
Facebook – www.facebook.com/dsfofficialpage/
Instagram – www.instagram.com/dsf_music_greece/
Follow @emotional-tourist
Facebook – www.facebook.com/viaemotionaltourist
Instagram – www.instagram.com/emotionaltourist/