23 March 2020
As one of Europe's most in-demand mixing engineers Hannes Bieger has built an untouchable reputation, with an exhaustive client list that includes some of the biggest names in contemporary house and techno. In 2017 Hannes decided to step back into the foreground and start making his own music again after an extended break. Buoyed by years of experience, a renewed zest for production and a lifelong romance with electronic music he has been touring the world with his ambitious live show, producing a series of acclaimed releases and a stunning album. Determined, driven and downright talented Hannes Bieger is a mixing and production powerhouse with a live show that will blow your socks off…

WWD: How are you, what's good and bad in your world?
All good here, thanks for reaching out! 2020 has been off to a bit of a weird start for me. I've had the flu right after NYE, and my left ear was clogged for two weeks – not the best situation for an audio engineer! But it's all good now, and somehow January gave me the opportunity to reflect a bit on my own studio work. I've been writing some new material, and it seems I am shifting my direction a bit. I tried to work on some 124 bpm stuff and felt uninspired, but at 126 everything was fine. I also made the first 128 and 129 bpm tracks I will release under my own name. So I think you'll get the drift – 2020 seems to become a Techno year for me!

WWD: We believe you're working on a new album – what inspired it and why was now the right time?
The album is finished already and will be released in May! This is the fourth album I have produced for one of my own projects, and the first one I will release not using a moniker, but under my own name, 'Hannes Bieger'. I have always been an album guy, from the first days I started listening to music as a kid. So when I started releasing music again in 2017 after my long break, I believe it was only a question of time until an album would manifest itself.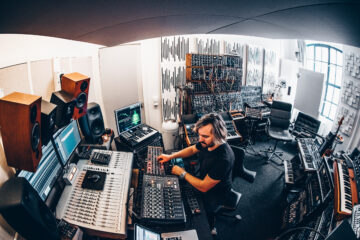 WWD: On that note, was there a specific moment you remember thinking you were ready to start on it?
I wasn't ready for it at all – it simply happened! The whole story is interesting and a bit funny, too. In late 2018, early 2019 I got in touch with Christopher Coe, and he invited me to do a release on Awesome Soundwave. I said great, would love to do this, let's start with an EP. But Chris replied: "We only do albums, and we want long pieces of music!". I thought there's no way this is going to happen anytime soon, as I could barely imagine to reserve sufficient time to come up even with just an EP. But in spring 2019 I got to work on it, and the whole album was finished over the course of just a few weeks. Boom, there it was!

WWD: Was there an idea for it from the start – a certain sound you wanted to achieve?
It turns out Chris' two objectives, a full album and long pieces of music, didn't prove the obstacle I was fearing them to be, but a total liberation instead. I was free to think outside the boundaries of a typical 7 min prime time banger, and the music started to flow as if there was no tomorrow. So what made me afraid in the beginning turned out to be a real boon. Lesson learned again… don't overthink too much, just start making music, the rest will fall into place – and beautifully I have to say, I am really proud with the result. Of course there also were a few more underlying strands worth mentioning. With Awesome Soundwave being a label dedicated to featuring live artists, I wanted the album to have a proper 'live' character. These days making electronic music often times is not so different from doing an office job, with the right hand on the computer mouse, staring into the screen all the time. I wanted to dispense with this habit as much as I could. Also, all instrumental tracks on the album are named after volcanoes or volcanic terms. 'Pele' is the ancient Hawaiian volcano goddess herself! You can make of these metaphors what you want, but I think it's fun to look at the album this way. And this is a nice coincidence too, as Christopher Coe's beautiful album 'MNTNSofSLNC', which was the initial spark for the whole Awesome Soundwave endeavour, was inspired by mountaneous landscapes too – I'm only adding molten rock to the picture now…!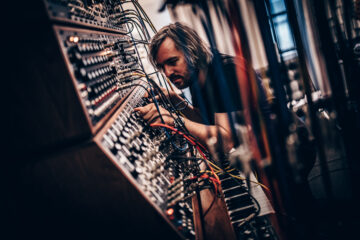 WWD: You're renowned for your prowess as a producer as well as your modular setup. How have these machines impacted your approach to music?
Yes, this is where the modular synths came into play, and they helped me big time. The whole album isn't entirely based on modular synths, as it would be stupid to limit yourself to just one means, but they certainly played the key role in the process. Some fellow Awesome Soundwave artists made their music completely live in the studio, performing and recording the full pieces in real time. I chose a bit of a different route, because my writing process is a bit more nonlinear at times, and what I wanted to achieve I couldn't have pulled off in real time, all by myself, as I'm a human and not an octopus… What's characterising the album, though, is that I often recorded long modular passages over the entire length of the track, and then I used these recordings with minimal editing, if any at all. The result is a spontaneous energy making the tracks really coming to life. To me certain passages feel quite like a synthesizer jazz combo jamming together, with elements going overboard at times, before they reign themselves back in. There are imperfections, and sometimes it goes off balance a bit, but this is exactly what constitutes the "live" character, you can't achieve this drive and immediacy by way of moving building blocks on the computer screen. I also worked really fast, resisting any residual urge to edit and clean up the takes too much. This would have made it a more balanced and "perfect" record, but it would have watered down the emotional impact. Modular synths are great teachers! Working with them has upended my entire production process, but only for the better. They really force you to listen closely…

WWD: Do any specific machines define the album do you reckon?
As with most things music production, in the end it's a combination of several, if not many contributing factors. But if I have to single out one instrument, it would have to be the Moog Modular! It provided the musical backbone to "Semeru", "Vent","Miocene" and "Pluton", together forming four of the six album tracks. And I have used it on the other tracks as well, just not so much in a leading role. The meandering "Semeru" is a great testament to the richness of the textures it can provide. Just put some reverb on the synth, add a bassdrum, and the sound picture is complete! It is such a rich, powerful instrument, it never ceases to amaze and surprise me. I also have to mention my Arp 2600, which, for example, is featured very prominently in the title track, "Pele". It basically goes through the entire piece: The tom groove in the intro, the bass arps in the main part as well as the higher arps in the breakdown all come from the same sequence of the 2600, played with different oscillator and filter settings through the entire frequency range, from deep sub bass to almost biting midrange harmonics. It's a beautiful instrument, an early Tonus model, which was owned by Ken Bichel in the 70s. He used to work as a session player in New York at the time, and he played this very instrument on a large number of classic records, including some Aretha Franklin albums! It's a wonderful feeling that a synth with this legacy lives on at my studio now…

WWD: You also have a new single coming via Carl Cox's label. Can you tell us a bit about Carl and his involvement with the record? Did he feedback on it?
The beautiful thing was the Christopher and Carl pretty much gave me free reign to create whatever kind of album I wanted to conceive. I don't take this sense of trust for granted at all, and if anything, it made me work even harder to come up with something worthwile. I have never sent material to the label in the process before it was practically finished, but everything I heard back from them was nothing but encouraging.

WWD: As a renowned mixing engineer, what do you think are the most common mistakes people make when making music?
This would be a question for another interview, as you can imagine I have to say a lot about it. Not just looking back on other people's mistakes, but also on the ones I have made myself. And trust me, there have been plenty, I'm guilty as charged, too… let me say only so much here: Many people tend to prefer to talk much more than to listen – and this can be problematic not only in life, but also in music production.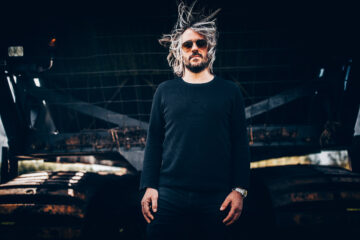 WWD: Tell us about Ursula Rucker – how did that collab work? And how did it work when you worked alongside the likes of Francesca Lombardo?
I first heard Ursula's voice around 1998, on the brilliant "Two Pages" album by 4hero. "Loveless" is still such a haunting tune! Since then I was in love with what she did, and a collaboration was always a dream for me. I wanted to have one really special voice on the album, so I reached out to her, and luckily the whole thing came to fruition. We have never met so far, but I can't wait for that to happen. With Francesca on the other hand I have worked a lot, as I have been mixing quite a few of her productions, so finally working together on a track was sort of a natural progression.

WWD: Are the lyrics important themselves? Should they say something or is it more about the sounds themselves?
A good question. The short answer is – it depends! Sometimes I'm fine with vocals pretty much being just another instrument. But something you absolutely don't do is to ask Ursula Rucker for a collaboration and then not care about the lyrics… In my view she is one of the most outstanding vocal artists of our times, and her lyrics are a huge part of that, and always have been. She is brutally honest, and she goes to the places where it hurts the most, if need be. But her lyrics are often times also hauntingly beautiful, thoughtful, and even wise. I don't know anyone else quite like her. Her records always have been special ones for me. You can't listen to them just as a backdrop to doing something else, and you have to be in a certain emotional state to be able to take them in. When we started our collaboration I told her about the underlying volcanic theme, but at the same time I literally said to her I trusted her lyrics 200%, she was absolutely free to write whatever she wanted to. I got goosebumps when I first heard the result – it's true, I even took a picture as a proof! The world is in a very strange state at the moment, with many pressing issues, and us humans not exactly in the best place to tackle them, to put it mildly… I am extremely happy to have a "Poem for the Planet" as the centre piece of my album now. Poems alone might not suffice anymore to solve the situation, but they might help and lift the spirits of those still trying against all these odds…

WWD: Tell us about giving proceeds to charity. How did that idea come about? Is the earth something you're passionate about?
It was the logical thing to do! Many of my fellow artists like Christopher Coe and Francesca Lombardo have been supporting, if not founding, charities dedicated to planting trees for a long time, and I come from a very conscious background, too. I don't want to overstate my own activism, but just to give you some perspective – some of my earliest childhood memories are me sitting on my fathers shoulders as a toddler during demonstrations against the deployment of nuclear Pershing missiles in Germany. Later, when I was still at school, I was protesting a nuclear waste repository near the town of Gorleben. I had to skip school for demonstrating there, and my parents weren't mad at me for doing this. In fact they would have been mad at me for not going there! I was 8 years old when the Chernobyl disaster happened, and I vividly remember having to stay inside the house in the days after, not being allowed to touch any plants, or anything for that matter, in the garden, especially after it rained. As a consequence my mother cofounded an activist group which still exists to date. So I already grew up with a sense of the fragility of our planet, and that caring for it really does matter!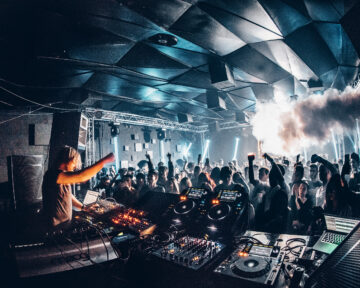 WWD: What else are you working on for 2020?
I think I can already announce I have another EP lined up for release on Bedrock again, although I won't spill any more details just yet. And there are three more EPs pretty much ready to go. I was really busy in the past months! On top of that I am still working on bringing my live show to more places around the globe. And gentrification is a thing in Berlin, I might have to move my studio later this year – and I have finally come to viewing this as an opportunity to build something even better…

Hannes Bieger's 'Poem for the Planet' (ft. Ursula Rucker) is out 4th April via Carl Cox's Awesome Soundwave. Keep up with Hannes on Facebook and Instagram