22 April 2020
Dutch comrades Esteble are a duo of producers who remain impossible to categorize. The longtime friends and roommates share an innate sense of groove and melody, utilizing a diverse range of influences bred from their true musicianship. Whether jamming acoustically or producing surging electronic arrangements, Joep and Bram have proven their ability to capture the attention of dance music's tastemakers time and time again.
The Rotterdam-base pair have appeared on behemoths such as Diynamic, Anjunadeep, Stil vor Talent. XYZ fans will be familiar with their eclectic remixes for Hosini and Budakid, as well as their recent work with Behrouz's Do Not Sit. Esteble's quality in the studio tells its own story, as the two are able to traverse genre boundaries to create stunning pieces that turn heads across the electronic spectrum.
As we enter the spring months, albeit under precarious circumstances, XYZ are ecstatic to welcome Esteble to the label in full with their Amazonica EP. The three track project flows along with an aire of calmness that is much needed in these unpredictable times, offering a respite from the craze.
Amazonica leads the way, gliding over a light percussive riff and muted bass throbs. Teasing melodies weave their way in and out, letting the jungle elements and understated vocals assert their laid back groove from start to finish. The A-side sets the tone for the EP, easing listeners into a pensive vibe from the get go.
Bosoko propels similar elements in stunning fashion. The bassline captures attention as the drum kicks surround darker tones. Acoustic inctricies over the melodic rhythms collide for a track dripping with moodiness, yet unrelenting in its groove.
To round out the project, Esteble pick up the pace with Vanuatu. A sturdy kick is complemented with swirling melodies. The progressive arrangement rises from the get-go, culminating in a deep and ominous moment. Brimming with a surging bassline, Vanuatu is most club-oriented of the bunch.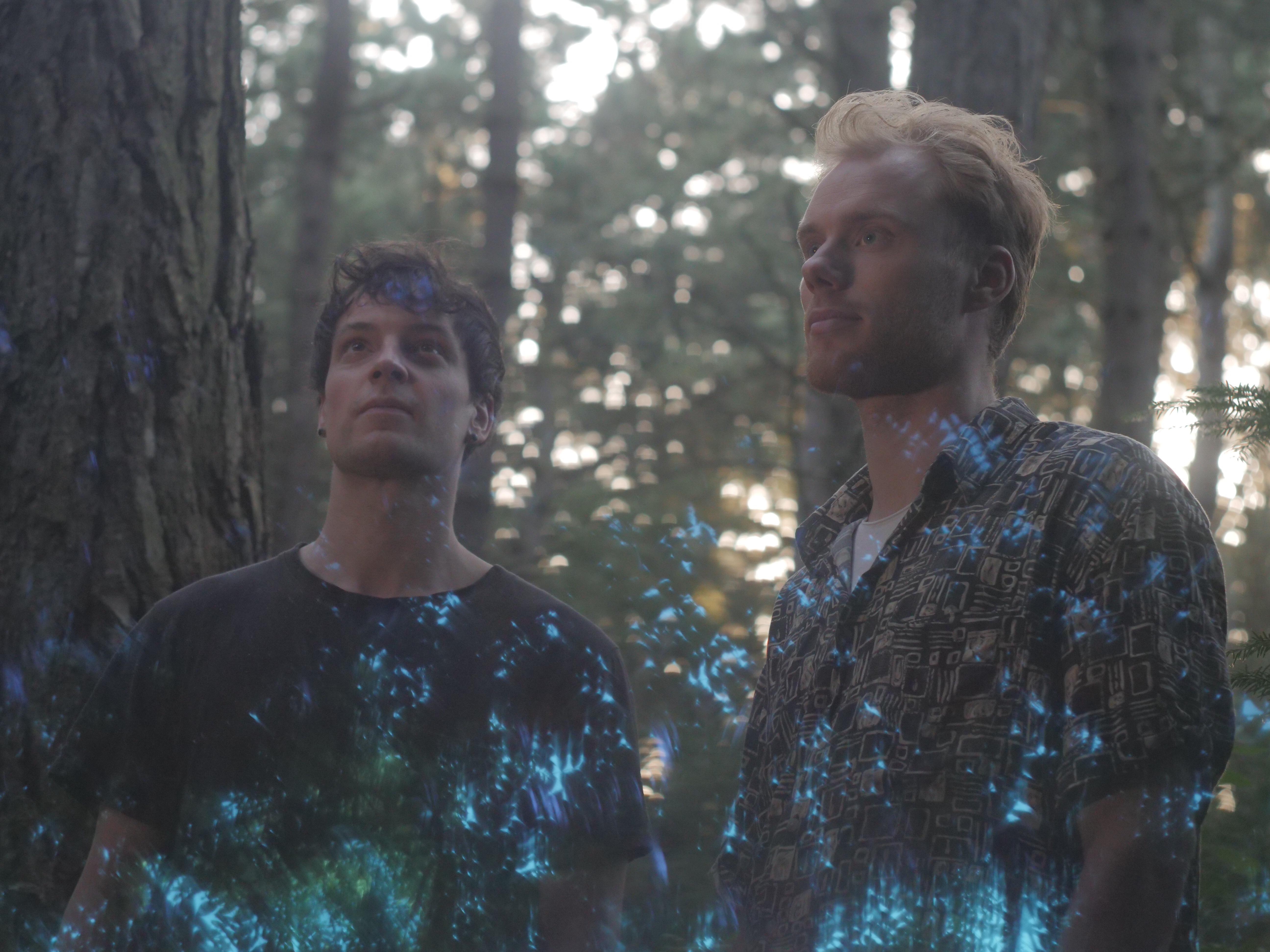 Following last week's release of the Amazonica EP, we caught up with the two from Rotterdam to check in on how they are handling things in this new world.
WWD – Joep & Bram, many thanks for joining us today! Congratulations on the EP, it's really a super trio.
Esteble – Thanks a lot guys, we're really happy the way the EP got together as well!
WWD – There is a lot of sincere musicality present in your productions – tell us about your involvement in music before you started making electronic beats.
Bram: I started playing the guitar at age 10 and my mom and dad both inspired me musically with their diverse taste in music. I got to listen to a lot of good 70's tunes at home when growing up. Also my mum studied at the conservatory, teaching and playing the organ in church for a big part of her life. She inspired me a lot to make and also teach music.
Joep: Thanks guys! Really happy how the EP turned out. Like Bram, I grew up around music. My dad plays the guitar and always had records playing. My uncle was in a small band, which the whole family supported. I started playing guitar when I was around the age of 21.
WWD – There is a subtle laid back aire to this project, especially on Bosoko and Amazonica. You've proven yourselves to be versatile producers over the years, swaying from dancefloor-focused to easy listening. How do you guys approach the studio process in terms of energy?
Esteble – It actually really depends on the mood we're in, when starting off a new project. Sometimes a track kicks off as a melodic atmospheric kinda easy going track, but turns into quite a banger when we develop it further. But we like to keep it interesting for ourselves as well by switching BPM's; we've made music ranging from 100 till 127 BPM which just gives a different energy to the track as well of course. It's also nice to have a couple of projects going on, differing in energy levels, so when we're not really feeling the high energy track we're working on at the moment we can easily switch to a slow groover instead.
WWD – How are you two handling the pandemic? What is like life in Rotterdam at the moment?
Esteble – We're really lucky that we have our studio at home and not externally, so we can always make music when feeling creative. There's no strict lockdown in the Netherlands, which means we can still go for a walk in the park, but of course we keep our distance. Bram got time off from work, Joep still has to work since he's working in health care. It's a real bummer that there will be no parties until September at least, something we looked forward to after such a wet and cold winter!
WWD – How do you perceive the electronic scene changing in the long term due to the COVID situation?
Esteble – We think that the electronic scene will become a bit smaller again. A lot of dance clubs won't be able to carry the financial burden of closing for a few weeks, and they will probably close down. It honestly really sad to see, but we are a community that helps each other, music is about love and sharing.
WWD – Hopefully everybody is able to find a silver lining in these crazy times – a new hobby, more exercise, an appreciation for the little things… What have been some of the positives thus far for you?
Esteble – We've been playing some disc golf lately since and we love it! We have a disc golf course 10 min from our house, it's a great way to get our mind off things. Normally we play different kind of sports, but everything is still closed.
WWD – Collaboration is one of the pillars that makes the electronic scene such a tight-knit community. You've just released a stellar pair of tunes with Hosini on Do No Sit. How did this come about?
Esteble – We came to know about Hosini through his Soulsearch EP on XYZ, we loved it! The guys from XYZ asked if we wanted to do a remix for the EP. We found out we both liked each others productions, and shared some projects which might be interested to work on together. This is how our Hypna EP [Do Not Sit] was born.
WWD – Of course, as a duo, collaboration is your bread and butter. How did you come together in the early days with Esteble?
Esteble – We met each other in Rotterdam in 2009 through a mutual friend and there was a click right away. Musically we matched really well,, although both coming from different musical upbringings. Joep introduced me to the 'deep house' side of music, as I (Bram) was more into downtempo electronica at that moment. We played guitar together and ended up recording some of our jam sessions, which we made into downtempo tracks. We started looking for names, and Joep came up with Esteble.
We both attended a Diynamic label night at ADE in 2012, and for us that party was a big motivator to start a musical project together. We started Esteble right away, that same year.
WWD – What's one unique asset each of you bring to the studio process?
Bram: I think that Joep has got a great ear for samples and unique sounds to really give the track it's individuality. Also a great 'groove maker', both in the tracks as with his company.
Joep: Bram has great sense of groove and melodies, and a diverse musical background so he can swoop his magic wand on basically any genre; downtempo, uptempo, ambient, breakbeat and so on.
WWD – Amazonica marks your first EP with XYZ after a couple remixes last year. Tell us about working with smaller labels and how the experience compares to releasing with the likes of Anjunadeep and Diynamic?
Esteble – It's mainly the communication which goes a lot smoother and more personal. The contact with bigger labels mainly goes through our management. The budget might be smaller but there is more attention and care for the artist. Of course it also helps we already have our daily moments of contact with the guys behind When We Dip and thus with XYZ.
WWD – Have you made any musical discoveries over the last couple weeks – new artists or tracks that we should know about?
Esteble – Jonny Nash & Suzanne Kraft with their Album 'Passive Agressive' really has this calming vibe which speaks to us a lot at the moment. Also the music by Primal Code has this really tribal and spiritual vibe which really resonates with us. We also discovered some oldies by Doubtingthomas (i.e. 'Your name here') which we love for it's unique style.
WWD – Any TV or movies that you'd recommend for fellow quarantiners?
Esteble – Eastbound & Down, classic! Hot Ones on youtube, spicy!
WWD – We're hearing rumors about a stellar remix project on Amazonica – can you clue us in on what to expect?
Esteble – There will be a remix EP soon, with four of our favorite producers on it. It's a real honor that we have so many talented artists remixing our music. We're really excited to share this with the world!
WWD – What else can we expect from Esteble over the next couple months?
Esteble – We're planning on recording a liveset (Esteble tracks only) video from our studio, which will come online in a couple of weeks. Also we're planning a self released EP, shooting for this summer .
WWD – Guys, its been a pleasure! Huge congrats again on your Amazonica EP. Truly stellar work. Stay safe and keep the music coming 🙂
Esteble – Thanks guys, we hope you stay safe and well to, speak soon!
Esteble – Amazonica EP [XYZ017]Release Date – 04.17.20
Purchase – www.beatport.com/release/amazonica/2904230
Join the When We Dip XYZ community: mailchi.mp/558a6aacaab2/wwdxyz
Stream releases in full via Spotify: spoti.fi/2uDd07z
Connect with XYZ – linktr.ee/wwd.xyz
Connect with esteble
Facebook – www.facebook.com/esteble
Instagram – www.instagram.com/esteblemusic/