12 May 2020
Dynohunter is a US trio who are an electronic live band that recently dropped a new self-titled album. Blending hand played instruments with electronic beats they have an epic style that is melodic and full of charisma. Keen to learn more about the project, we caught up with the guys to ask them a few questions…

WWD: Hey guys, it is nice to be talking with you today. Could you start by telling me who each of you are, and how you all met, as there is three of you in the group? 
Clark Smith: Yes, the group is a trio consisting of Fred Reisen on electric bass and synth bass, Nic Thornsberry on drum kit and spd-sx drum pad and myself playing saxophone, synths, percussion and DJing our productions. I started producing music under the name DYNOHUNTER in 2009. Nic and I met in college where we were both studying Jazz in Denver, CO and I met Fred through the music scene in Boulder, CO where we currently live.

WWD: Can you give me a run down of your live performances, as I understand you blend hand played instruments with sequenced sounds? 
Yes exactly, it's a mixture of studio production/sequenced sounds and live instruments. Our productions are very much inspired by the House & Techno music we love and then we try and incorporate these more organic live instruments into the sound. We strive to create a sound that has the precision of studio production but still has the organic feel of a live band. We also jam over certain sections of our tracks by looping the track and improvising with our instruments. Check out our Live Sessions video series to get an in depth look at how we perform live, we've recently put out this Third & James Part 1 Video featuring tracks from the new album and we'll be dropping the part 2 sometime this month!

WWD: Do you also play DJ sets? 
Yes, I love DJing as well, it not only gives me an opportunity to play our original productions in more of a club setting, but also feature other producers music that have really been inspiring us.

WWD: Recently you put out a self-titled album… was that your first LP, and how long did it take to put together?
It is actually our second full length release, our first was The Nomad (2015) but the self-titled LP is definitely our most complete and definitive release. We feel like it really captures a sound and story that is uniquely 'DYNOHUNTER' and that is why we decided to make it a self-titled album. The album has been in the making for a few years now, as we've been putting out shorter releases, certain tracks that felt better for a longer release and that were a little more uniquely DYNOHUNTER we put aside, then when we decided it was time to start working on the full length release we compiled some of those tracks and also wrote a few more tracks that filled the gaps in the story we were trying to tell. The album is inspired by a lot of tribal and world textures and sounds. A lot of the soundscape imagery for the album was also inspired by learning about ancient civilizations and checking out ancient art and architecture, i find it fascinating!

WWD: Talking of putting things together, can you give me sone info on how you usually start a new track. Do you usually start by jamming with instruments in a practice room, or do you hit the studio first to lay down a sequenced backing track?
Yeah, we always start the tracks on the computer, and then as we're producing decide how we can incorporate some live instruments. We record a lot of our own percussion parts along with electric bass, and saxophone. The drums for our studio productions are always programmed, though we do use some samples that we recorded from Nic's drum kit. We prefer this as it gives us more variability in drum tones track to track and a tighter more electronic sound for our studio releases.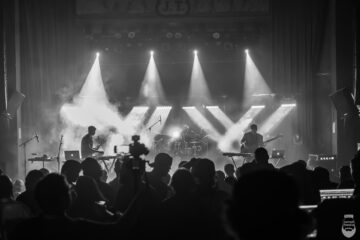 WWD: The label which released your album was "Symphonic Distribution"… is this a self-released project ? 
This album along with a lot of our music has been self-released. However we do also have a few label releases on Mistique Music, Clinique Records, JourneyDeep, Re:Sound Music, & Hood Politics Records. 

WWD: What are you currently working on right now, is your next release already in the pipeline? 
Yes, we have been working on a new EP that is inspired by the sounds of Afro House, Progressive, & Melodic Techno. It definitely has this tribal islander feel to it 🙂 Some of it's a little playful while other tracks are darker and driving.

WWD: We know the current state of the world right now with Covid-19. Did you have any touring plans cancelled, and what countries have you played in before? 
Most of our touring plans have been cancelled due to the virus, we were scheduled to play at Electric Forest which is one of our favorite festivals this summer in Michigan but that's been cancelled. We are looking forward to performing for our first time at Bonnaroo Festival in Tennessee which has been reschedule for late September. We've only played in the US and Canada up to this point, but we'd love to go international and share our sound with the world.

WWD: Is there anything else you would like to add before we finish off the interview? 
Thanks for taking the time to talk to us! Look forward to catching up at a live show one of these days!