23 June 2020
For those of you who may not know him, Chaim is an Israeli musician, whose organic and forward-thinking music rouses listeners from around the globe. Known for gracing the DJ booths of some of the world's most notable venues, his productions have found homes on some of the industry's most respected labels, including his own label Blue Shadow, BPitch Control, Flying Circus, Rebirth, Rumors, Supplement Facts, Visionquest, Disco Halal, Saved, Cocoon, and many more.
Fresh off the back of recent remixes on Gardens of Babylon, BMG and Eleatics Records, we catch up with the Tel Aviv based talent to find out more…

WWD: Hello Chaim, welcome to When We Dip! How are you mate?
Thanks, good to be here. I'm good and healthy thank you. 

WWD: Can you tell us how you got into electronic music?
Well thee are many ways i can put my finger on, but I'd like to choose one of them — I was 10 years old listening with my two older sisters to "enjoy the silence" and since then I was hooked.

WWD: How would you best describe your sound for those who may not be familiar?
One of the things that is getting harder and harder these years is to describe styles of music. Everything is so mixed up these days. But if I had to describe it, I'd say my music sounds like dark disco trance with happy ending 🙂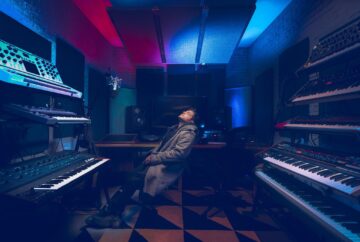 WWD: Who or what were your biggest musical inspirations growing up?
My father used to listen to stuff like Paul Anka, The Shadows and The Beatles, my brothers were listening to all the new wave music bands as Joy Division, Soft Cell and Depeche Mode and my mum used to listening to Moroccan music.

WWD: Can you share some memories from the days you started raving/DJing?
When I started to rave I have to admit I didn't love the parties as much as I loved the music. I used to go and listen from the side as I used to be afraid from standing inside the crowed. I used to listen closing my eyes and dreaming of being in that spot of a DJ just from the reason of sharing what I feel with the crowd. 

WWD: Congrats on the release of your remix for Geju – Prazdnost' on Gardens of Babylon. Can you talk to us a bit about the record?
Full disclosure, the Gardens of Babylon owner is my best friend and she reached to me for the first release of her label. I loved the track and the vocal and it inspired me to do this break beat kind of trancey eclectic track.

WWD: You also had a remix of dOP earlier in June on Eleatics. What's the story behind that one?
I have long relationship with dOP especially with JAW the singer. We were friends for years and we did many songs together over the years.I always loved their sound and when they approached me to do this remix I jumped at it. I loved working on it — it's so easy as well with JAW's vocal always sounds great.

WWD: What do you like to do in your spare time when you're not touring the world or making music?
My favorite thing at the moment is riding horses, especially single foot ones. You should check out what is single foot horses in case you don't know. It's an incredible style of horses.

WWD: What's your favorite part of being an artist?
Hotels and and mini bars. 

WWD: And your least favorite?
Poor hotels with no mini bar.

WWD: Do you have any other releases planned in the coming months? Can you give us a sneak peek?
Besides the remixes you already mentioned I have another remix for an Israeli legendary acoustic guitar player who signed an instrumental album with BMG, which is out on June 11. I also have a new EP on my label " Blue Shadow" that will be released during the summer which i think will surprise my fans with some collaborations and re edits that will find their way to the dance floors 🙂

WWD: Any final words for our When We Dip readers?
Wash your hands and don't let yourself brainwashed.