13 July 2020
The team behind XYZ and When We Dip is thrilled to depart on a new exploration in the form of TOR. Stemming from our beloved Dancefloor Romancer branch, TOR will serve as a partner for XYZ in the purveying of quality dance music. The driving force behind the When We Dip label family remains providing an honest and effective platform for some of the scene's most deserving producers. TOR expands our ability to connect with such artists to form long term partnerships, garnishing a true collective within dance music.
As we venture forth with TOR's first release, we are very excited to have Wassu at the helm. The New Yorker has turned heads over the last year with a string of enthralling releases on the likes of Anjunadeep, Silk Music, and Immersed. He has a firm grasp on warm melodies, crafting smooth and gracious high ends, which he rests on sturdy grooves and boastful basslines. His calm demeanor and genuine aspirations make Wassu the perfect pilot of TOR's inaugural release.
Bursting out of the gates on Wassu's EP is Andu. A house kick carries the fluttering melody from start to finish, but the acid-laced synth work is the star of the show. The muted and gritty groove remains driving throughout, while also allowing space for strings and textures to set the character of the track. It's a tune directed at the club, and we know it will create special dancefloor moments sometime soon.
Moshi moves in a lighter direction, gliding over a sumptuous bassline. A playful percussive riff sets listeners into motion while Wassu's delightful melodies go to work. It's impossible to avoid cracking a smile and a two-step throughout this one, as the immensely delightful groove connects beautifully.
Easing us to the EP's finale is Sabu. Drums guide the way as somber melodies float through a tune that is equal parts melancholic and hopeful. A lovely breakdown harnesses stunning strings, before reigniting the kick to great effect. Sabu is the perfect closer to a magnificent trio; an EP that represents a new journey for artist and label alike, offering luminescence during these turbulent times.
To recap the launch of our latest initiative at WhenWeDip, we caught up with Weston, ie Wassu, for a wide-ranging chat on life as a producer in these crazy times.
WWD – Weston, huge congrats on the Andu EP! Stellar music, and a perfect launch for our TOR label project.
Wassu – Thanks so much. Really appreciate you guys having me! Honored to be a part of it.
WWD – What stands out about the Andu EP to you in comparison to your previous works? Are there any unique studio tidbits or sounds that are unique to these three tunes?
Wassu – Well for one on Andu, I wanted to write something a little more club-friendly as I was previously writing a lot of melodic, dreamy music. This is what initially inspired the acid line in the track – I think that's actually the first thing that came together on that project.
On Sabu, I actually met my good friend Michael Spleit in Prague in October who wrote the Cello part in the breakdown, and I think that's something I'm really trying to do more of – incorporating authentic, organic musical elements that you wouldn't be able to find in a sample library.
WWD – Could you summarize the 'Wassu' sound in three descriptive words?
Wassu – Dreamy, Lushy, Saucy
WWD – Tell us about the early days of Wassu – how and when did the project come to fruition?
Wassu – So I was actually in the midst of starting a new corporate job in the fall of 2018 and I had previously been releasing music under my actual name (Weston Butler) since late 2017. I didn't want people in the corporate world really knowing about my music hustle and wanted to keep the two lives separate.
My close friends and I have silly nicknames for each other, hence the name Wassu. They have been calling me this for the last five or so years, so it was a no-brainer that this was a fitting name. A couple of my songs, including Andu, are named in a similar fashion.
This coupled with landing an EP on David Hohme's "Where The Heart Is", influenced me to rebrand and start a new musical journey. He debuted my first release in his Where My Heart Is Vol. 1 mix and the rest is history!
WWD – You seem to be a guy who knows everyone in the deep & melodic scene. Outside of making quality music, what assets are needed to make strides as a producer in a professional sense?
Wassu – You need to be social and network – period – both casually at events, and professionally online or wherever. I can't even begin to tell you how many key relationships I've built from simply attending parties. You never know who you're going to run into or chat with at these things. I guess long story short – hustle and hustle intelligently.
One small anecdote – in April of 2019, I attended a party at House of Yes where Newman (All Day I Dream) was headlining after hearing him support one of the tracks from the first Wassu EP on a mix he recorded. Shortly after his set, I went up to the booth, introduced myself, and we chatted very briefly and exchanged email addresses. Since then, we have been in close touch and he's been incredibly helpful for guidance on my music career.
If you focus on building relationships and supporting others, you will no doubt make the right strides in your music career and ensure success. Always try to send your music to people close to a label rather than uploading it through a demo box submission. There's a chance someone in your network will be able to help get your music heard by the right people.
WWD – New York has always been a hub of dance music. In recent years, the scene for your sound in particular has seen tremendous growth, and fosters a tight-knit community across the boroughs. Who are some of the key players in town, and what can you say about the importance of New York in your development thus far?
Wassu – I first moved to NYC after I graduated university for my first corporate job. I love the liveliness of the city and how diverse the community is. There are certainly special moments I've had both playing and attending events here in the city that have heavily inspired my music.
As it relates to other key artists in the area, Newman is certainly one of them. Newman is a staple on Lee Burridge's All Day I Dream and he's a regular performer at their parties. David Orin is another close friend of mine who lives down the street from me, and just had a remix of the Esteble guys on XYZ a few weeks ago. He's got a few exciting releases lined up later this year that I'm excited about for him. David Hohme, Moon Boots, and Baile are a few others I can think of, whom I've had the pleasure of meeting over the years.
WWD – New York, of course, was also hit particularly hard by the Coronavirus. How have you spent the last couple of months?
Wassu – I was bunked up at home with my parents in Richmond, Virginia for the last three months. I've since then returned to NYC where I've been for the last few weeks. I will say that I'm already missing the home cooked meals and the pets (two french bulldogs and a black cat).
I've made the most of my time and have been incredibly productive in making music. I'm not really one to wait for inspiration to strike before I start working on something. I've also used the time to try new techniques and push my boundaries both technically and musically and it's been quite rewarding.
I've also recently gotten back into running, which has been really therapeutic. It's definitely a nice break to take in the middle of the day, and it provides an opportunity for me to clear my mind and think about things.
WWD – In your eyes, what are some of the long-term changes that will arise in dance music due to the pandemic?
Wassu – I think we are definitely going to see more live streaming and that's here to stay for the future. Overall, I believe there will be less in-person events when things start returning to the new normal, in addition to the reduction of capacity for clubs and venues.
That being said, there will be much more of an appreciation for music and hearing it live rather than at home. Not really sure when it will all come back around, but all we can really do is sit, wait, and create. People are still consuming music daily and have a newfound love for the art. I think it's in every artists' best interest to capitalize on that and put out as much music as possible.
Again, I realize that it's tough to be creative and inspired to release music when there aren't events to celebrate the music, but this is our new reality and it's unfortunately here to stay for the indefinite future. It's better to have consistent content rather than go dark for months at a time, especially if you want to continue engaging your loyal fanbase.
WWD – What's been the 'silver lining' of the pandemic for you?
Wassu – I think the pandemic has allowed all of us to reset and reevaluate our lives. For example, I have a lot of friends that are moving out of the city and now looking onto the next chapter of their lives. For me personally, I feel like I've been more creative and productive than ever. I've finished a LOT of new music these last few months and I'm really excited to continue giving a sneak peak into the new music via my live streams. I feel like when we're so busy in the day-to-day that the city throws us in, we lose track of time and honestly don't have the chance to stop and think.
I've been able to become more connected with my friends and family. The pandemic has allowed me to really appreciate things that I took for granted (i.e. going out to dinners with friends and nightlife, for example). I feel like I now have a greater appreciation for everything – especially the fact that I had the chance to live with my parents for 3 months.
Another thing to consider – label A&R's are all at home right now (including big touring artists) and response times are incredibly high. Now is an opportune time to be sending music out as everyone's home and more available to listen to new music. This is one thing that I've really capitalized on over the last few months since the pandemic hit.
WWD – You've worked with labels of different sizes, including the industry titan Anjunadeep. With the Andu EP, you've been tasked with launching a brand new imprint. Tell us how you came to work with TOR and the label team at WhenWeDip.
Wassu – Well I had been following When We Dip and their label XYZ for nearly two years. A few friends who have previously released music on the label have all said amazing things about working with the team.
I actually sent a cold email to the label but I was very specific with the message. I mentioned my favorite releases from their catalog (I still love Hosini's Syd to this day) and why I wanted to work with the label. It was also great timing as When We Dip did a premiere of one of my previous releases – "Ben & Caroline". They responded pretty timely letting me know of their plans for the new label, "Tales of Romance".
I really do believe in the brand and I'm incredibly honored to be the debut release for the new imprint. The team's been fantastic to work with and I'm excited to see what the future holds for us together.
WWD – What benefits are present when working with smaller, niche, or artist-run brands in comparison to the more established record labels?
Wassu – Honestly, I think each release gets more attention with the smaller labels and the process moves a lot quicker / more smoothly. It's almost always the case that you'll need to be patient with the bigger labels because there are more nods of approval that are required before they sign something.
I've really loved the professionalism with TOR and very much look forward to building the label-artist relationship here. They've been very responsive and detailed as it relates to the release. The campaign was very specific and tailored to the EP.
WWD – Andu is a tune primed for a dancefloor, and will surely be enjoyed thoroughly in person once nightlife resumes. What have been some of your favorite shows to play thus far?
Wassu – There are three shows that immediately come to mind. The first was playing with Jody Wisternoff and Martin Roth for a sold out show at The Good Room in Brooklyn back in February 2019 with Inoki Party. That was hands down the busiest night I've ever played in my music career to date. The energy of the room was so high and I had the chance to play music I wouldn't have been able to in any other set.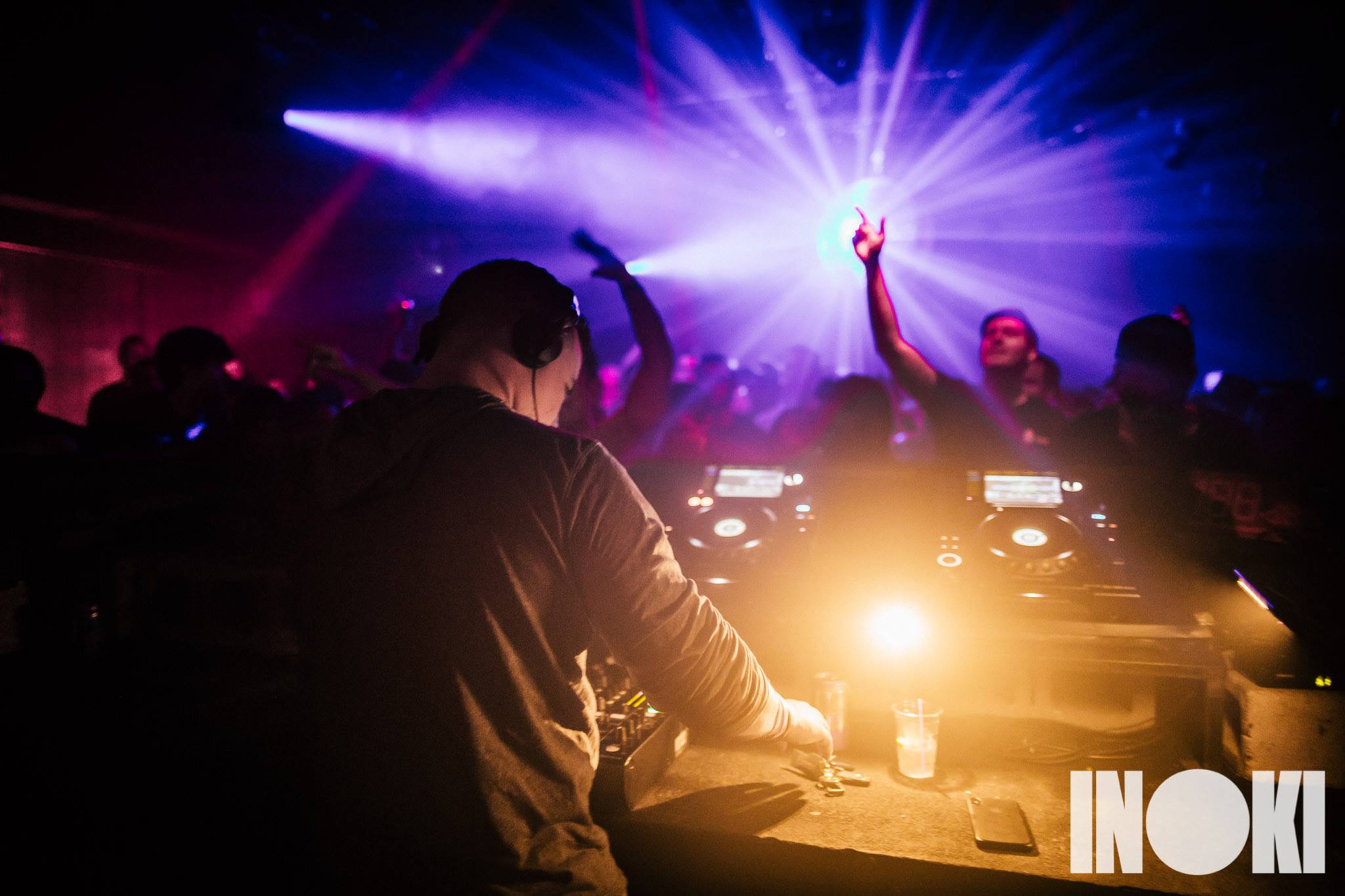 The second was my opening set for Above & Beyond at The New York Expo Center for New Years Eve 2020. This was easily the biggest space I've ever played (I remember stepping on stage and being able to see down this arena about 200 or so yards – huge). Eric Prydz actually played his iconic HOLO show a couple of nights prior. It was a really nice change of pace playing a massive venue compared to your traditional nightclub. I think this was a big one to get under my belt as a relatively new artist.
The third was my first headlining show at Do Not Sit On The Furniture in South Beach, Miami for the Superbowl closing party this year. I played from 1:30am – 5:00am and it was really rewarding to have a little more flexibility to play clubbier music as I wasn't warming up the floor for anyone. I also had the chance to meet and become good friends with the club resident DJs – Alan Epstein and Jason Rader. Their B2B set was nothing short of amazing and it really set the narrative well for a night that I'll forever remember.
WWD – What will the rest of your summer look like?
Wassu – Lots of new music to write, of course haha! I'll also continue with the live streams and use these as opportunities to debut the new music. Not much really going on to be honest but excited to continue making these next few weeks productive.
I'm also looking forward to spending some time with my family down at our beach house in Ocean City, Maryland. I'm looking forward to taking a couple weeks of vacation from my job to unplug.
WWD – Are there any special Wassu projects we can look forward to?
Wassu – There's quite a lot haha. My next EP should be released in September. I'll also likely have two singles in October, a single in November, and an EP potentially set for December. These are just a select few releases I have planned for the rest of the year (some of these releases are with vocalists and songwriters – ones I've worked with previously and others for the first time). I'm excited to have more music also coming in 2021 and to keep the train going!
WWD – Weston, thanks again for joining us! We'll be rinsing the Andu EP time and time again, and thanks for such a bountiful launch for TOR. All the best!
Wassu – Thanks so much again for having me and I very much look forward to releasing more music together! It's been an absolute pleasure to work with you all.
Stream releases in full via Spotify: https://spoti.fi/2uDd07z
Connect with TOR & XYZ – https://linktr.ee/wwd.xyz
Connect with Wassu
Soundcloud – https://soundcloud.com/wassumusic
Facebook – https://www.facebook.com/wassumusic
Instagram – https://www.instagram.com/wassumusic/