30 March 2021
The 7th of March 2021, a unique musical performance was recorded in the most emblematic outdoors scenery of Quebec: Le Parc National des Hautes-Gorges-de-la-rivière-Malbaie.
This Thursday, 1st of April, the set will be presented on Facebook Live by PASDEROCHE, a Montreal startup founded in 2019. It's the company's 6th ''Escapade Sonore'', but their first one in the winter's freezing cold.
For this unique event, PASDEROCHE invited DJ and producer Nic Falardeau to perform under extreme cold conditions, surrounded by 400 meters of ice cascades, on the frozen Malbaie River. PASDEROCHE specializes in creating unique outdoor experiences unifying the power of music to the beauties of nature. The company's mission is to raise awareness of climate change and environmental issues.
For this very special occasion, and for the first time in quite some time, Nic Falardeau, a very talented DJ, and instrumentalist performed a hybrid SET combining CDJs to his beautiful blue Stratocaster electric guitar.
The result is deep and mesmerizing. From organic to deep house with a touch of progressive, Nic's performance blends with the scenery so well it's almost impossible not to sink in the moment.
For obvious reasons, no audience was allowed on set. We sat down with Nic so he could tell us more about this outdoorsy, purely Canadian experience :
INTERVIEW
What is your favourite outdoors spot in Quebec?
The beach at Notre-Dame-du-Portage. We used to go there every summer when I was a kid to visit my family, so this place is very special to me emotionally. If you haven't had the chance to watch the sun set behind the mountains of the North Shore, you have to add this to your bucket list! Last time I went, I saw it is now a hot spot for kite surfing.
What is your most memorable outdoors experience?
I had the chance to visit Jasper National Park and it is really hard to beat. The scale of the mountains, the blue rivers dripping from the glaciers, the wildlife: everything there is aligned to make an incredible experience. Jasper makes the impact of our urban lifestyle on our natural environment utterly noticeable. We can truly witness an untouched, raw ecosystem in Jasper, where the biodiversity persists, sheltered from big scale human activity.
Your best road trip song?
Oh, only one? Tough question. Depends on who I am travelling with. I usually listen to classic rock for road trips. Actually, I have a Spotify playlist called Roadtrip – Classic Rock. I never got to making a second Roadtrip playlist for another genre, which says long about my preference! I'll publish my playlist so you guys can enjoy it on your next road trip.
Hot track right now?
My answer here tends to vary a lot, but if I look back on what I've listened to the most during the past month, I'd say "Saman" by Ólafu Arnalds.
What's your outdoor bucket list?
It's impossible to only say one because the experiences that figure on my bucket list are specific to the person I'd like to share them with. Here are a few of them:
• Travel to Machu Picchu with my girlfriend
• Ski in the Swiss Alps with my dad
• Travel to the Himalayas with my brother and sister
• Bring my mom to the Canadian West Coast so she can live the Jasper experience.
What was your biggest challenge during your Escapade Sonore?
The biggest challenge was definitely the weather in which I had to play… Not easy to play the guitar with frozen hands! But the experience of playing in this scenery was definitely worth the frostbite.
What was your favorite moment with PASDEROCHE's team?
I really enjoyed the weekend as a whole. My highlight was the moment when I played guitar on the frozen river, but the whole team was friendly and you guys put me at ease pretty quickly. I want to thank the staff of SEPAQ too for their help and kindness. Can't ask for a better weekend than one in nature and surrounded by smiling people! Big thanks to everyone involved.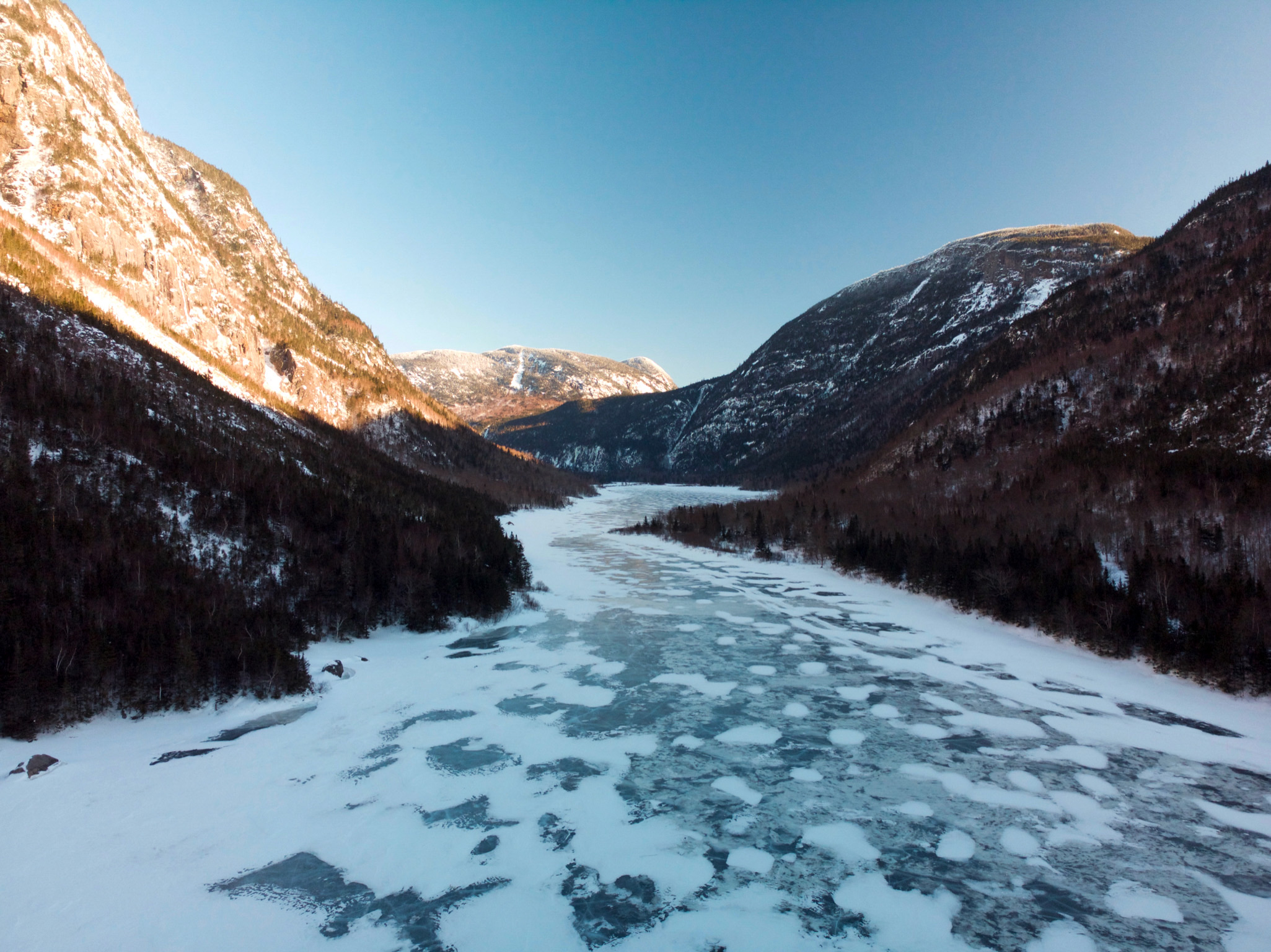 PASDEROCHE plans to keep on pushing Escapade Sonore's project at its furthest. They are off to a stellar start producing their last 4 events with top-notch artists in incredibly beautiful and remote locations. Summer 2021 should be eventful for the company.
Make sure to tune in on PASDEROCHE's Facebook live this Thursday 1st of April at 8p.m. (ET). Meanwhile, go listen to Nic's playlist for on PASDEROCHE's Spotify