3 March 2021
Celebrating his 25th year as a producer and DJ, London's Silverlining announces his first ever double-vinyl artist album, 'Simulacra', a brand new collection of emotive yet powerful body music from his South London studio. Known for his diverse and bassline-driven grooves, this work sees him straddle between the stripped-back house and techno that we have come to adore on his acclaimed Silverlining Dubs series, with eclectic forays into territories of electronic musicality unexplored by him until now. Adopting a similar analogue workflow and kit-list to that used for his 1990s productions, the collection retains his trademark sonic brilliance, whilst demonstrating, once again, that his ideas are far from running out. We spoke with him about it
WWD: Hi Silverlining, Thanks for chatting with us today. How have you been? How has the start of 2021 been for you?
So far 2021 has been an industrious time for me, preparing for this new album, and some other releases planned this year. The lockdown is far from ideal; I'm definitely missing the gigs and travel, but I'm grateful to have my loved ones and a roof over my head. Things could be a lot worse.
WWD: The past year has been a troublesome one, but a year that a lot of people found new hobbies, things to focus on. Was this the case for yourself?
I hear there's all this extra time going around to do new things, but alas, not for me! I seem to have had more on my plate to do, despite being at home, rather than less. Otherwise, when the first lockdown kicked in, I made this huge list of things to do around the house, including rebuilding my DJ area, organising my records, and rewiring my studio. So far, I have managed to get the first done and sorted most of my vinyl. Unfortunately, every time I have to record a mix, I end up with a massive pile that needs sorting out again. I'll probably take the terrifying plunge into the studio rewire in the Spring.
WWD: Your forthcoming Simulacra album just landed. Can you tell us a little bit about the ideas behind the album? You explore themes of counterculture, why did you find this relevant to include in the album?
It's a topic that interests me a lot. At every stage of history, countercultures, in one form or another, have spearheaded progress. There have been all kinds of examples: going back to the Socratic movement in Athens, Sufism, the Enlightenment, early Jazz, the Bohemians, and the Dadas. Of course, in the post-War era we have had seen a string of countercultures such as the Beats, Jamaican sound-systems, the 60s counterculture, Punk, Disco, Hip Hop, House and Techno. All of these movements were instrumental in shaking up rigid, normative practices and social barriers, usually through collective, artistic activism. Each of those has a profound and lasting effect on wider society. Today, we're still playing out countercultures that were invented over 30 years ago, which goes to show how powerful they've been. I feel it's crucial that we maintain this countercultural ethos when we take the torch from those who started what we still enjoy. Our inner sense of community has been consumed by the creep of internet virtuality, and we all to easily forget the contexts from which these movements erupted. The music genres that we enjoy today were born from necessity amidst milieus of systemic racism, homophobia and class war. The safe, creative space that house and techno built therefore mustn't be forgotten. It was a space that welcomed me when I entered the scene in the early 90s and helped make me who I am.
The countercultural theme on the album is linked to a more general point about virtuality, hence the name 'Simulacra'. The latter word describes representations of people or things that somehow have lost their interrelation with the real world. Digital communities are one example that might feel like present day replications of countercultures, but lack the coincidence of proximity, non-violence, expressivity, and counter-hegemonic mores that have defined their real-world predecessors. Clearly, proximity isn't really an option with a pandemic going on, but I feel this bold drive into the virtual world is not being reflected on enough. The idea actually came about before lockdowns, but when online communication skyrocketed, this seemed to make the topic all the more relevant. All this is not immediately stated on the record, but I felt like there needs to be something behind the titles, artwork and vocals. In the end it's still just a record for the dancefloor, but hopefully with a little more to take-away.
WWD: Your album spans across several genres, and moods, when you sit down in the studio do you set out to make a specific sound, or is it more a case of what is happening in that moment?
It is very much based on gut feeling. I find that if I try to control my creative direction, the music isn't as pure, and I often end up shelving it. Generally, things just come together as I go along but reflect all the different styles of music I listen to, including the different styles of electronic dance. I definitely don't think it's healthy as a musician to focus on a single genre. You hear a lot of producers who become part of a scene, and then only create music designed to fit into that scene. When you only draw inspiration from your preferred subgenre, you get stuck in a sort of creative feedback loop with no fresh influences entering the flow. When artists do this en masse, it can be disastrous, and entire scenes have sunk because of this. You don't need to be reinventing the wheel, but it's important to listen to music widely and take strands from a broader palette. For me, this tends to happen subconsciously based on what feels appropriate as I write.
WWD: The artwork for the album is a real masterpiece by Leonie Bradley. Is Leonie someone you have worked with before? We would love to hear more about the ideas behind it, and the processes you went through to reach the final sleeve.
Apart from being one of my oldest mates, she is a celebrated artist whose work has been exhibited at the V&A, Bankside and galleries all over the world. Around a year ago, I went to view her Analogue Interference project that employs hand-cut 'pixels' over digital selfies (see below). We realised how serendipitously similar the themes in our work are. Her work explores the metamorphosis of identity into the digital world. The main idea in Simulacra, as I just mentioned, touches on exactly this: the separation of our humanity through these carefully presented replicas of ourselves online. When she offered to work together on the album artwork, it was clearly meant to be.
So, we started on this back-and-forth of ideas that all originated with a single photo of me. Leonie dabbled with overlaying it with her hand-engraved pixels, as per her Analogue Interference work. I was already really happy with this, but she wanted to do something fresh, so after a couple of versions, we went with this linocut (below) as the basis for all the sleeves.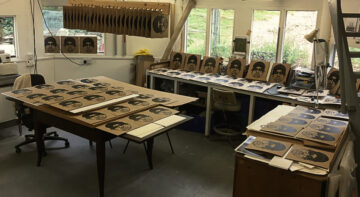 For the limited, hand-printed edition, of which we did only 50 copies of each disc, Leonie came up with this inspired idea to attach a folded print of my face on top of my face, in line with the point about contemporary identity. She did this by printing one version of my mug onto blank manila sleeves, then sticking a manually folded image on top, under a protective PVC jacket (see below).
The combined manhours of all her handiwork plus my stickering, stamping and posting was not insignificant! We then moved onto the final sleeves, for which Leonie printed off her linocut onto card, then folded it up in two different ways for me to photograph. To keep in line with the preceding releases on the label, I took close-up photos of the folded cards in unused urban spaces (see below).
I then laid them out digitally with Leonie's pixel squares for the final sleeve (see below). We went through a few different colour schemes but in the end, we decided to go with the blue background as this felt most in tune with the music. The whole process was really enjoyable, and it gave the project a whole other dimension.
WWD: You work with vocalists Ntem and Saba on a handful of the tracks from the LP, how did you connect with these two? Did you write the vocals, or did they just freestyle?
I got to know both of them at a private afterhours event in London called Breakfast Club where I used to be a resident. When I introduced them one morning, they both started singing at the bar. It was a wonderful moment, and we all became friends instantly. We agreed that we'd get in the studio at some point. Ntem went back to Miami, and it took a couple of years before I had the right project, but when she returned to London, we started on Recogintia with literally zero planning. We called Saba who came over in a cab immediately, and then recorded the duet, and the vocal on Tundra all in less than 3 hours. It all came together really spontaneously.
WWD: As someone who has been collecting music for some time, we wanted to ask you a little bit about your thoughts on the importance of music being available on vinyl and digital? How have you seen this develop over the years? Has your personal opinion changed on it also?
I am a vinyl collector, first and foremost, but I'm definitely not anti-digital. I do always carry a drive of music that allows me to take my sets in different directions, to test my own productions, or in case of any sound issues with the decks.
That said, I really treasure my records in ways that I just can't do with digital files. Somehow, something is lost through the possibility of potentially infinite copies being made of a file. It's a kind of 'tragedy of the commons' scenario where unhampered access to music depletes its aesthetic appeal. The track Aura on the album is so named after a concept by the German philosopher, Walter Benjamin. For him, aura, is the subtle incandescence of art when experienced first-hand, which diminishes through replication. Vinyl, although a replicated simulacrum of what would otherwise be heard live, has its own aura. Being able to touch and the thing that directly produces the sound is everything. It's something I really feel when I touch and put on a record, whether at home or to a crowd.
Has my opinion changed? I never stopped playing vinyl, but I did go through a phase of playing around 80% digital between around 2005 and 2013. I was struck by the ease of use. It took me a while to realise that I was losing something. It's been really nice to see, over the last 6 or 7 years, that most of the younger DJs in London are real crate-diggers and play vinyl only. People joke that no-one cares, but it does make a difference, especially when most of the best music is released vinyl only. Stylistically, in terms of the music itself and the way DJs feel the crowd, there is a big difference.
WWD: The album marks 25 years of production and DJing, what a journey. Can you tell us a little about the studio gear you used for the album? How often are you adding new machines, and rearranging? Or do you have a go to set up these days?
After a period of doing things in the box during the late '00s and early '10s, I felt like something was missing from my mixdowns. I wasn't unhappy with the sound, but it just took too long to achieve digitally, and some spontaneity was missing.
So, I decided to revert to a set-up similar to what I used in the 90s. I dug out my old Mackie 8-buss, a model of desk that I've been using since working at Tom Gillieron's father's Twang Dynasty studio, where I cut my teeth in the mid-90s. It's not a Neve, but it has a rounded warmth about it that's perfect for house and techno. I also picked up an old Akai sampler that I also used for drums back in those days. I cleaned it up, replaced the screen and switched the floppy drive for a SD card reader. It's as good as new now and I use it on every track. You just can't reproduce its sound on a computer. Since then, I've been also getting into the Eurorack and 500 series modular formats, adding something new at least every six months. I like to take my time with the gear, as the sweet spots often take months to find, especially in tandem with the rest of your studio.
WWD: If you could pick one track to brighten up the winter days for our readers, what would it be?
This Timmy Regisford dub mix of Blaze's "We All Must Live Together" never fails to raise a smile and even a knee or three. Listen loud and all the way through!