11 May 2021
On April 27th, Montreal label Saisons Musique released its second V.A. collaborative album titled 'Ensemble'. Uniting artists from both hemispheres, the organic album is meant to be an exploration into a sophisticated side of the electronic spectrum. Label heads Kora and Oiseau de Nuit brought together a stellar collection of talent, which includes Chris Ojeda, Asunder, Dexter Crowe, Izhy, Milo Häfliger, Ra*faelle and Ryke. We had a chance to catch up with the artists that put the shoulder to the wheel of this collaborative effort to ask them each questions about their definition of 'Home', what has the past year thought them and the creative process leading to the record they're releasing on the compilation. Enjoy!
OISEAU DE NUIT –  MAKTA
WWD: Where is 'home' for you?
'Home' for me means family!  Sharing memories and spending time with loved ones because all together we can create anything that we dream of!
WWD: One thing you've learned over the past year?
Stay active to stay creative!
WWD: What has been your creative process for the song?
The idea of 'Makta' came to me 2 years ago during the early hours around 1 or 2 AM. As I was layering the beautiful atmospheric pad above the kick and some percussive sounds, the rest of the song basically came by itself after. When creativity strikes, we should always finish what we have in mind. 
RYKE – RILHA
WWD: Where is 'home' for you?
I have a link to all the places I've lived before but home to me is wherever I can settle down for a longer time. No matter the circumstances, when I can bring familiar items and feelings into the new place, that's when it becomes home. 
WWD: One thing you've learned over the past year?
Nothing is as it seems and no issue is black and white. Everything is a lot more complex than most people think, and being quiet and listening as opposed to talking and jumping to conclusions is the right way to go in almost every situation.
WWD: What has been your creative process for the song? 
I don't necessarily go into a track knowing exactly what I wanna do, it kinda just happens in the moment. The process of making music is what makes me want to make music. I'm sure a lot of outside influences on my mind played a role in how the track turned out, but I couldn't exactly tell you in what specific ways these influences ended up influencing the track.
Once I start working on music, the atmosphere and process takes on a life itself, I don't necessarily want to express a certain story or feeling. The music itself is the feeling. For me every song is a certain feeling that's detached from any other forms of feeling. I don't know if that makes sense haha. What I'm trying to say is I rarely want to reflect and depict worldly things like pictures or stories in my music, the music itself is the story of picture or feeling. And so I can't really tell a cohesive story about the song because what someone feels when listening to it is probably different from person to person. And things like the title and meaning of the track often comes to mind after the track is finished and even changes from time to time.
ASUNDER – FLOATING FOREST
WWD: Where is 'home' for you? 
Yorkshire, UK 
WWD: One thing you've learned over the past year? 
Patience. It has been difficult staying indoors, not seeing friends and family and playing my music live. While I've enjoyed a lot of time at home, I have also missed socializing. I look forward to the day when we can all attend live shows without worry but until then, it's better to be safe. 
WWD: What has been your creative process for the song? 
I often start the songwriting process by sitting at my piano. I find the instantaneous tones from a piano to be a useful writing tool and it really helps having the keys at your fingertips – it allows me to write music without having to worry about spending time programming synth sounds – that comes later in the production process.  
After I have written the chords and melody, I will begin recording and programming drums. I like having drums in the project before melodic material as I find it eliminates the need to record melodic parts to a metronome, which can be quite uninspiring and the drums help inform how melodic parts should be played. For example, if the drums are imperfect and have a certain degree of swing, the piano and lead parts should be recorded with the same timing.  
Once I have the drums recorded, I will record the first piano take. 
When recording piano, I find It's more important to capture raw emotions and imperfections from the take, rather than a sonically perfect recording. Now I have the foundations for the song, I move forward blindly and work from instinct. The last instrument I record informs the next part. After recording piano, I decided to record the lead which I played on an African instrument called a Ngoni. 
Following that, I chopped up and pitched some female vocals I had lying around on my computer. They were recorded by myself with an artist/writer I was working with the previous year. The tone of her voice seemed to fit effortlessly in the recording and added a lot of depth and emotion.  
Generally, the last step of my production process is to capture field recordings of my surroundings and use them in my music. I like doing this because it makes the song feel a lot more personal to me and provides the track with a sense of identity.   
MILO HÄFLIGER – KAIROS 
WWD: Where is 'home' for you? 
Home is where my heart is. A place where I'm able to develop unconditionally and fulfill my ideas on all levels. A place where I can connect with myself through other people, nature and music. 
WWD: One thing you've learned over the past year?
Having seen the first reactions to this global pandemic where whole nations closed their borders and turned themselves into full isolation, where everybody took care of himself first leads me to one thing that I might have learned in the last year: We are much stronger if we make it together, on a global level. It might takes much longer, but it'll take us much further. 
WWD: What has been your creative process for the song? 
The principal idea of 'Kairos' emerged from the existence during the partial lockdown. I tried to express my feelings through the power of music. In my eyes, 'Kairos' represents the good moment to act. An interior perception of course, but in alignment with the world around us. 
DEXTER CROWE FEAT. RA*FAELLE – KEDOBI 
WWD: Where is 'home' for you?
DEXTER: Right now, Montreal is my home. Sydney is my original home but I have also had other 'homes' in between. For me, home and belonging are closely related. I feel that wherever you can find a sense of belonging and feel oriented in your life, can be home. I hope to have more 'homes' in the future too!
RA*FAELLE: The cliche says 'home is where the heart is'. As a singer I truly feel and believe this. Wherever I am, when I feel my heart, I am home. Home is vast and familiar. Home resides in my inner garden.
WWD: One thing you've learned over the past year?
DEXTER: I know nothing about nothing.
RA*FAELLE: That letting go no matter how large or small is a fast track to inner peace.
WWD: What has been your creative process for the song?
DEXTER: I started this song with an atmosphere and a fire crackling to set a mood, added some percs and then the synth melody. Then I felt a female vocal would fit beautifully so I tried out some recordings my good friend Ra*faelle had sent me for a previous project, 'Radiata'. I sent it to her, she agreed and was inspired to build on the idea and record more spoken word and harmonies. We put them in and shaped everything else around that and 'Kedobi' was born.
RA*FAELLE: My true love is improvising with my own language. I call it star or earth language. This language is a porthole for me to express, feel and embody the nature around and within. Connecting with dreams & the mystery of our minds. In 'Kedobi' the message through this language is a deep prayer for our planet. For humanity to feel our deep connection with her. To remember there is no separation.
KORA – THEIA
WWD: Where is 'home' for you?
Home is where I grew up with my family, in Lanaudière, Québec. With time, I came to realize that 'home' is also more than a physical place, it is a feeling, an energy, a sense of connection that can be found really far away from home, wherever there is humanity and kindness.
WWD: One thing you've learned over the past year?

The present moment is a very magical place that I want to visit more often.
WWD: What has been your creative process for the song?
I believe 'Theia' has been quite a surprise and a spontaneous session in relation to my usual turtle speed sound sculpting adventures, haha! I recall starting with the rhythmic section – it's what feels natural quite often for me as it sets a heart beat for the song to become alive.
I then used a combination of synthesizers for the melodic elements and vinyl samples that I processed for vocal textures. I composed 'Theia' in my favourite key signature, E minor (Mi); It's a scale that allows me to express emotions in many different ways, from playfulness to vulnerability.
The title 'Theia' has been inspired by a cosmic story of our solar system 4.5 billion years ago when planets 'Theia' and 'Gaia' collided – the impact gave birth to Earth as we know it today, and the remaining particles of Theia gravitated to form the Moon! A reminder that our universe is always in constant change.

CHRIS OJEDA – ANDINI
WWD: Where is 'home' for you?
Home for me is the desert of El Paso, it is where I fell in love with electronic music. There's something special about that desert that provides great inspiration for me.
WWD: One thing you've learned over the past year?
Man, what a year we all had. The one thing I can say that I learned was the ability to connect with nature even in isolation due to the troubling pandemic times. Nature itself is our medicine and sole supplier, we must constantly remind ourselves that we are connected to nature.
WWD: What has been your creative process for the song?
The creative process for this track stems from the influences of Saisons and Kora. This track was curated out of absolute love for the label. I had always set a promise to myself to one day be a part of the label but in a way that my sound can connect immediately with the label and family.
IZHY – ATHENE NOCTUA

WWD: Where is 'home' for you?
Hola hermanos y hermanas, I am happy to share with you. Although in the last few months I have been living a nomadic life, at the moment I am enjoying my family and friends in Buenos Aires, Argentina, autumn is magical here.
WWD: One thing you have learned in the last year? 
That's a great question if I take it to the process we are going through as human beings. I feel that the biggest teaching I had this past year was to be aware of the 'now', how important it is to be aware of the present moment in every breath, to be able to be attentive to each of the blessings that life gives us in the small and simple things, like the smile of a loved one or the gifts that nature gives us in every moment. I learned that being aware that we are blessed by the now will give us the strength to face these difficult moments and evolve as human beings.
WWD: What was your creative process for the song? 
I'm excited to tell this, 'Athene Noctua' was born on my first trip to Europe where I was taking my first steps as a producer. During Agnnih's and Bodaishin's teachings we traveled through the forests and mountains, crossing incredible sound fields that were the first element of inspiration for the song. In this piece I decided to invoke the Athena's Owl, which is the bird that accompanied Athena, goddess of wisdom, arts and patroness of craftsmen. The Owl of Athena has been used in Western culture as a symbol of philosophy, a science that I believe should not be alien to the contemporary human beings to reach a conscious and evolutionary state. The creative process of 'Athene Noctua' took place along this journey, in the midst of this global pandemic, accompanying and connecting me with great masters from whom I learned with each feedback about this song until I came to connect with the Saisons tribe.
Buy/Listen to the full V.A.:  https://saisonsmusique.lnk.to/Ensemble
Connect with Saisons: https://linktr.ee/saisonsmusique
'Ensemble' tracklist: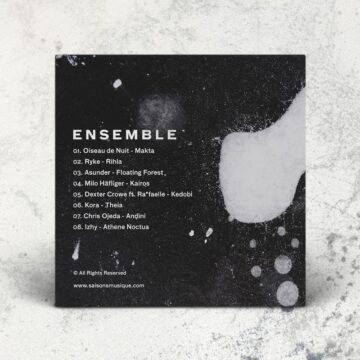 Cover photo credit: Patricia Brochu Photographe | Igloofest 2020