3 May 2021
Motip White shatters presumption as we welcome him into the XYZ fold for a vivacious debut. The Cologne-based producer has never settled for the predictable norm, working his way through projects from all corners of the musical landscape on his eclectic journey. His roots in the electronic scene have solidified of late, with releases on Innervisions, Correspondant, and VOD showcasing a bespoke blend of analog-rich house drenched in indie-punk influence.
Purple Crown arrives in force with a billowing synth, undulating to and fro as we commence a hypotonic affair. A backbone of punchy house drums keeps the rhythm ever-flowing, allowing the meandering melodies to work their magic. Vocal propellers summon enchantment within the build, alighting the senses as we kick into gear; a tune built at the centerpoint of grit and groove. 
Motip pays homage to the global period of convalescence on the B-side – Scream in my Face, World. A delicate broken beat lush with verby high-end sets us into motion, guising a lackadaisical disposition. A bellowing bassline snaps us back to fruition, as White's own vocal chops begin to weave their foundation; A masterful performance in prose.
"the world cuts off all that noise
until there's just your own voice
as far as i can see: sun
all comes back, dark things are gone
unified with your old love
ask yourself: "ain't that enough?"
Scream in my face, world.
Camouflage takes aim squarely at the rejuvenated dance floors of the future. Dense drums call for a relentless two-step, as metallic synth-work mobilizes momentum. A whirling underbelly of sporadic stabs stoke the blaze, as we meander deeper into the night with Motip White at the helm. 
To celebrate the launch of Purple Crown, we caught up with Motip to recap his unique journey thus far, and where his sights are set as we look to the future.
WWD – Motip, many thanks for joining us! So happy to have you on board at XYZ, especially with such an enigmatic debut. 
Motip White – Hello – awesome to be here. 
WWD – When did the Purple Crown project start to come together as a cohesive package? There seems to be a thread that ties these three together seamlessly.
Motip White – They all came together as a new episode of production. A new episode with new thoughts and feelings. About trying vocals, about letting my pop heart pump a little more.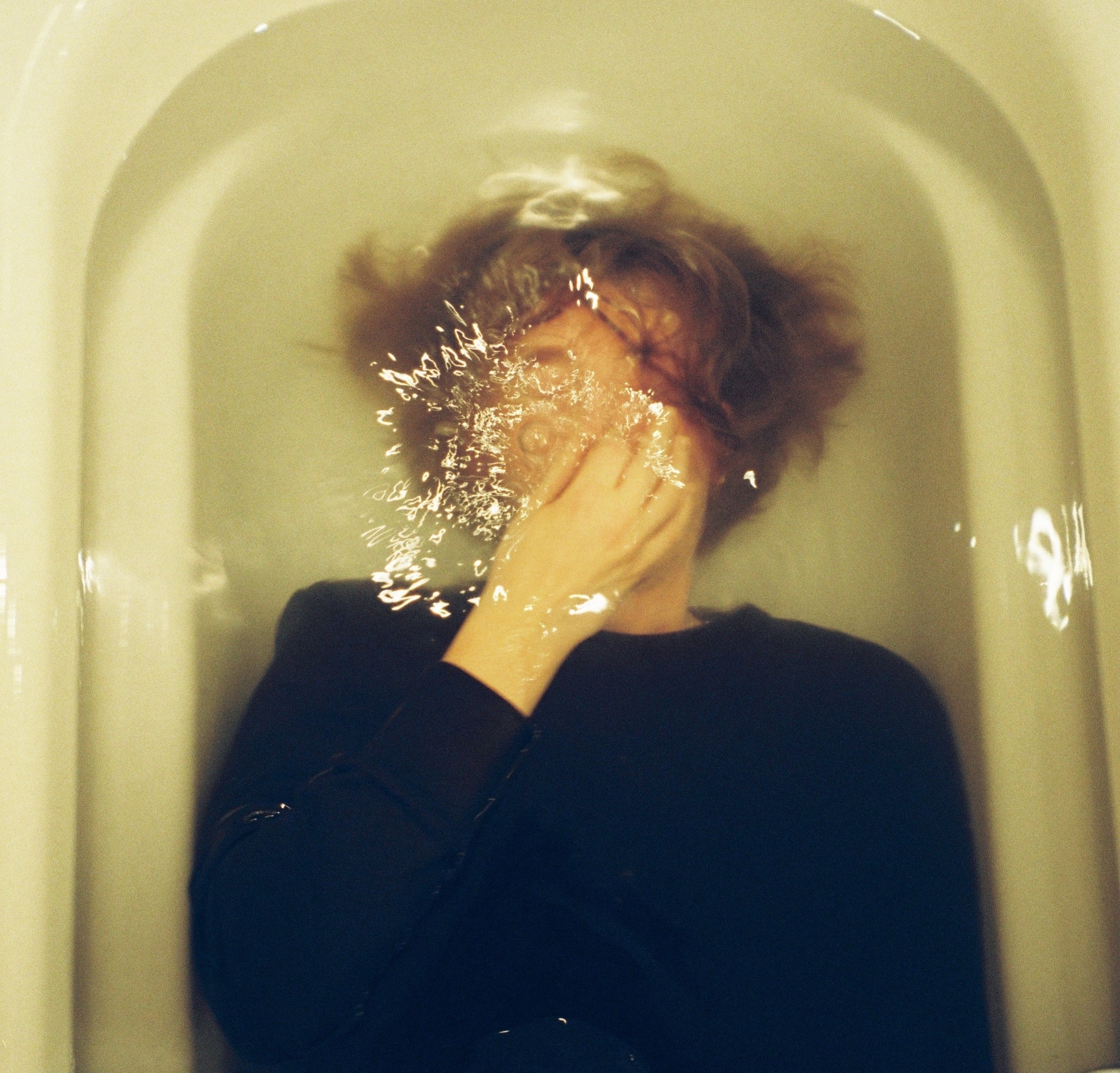 WWD – How did the global situation over the last year impact your creativity and studio energy, especially in relation to this project? We feel the message of Scream in my Face, World is quite relevant to how many of us feel at the moment.
Motip White – I was coming back from my first gigs in Korea and Japan, arrived back in germany in Feb 2020 and then you know what happened. I locked down my head into synthesizers and weird sounds, played guitar all day long and squeezed out all things around me in my studio.
WWD – We were thoroughly impressed with your EP on VOD earlier this year – Too Eeh. Your style cuts right through as innovative and genuine. How would you describe your sound at the moment?
Motip White – Yeh cool! It's weird but I got two hands full of requests after this EP. This was the first tracks with vocals by myself. I always search for dynamic sounds, which speak their language or somehow sound like they "sing". 
WWD – What are some of the machines and techniques that you use in the studio to harness this sound?
Motip White – I use a minilogue, an arturia micrubrute, a cs80 replication and my hofner bass a lot. Also I work alot with Congas.
WWD – What's it like to sing on your own productions? Is this a new exploration for you?
Motip White – It's a big challenge, but it makes fun. It's an additional instrument. And you can give tracks a more direct, concrete, sometimes "deeper" message.
WWD – What artists have really moved you throughout the years?
Motip White – My favourite innovative electronic big artists for dance music, that i follow since many years are Caribou and Leon Vynehall.
WWD –  What role has your hometown Cologne played in your journey thus far, both musically and lifewise?
Motip White – My Identity in electronic music is born here. All my first steps come from here and the sound of the city, especially melodies are in my veins. The scene here is great. I think everyone who visits the cologne club culture from outside the first time, loves it immediately. The people are great, it's friendly, open, wide and everything is compressed into a handful clubs and a handful people.
WWD – You've also spent some time in Japan and Korea recently – tell us a bit about those travels!
Motip White – The gigs in Korea and Japan have been super duper crazy awesome.
Those are the last gigs I played – so these were my last experiences in some time. I think alot about it. It's funny, but it reminded me a little of the Cologne club scene. Not really anonymous, more like a family. And that in such crazy big cities. 
From the music side, the scene in Tokyo and Seoul seems to be spread wider in every direction. More experiments, less view for function.
WWD – How does maintaining diversity in your inspirations, locations, DJ sets, and studio methods play an important role in your overall musical picture?
Motip White – "maintaining diversity". Yeah that's the point. You got it.
WWD – You also run your own label & collective – Dorfjungs. What's it like to approach the music industry from both the artist and label side?
Motip White – Dorfjungs has been on for 7 years now. 
From now on there will be something else – to keep it mysterious
WWD – What role do smaller, artist-run, or niche labels play in the health of the electronic music scene as a whole?
Motip White – Small labels are basically always where I find the records that I play. It's the reason the subculture remains healthy or not. That's one secret of the electronic world – there are so many small groups and collectives running their own parties, and celebrating the exchange of ideas and music – less space for the monopoly groups.
WWD – What can we expect from Motip White in the coming months? As the world re-emerges from a deep slumber, will we see or hear more from you soon?
Motip White – I will come back to Canada, guys. I will go on Canada tour with my band, and will also play DJ gigs like last time. We just wait for better conditions.
And I just sent away the premasters of my next release, so there will also be new music. The Mango EP.
WWD – Motip, thanks again for the amazing project, and also for the catchup chat. We're huge fans of what you are doing, and can't wait to hear more 🙂 All the best!
Motip White – Thanks guys. All the best.
Motip White – Purple Crown EP [XYZ034]
Release Date – 4.30.21
Stream – https://xyzlabel.lnk.to/PurpleCrown
Connect with Motip White
Soundcloud – https://soundcloud.com/motipwhite
Facebook – https://www.facebook.com/motipwhitemusic
Instagram – https://www.instagram.com/motipwhite/
Connect with XYZ – https://linktr.ee/wwd.xyz
Stream releases in full via Spotify: https://spoti.fi/2uDd07z