3 June 2021
When We Dip is premiering one of Montreal's most beloved electronic music collectives, Floral Nights, to celebrate one year of their original monthly podcast Sunny Side Up. This heartwarming project was initially founded to keep up the "sunny side" of life for the listeners during the pandemic.
Sunny Side Up has hand picked 12 artists from around the world over the last year to be featured on its monthly podcast. These DJs, musicians, and producers who have garnered the podcast over 50,000 streams include Gadi Mitrani, Robbie Akbal, Namito, Mustafa Ismaeel, and more.
June is a particularly a special month for Floral Nights, as it marks the birth of Montreal's iconic "Burning Sun Terrace Party", which if not for the pandemic would be celebrating its third anniversary this year. After hosting over 25 editions of Burning Sun, Floral Nights would've loved nothing more than to host another infamous event, but due to ongoing covid and restrictions in Canada they've decided a stream would be the best way to celebrate for now.
Taking place on Saturday June 5th, the day-long stream features five DJs, exclusively streaming from five cities across four different countries. DJ Christian Voldstad will be kicking off the show with a set from New York City, followed by the prolific DJ Ruby who will be sharing some carefully crafted organic and proggy tunes with us from the mediterranean island of Malta. DJ Ruby boasts more than 30 years of experience in the industry, playing stages across the world, so we're excited to see what's in store for his set.
One of our local favorites, Dexter Crowe, will join the stream with a rooftop set from the heart of Montreal, followed by DJ/Producer Rasi Z who will be gracing the decks and mixing in from Vancouver, BC.
To finish off the live stream, all the way from Alasht in the North of Iran, Rebeat will be joining us, completely immersed in nature, to spin what will undeniably be a captivating, soul-filled mix. Sunny Side Up's inception began with Rebeat back in June of 2020, which brought listeners so much levity when the world was feeling so, so grim. You can listen to his mix by clicking here.
Tune in to When We Dip's Live Stream for Floral Nights' 1 Year Anniversary of Sunny Side Up on Saturday, June 5th. Join the event by clicking on the link HERE.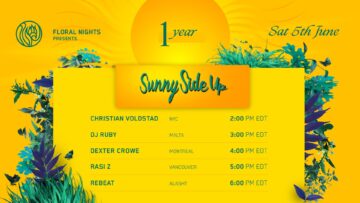 Author : Hunter Noble Lyons