16 June 2021
Though it lacks the party reputation as some of its nearby, coastal neighbours, Croatia is fast becoming an essential destination for fans of discerning house and techno. At the forefront of this movement is the BSH parties. Helmed by local promoter Vukelić Drago, they've quickly brought Croatia to the attention of the international dance music community. And rather than solely book international headliners, they're equally keen to promote local talent too. Basically, they promote the kind of parties that we can very much get down with. With their summer sessions about to kick off in a big, big way (they've nabbed the likes of Paco Osuna, Mathame and ARTBAT for their BSH Island parties running from 1st-5th July), they'll also even be hosting a party at a local fort (yes, a local fort!) on the 2nd July alongside Amnesia Ibiza as part of what's sure to be a momentous comeback. Aside from Amnesia, they'll also be feature illustrious brands such as Do Not Sleep, Under No Illusion and Pablo's House. Excited yet? So are we. Anyway, we put some questions to the main man Drago recently to find out more….
WWD: How have you coped with the last year, what was the darkest moment, what was the best moment?
It was a challenging years for all, especially for people from our industry. I am thankful for being able to stay focused and positive and everyday training kept me sane through all this mess covid has caused. The darkest moments were definitely when thoughts were coming to the head that events might never return. In those moments it was important to keep believing and stay focused.
The best moment will be the 1st of July when BSH Island kick-off knowing that we are back where we belong, in full power.
WWD: Generally what has it been like in Croatia, has Coronavirus hit bad, has the government dealt with it well?
Generally I think we were lucky to live in Croatia amongst some other countries. We had few periods when we could organise some kind of smaller events. Some people say that the government hasn't dealt with it, but personally when I am hearing from my colleagues from around the world, comparing how their governments dealt with them I think we were lucky. Of course, there are countries in which governments did great jobs in saving the event industry.
WWD: When did you know you could go ahead with this year's event? What insurances did you have from the government, if any?
Well actually in these times it is really hard to have insurance, but knowing that we managed to organise a few events last year keeps my faith up.
WWD: When and how did you hook up with Amnesia for the special off party? Why did you want to do that?
Well actually it all somehow came naturally. I was 1st considering doing only the Do Not Sleep Ibiza showcase, at the moment I wouldn't dare to think that we might have collaboration with Amnesia. But since the owner of Do Not Sleep brand is a music director in Amnesia, we started talking, came to some propositions, welcomed them in Croatia, found the same language and I am thankful that we are here at this moment and looking forward to the future. I think it's safe to say anyone in the industry would be keen on doing a show with one of the biggest electronic music brands.
WWD: Tell us about the fortress – have there been any parties there before? What is it like?
There has been a party before there, yes, it's called Fortica and they had the 1st event in 2019. The venue has an out of this world feeling, remains of an old Fortress, the Pag's bridge and of course island's moon like surface. All combined, it makes it a very special and breathtaking site.
WWD: Which part of this year's weekender are you most looking forward to and why?
I believe Amnesia's off-location event, and everything that will happen after the Amnesia's show at Noa with afterhours for those who can go long. I think altogether the energy will be transferred through the whole day and night, especially as this will be the 1st event after lockdown for a lot of people that are coming from all around the world, it will go off.
WWD: Any tips for people coming on where to stay, visit, what local delicacies to eat?
For regular accommodation I'd recommend Noa Glamping Resort which is located on the beach, but unfortunately is already full for the weeknd. My second advice would be one of the few newly opened hotels in Novalja. Hotel Olea, Hotel In Excelsis, Hotel Joel. My third, but the most unique advice would be getting a room on a yacht that will be stationed at Noa Beach Club (since Noa is on the sea). We offer yacht packages that include a lot of things such as yacht parties, cruise to the Amnesia Fortress showcase and later on afterparty while cruising back to Noa. And I think we are offering it for a ridiculous price, for the experience we provide.
WWD: How important is it for you to represent local Croatia acts, DJs, artists, proportions and give them a platform at BSH Island?
Special thing about BSH events is that we grew naturally. We manage to sell out events before even announcing the lineup. People know which kind of music and experience they will get, and they trust us. Booking international headliners for growth of the brand is important, but I believe it's more important what it's beneath the surface, and that is resident DJs. Given that I am really happy to be able to provide them a platform since they are all my friends, and we are a big family that managed to grow and overcome obstacles over the years. And families care for each other.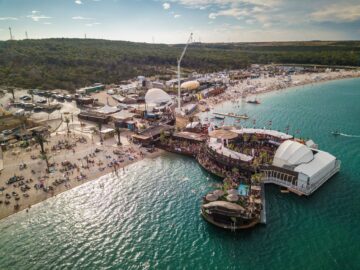 WWD: What do you hope BSH Island is famous for, what is the most important part of the festival for you?
I hope people will through BSH Island recognize our brand, our sound, and also our DJs… My hope is that BSH Island will give us a platform for people to decide to come to our other events and to create one big global and international family. I believe the most important part of the festival is the fortress showcase which will show to the international audience what we are about.
WWD: What else are you working on, what will be next after this event?
We are working on a lot of amazing and exciting projects. We are planning a new 2 day festival in Zadar, an event in Pula, preparing something in Dubrovnik also. Really we are in the final phase of confirming some venues for which I would dare to say they are amongst the most unique in the world. But we will have a little bit more before the official announcement, the only thing I can advise is to stay tuned for new announcements as we are back.
BSH Island 2021 runs from 1st – 5th July 2021. For further information and tickets, check here.