27 July 2021
Montreal's Mitch Oliver is growing into a pillar of XYZ's output. He's caressed two of the imprint's most emblematic tracks to date. Same Light, his Quebec-bred collaboration with Maaruo and Beyries, seized attention with a remix from the one-and-only Hernan Cattaneo. Recent appearances on Seven Villas and Kindisch continued a fruitful period for the Canadian, before the sensational Alleghanys caught the ears of XYZ faithful around the world on our 2021 edition of Blanche.
Mitch returns to XYZ during the peak of summer for his first solo EP on the label – 'Exil'. On the title track, an understated flow eases us into the groove as percussions provide flavor in the early stages. Vocalist Téa Verdene seizes attention with a graceful performance, allowing the low-end melodies to venture forth throughout this melancholic opener.
'Wildfire' continues the late night vibes, with analog-tinged synth work riding alongside deep house drumwork. Piano chords ebb and flow, offering momentary respite, before the bountiful groove stirs us back into a two-step; a versatile tool for the deep melodic heads. To close out the sumptuous trio from Mitch, classic 4×4 influences come to the fore to lay the foundation on 'Intrepid'. Lucious synths swirl throughout an ominous affair built for the dancefloor, with energetic swoops creating pristine peak moments. 
To celebrate the release, we caught up with Mitch to talk about his first solo EP on the imprint, and touch base on the incredible journey thus far.
WWD : Mitch, thanks so much for joining us! Congrats on the incredible release 🙂
Thanks guys, I'm so grateful to be able to release this one on your beautiful imprint. 
WWD: Exil is your first solo EP in a couple of years, and we're stoked to be hosting it on XYZ. Tell us about how this project came to fruition.
Music production is a long process, and this project took a long period of time before I could feel it sounded to my likings. I started to work on EXIL, the leading track of the EP in may of 2020, right in the heart of the pandemic. However, after a few months of very creative studio sessions, I fell into writer's block and only went back to the project after a long break. I then started to focus my attention on creating a piece of work that would resemble music I would play in my DJ sets and that made me want to share it with people, on a dancefloor. I toyed around with some new plug-ins that emulate old analogue synth and started to really feel the direction of the EP. I love surprising the audience when I DJ so I wanted the 3 tracks to have unpredictable and surprising soundscapes that would be each different enough to allow me to play them at very different moments, but still feel like they belong to one story.
WWD: After focusing on collaborations of late, how does your process change when creating fully solo material in the studio?
It has its pros and cons. What I love about the collaborative process is how quickly decisions are made during the writing process. There is less questioning and doubt about an idea, if both the collaborator and I are uncertain about a musical idea, even if it took hours to craft, we just erase, and move on. I find it a lot more effective in that sense. However, it's not easy to find a studio partner with whom the work will be smooth and in symbiosis. The solo process is amazing in the sense that it allows me to fully express the sound I'm looking for without any limitations. It also pushes me to really own each of the decisions I make in the writing process, which is very challenging at times, but then so rewarding once the track is completed and sounds good to my ear.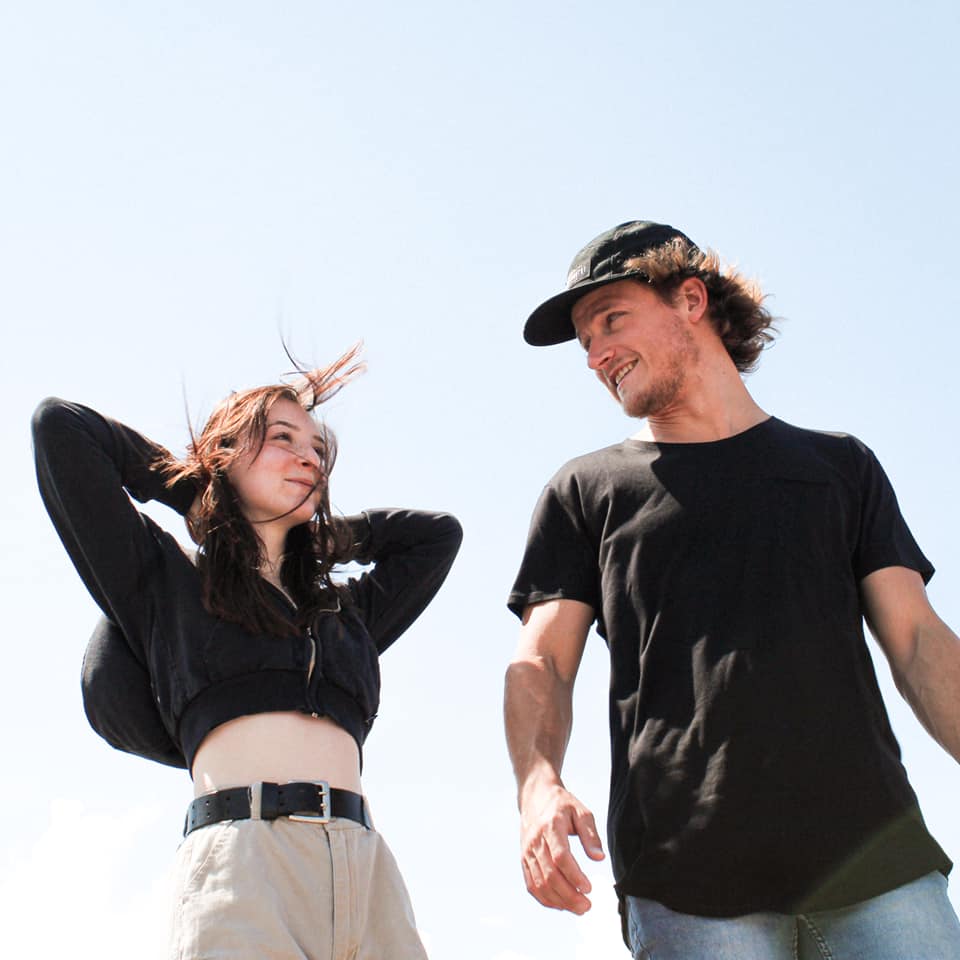 WWD: You've harnessed the lovely vocals of Téa Verdene on the A-side. How did you connect with her?
The story behind how I met Téa is absolutely amazing. Nature does things well sometimes, and this is a very great example. Téa's parents have been coming to my shows in Montréal since 2017 and have been huge supporters of my work ever since. They are huge music connoisseurs and have been to Burning Man over 10 times. I've played some of their awesome private parties and at some point in the fall of last year, Téa's mom called me to talk about her daughter, who's a classically trained vocalist and pianist. One thing led to another, I went to meet Téa at their place and we connected very quickly. The rest is history 😉 
WWD: What settings, parties, or vibes did you have in mind when setting the foundation on this EP?
I tend to play a very wide range of music when I DJ as I'm a true believer of "the crowd is king" in the sense that they are the ones who will dictate the musical journey of the night and not me. While working on the EP over the course of almost a full year's time, I tried to make 3 tracks that would be different enough in energy and vibe that the EP could have its place in any of my sets, depending on the crowd's mood. 
WWD: Let's revisit Alleghanys, which was an instant classic upon release earlier this year. What did the response to this one mean to you?
Honestly, I'm still blown away by the response that track had. I was confident it was a special one, but I didn't think it was going to get the support it did, especially on Spotify. It's such an amazing feeling to realize how it has travelled around the world to that extent and that people resonated with it around the globe. To this day, I think it's still my favorite piece of work. When I listen to it, I don't listen to it from the ears of the producer but from the ears of a detached listener, as if I didn't compose it myself, as if It has a story of its own. Definitely a feeling I'm looking forward to when I'm making music 😉 
WWD: Your Aurora series kept us captivated over the last year. How did you choose the locations for these livestreams, which show off the sensational wilderness throughout Quebec?
Each location where the Aurora series was filmed were places that I hold close to my heart and that has had a big impact on my life and inspire me as an artist. One of the reasons I love Quebec so much is the immensity of its wilderness and the fact that we are faced with 4 very different weather seasons each year. I wanted to showcase the beauty of each season. It was also a way for me to open myself up a bit more and present who I am through places that have been part of shaping me into the person I became today. 
WWD: Which was your favorite episode of the series?
That's a tough one. I honestly like each of them equally, the same way I love each season equally and for very different reasons. However, if I had to pick one, the one on top of Mont Sutton would be the one. My first and biggest passion in life is alpine skiing, and being able to combine it with my passion for music in one project was very special. 
WWD: You've been able to play your first post-pandemic parties recently; how does it feel to be back behind the club decks?
AMAZING!!! Being able to reconnect with the crowd was the best feeling in the world. Before the pandemic hit, I knew playing and connecting with people through music was important to me, but once it was taken away from me for so long, it shocked me how vital that bond is to me. Creating without having the opportunity to share in real face-to-face interaction is almost pointless to me, especially when it comes to electronic music designed for a dancefloor. When I could finally play my own productions at Do Not Sit in Miami, it gave me so much energy and drive to go back to the studio and create some more music. It's a feeling I can't describe, but sharing to me is vital, it's in my nature, it's who I am and why I started to Dj in the first place, to create and share magical moments with people through music, and I'm so grateful I got to get back to it already. 
WWD: What do you have in the works for the next couple of months? Anything we should have on our radar?
In terms of new music, I have a couple of releases coming out before the end of the year on labels I'm a huge fan of, and a bunch of other music that is in the oven right now, soon to be completed. However, before I get to finish them, I'll go refuel on connecting with people through music, as I'm heading for a US tour in August, with shows in San Diego, New York City and Miami. It seems like it will be a very busy end of summer and I'm very thankful for it. 
WWD: Mitch, thanks again for joining us! Many congrats on the new project, sensational summer material for us 🙂
Thanks for having me guys, it's always a pleasure and I'm looking forward to seeing how the EP will be received 🙂
Mitch Oliver – Exil [XYZ040]
Stream – https://xyzlabel.lnk.to/Exil
Connect with XYZ – https://linktr.ee/wwd.xyz
Stream releases in full via Spotify: https://spoti.fi/2uDd07z
Follow Mitch Oliver
Soundcloud – https://soundcloud.com/mitch_oliver
Facebook – https://www.facebook.com/mitcholiver.dj/
Instagram – https://www.instagram.com/mitch.oliver_dj/?hl=en