31 August 2021
Lost on You has been collecting money since the beginning of 2020 to build a school in Sierra Leone with the organisation Street Child, Spain for the project Schools For Tomorrow, a Programme to build 1000 schools across Sierra Leone.
Children living in rural Sierra Leone are missing out on their right to basic education. There is evidence that a shocking 88% of primary age out of school children in Sierra Leone, are living in rural areas. Parents' own education is one of the strongest influences over a child's enrolment and progression in school, yet 70% of rural Sierra Leoneans are illiterate – and the majority have never been to school themselves. This is a cycle of illiteracy that must be broken. Our mission is to change that and build a minimum 1 school per year.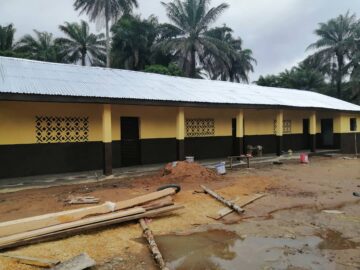 The total cost of the project is €11 741.40 The project includes:
• Two classroom renovations plus furnishings: €6,334
• Teaching materials for both classrooms: €640
• Supporting one teacher through three years of training at college: €1,055
• Establishing one income-generating initiative: €2,645
•Monitoring and evaluation: €1,067.40
It was not easy to raise all the money, especially due to COVID-19 which significantly slowed down our mission, not to mention almost destroying our dream of building the school, but we did our best to deliver what we had promised. Since 2020 we have released 18 EPs from well-established artists, including 1 VA to help and promote unknown artists. (since 2018: 49 EPs and 3 VA)
To accelerate the fundraising we organised a series of charity events at the famous REX club in Paris with Thomas Schumacher and Noir, but the virus that quickly spread across Europe got in our way.
We also hosted an online fundraiser with Beatport on 17 March with 12 amazing artists playing live to raise money for the school.
The primary school will open on the 6th of September 2021.
207 children (117 are boys and 90 are girls) will learn for 5 days a week, from 8 AM to 1 PM in 6 well-equipped classrooms by trained teachers. The typical rural school curriculum includes Maths, English, Integrated Science, Social Studies, Religious Moral Education, creative practical arts, physical health education, home economics, English Sentence Patterns and Structures, reading. In Class 6, the final year of primary school, and in preparation for the National Primary School Examination, they have additional classes of Quantitative Aptitude, Verbal Aptitude, and General Knowledge Paper. Each lesson lasts around 35 minutes.
About Lost on You Music
Lost On You is the first electronic record label that donates all the money (100%) raised from music sales to help children in the poorest part of the world, in fact, we are the only ones to do so. Since the beginning of our mission (2018), we have made regular donations to charities such as Again Malaria, Street Child, Plan International, Utopia 56, Build Africa to protect people against malaria, fight malnutrition and poverty as well as providing hot meals and Christmas presents to refugee families with children living on the streets in Paris. Here is the link to our donations HERE.