23 November 2021
The British duo Somethin' Sanctified revolve their sound around analog-drenched house with a touch of lo-fi and disco tones, both timeless and innovative in nature. Simon Mills and Joel Hood each bring a lifetime of production experience and studios brimming with dusty hardwear to their burgeoning collaborative project, and the results simply speak for themselves. Projects with the likes of Needwant and Citizens of Vice have caught the ear of house-heads around the world, and we're thrilled to partner with the Brits on the release of their next project – the Taqui EP.
The A-side opens with a tasty synth hook, capturing the easy-flowing & delightful groove that defines the Somethin' Sanctified sound. A bountiful bassline enters the fold alongside meandering playful percussion, but it's the Eastern vocal chops that steal the show on Taqui. The low-slung house kicks mesh with the Japanese-tinged flavor in sensational fashion. A tune fit for any occasion, especially those with a dancefloor.
Where's The Luv? continues the project's lush lackadaisical vibe, offering somber vocal cuts over a vibe-laden 4×4 groove. Hints of disco influence ebb and flow throughout, as Somethin' Sanctified continue to produce tracks that ride the line between early-house and modern melody. A solemn anglo-offering to pair with Taqui, and a sumptuous summary of Somethin' Sanctified's sound.
To celebrate Somethin' Sanctified's debut EP on TOR, we linked up with Simon and Joel to touch base on how they came together to make such magic in the studio.
When We Dip – Guys, thanks so much for joining us today! Where are each of you based at the moment?
Simon – Hi! I'm living on the rural coast of Northern Ireland, I've been here about 12 years.
Joel – And I'm up in the north east of England just outside Newcastle.
When We Dip – We couldn't be more thrilled with how the Taqui project came together – what a duo. Big congrats on the release!
Simon – Thank you, delighted to be involved with you as well, When We Dip / TOR is a very passionate and discerning blog / label, so that means a lot!
Joel – It's the perfect home for our music.
When We Dip – The A-side immediately struck a chord with us when you sent it over. It's dripping in a timeless groove with amazing eastern influence. This feels like a new sound for SS, how did this come together in the early stages?
Simon – Well, we always look for atmosphere – where it's uptempo or downtempo, and I guess that's something I look for in my own work, personally too. We often jam out the ideas and then weave samples into the mix. I've got thousands of records collected over 30 years, so we have a huge pool to choose from, and we try to keep it out of the box while we're jamming together.
Joel – Yeah we normally start playing around with beats, chords and melodies, then it's always fun to have a hunt through Simons record collection and try out a few random records to see what weird vibes we can create!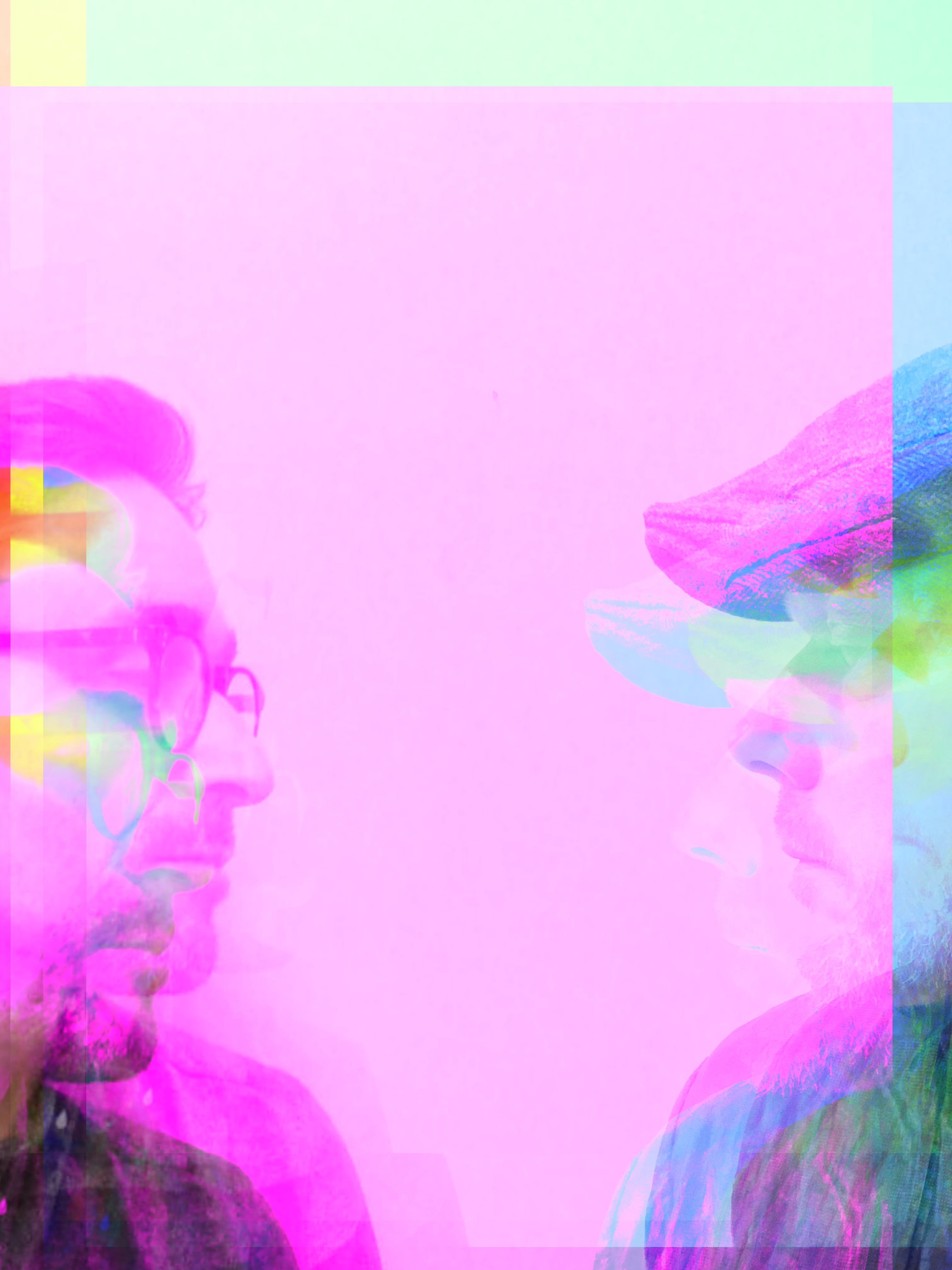 When We Dip – When did you two 'tie the knot' and come together as Somethin' Sanctified?
Simon – I'd been introduced to Joel by International Feel, brought in as a producer to work on his EP. We immediately hit it off as we're both into the same music from so many decades. Joel had been working as a vocalist on some of my tracks, but we found that every time we got together, we predominantly loved listening to house/disco sets, and we have similar tastes there too; so we thought: "wouldn't it be nice to step away from songwriting and make the kind of dance music we'd play out as DJs?", and that was that!
Joel –  Yeah when we first met we basically drank a lot of red wine and played each other our favourite tunes! And once we realised that we both loved a lot of the same kinds of music, the knot was tied!
When We Dip – You've each had illustrious careers, involved in various musical endeavors that span the spectrum of genres. What led you to harnessing disco & house tones on this joint project?
Simon – Well we just listened to many DJs who we loved, and we felt making tracks from a particular universe/influence us a great framework to produce within. DJing in Bent was always frustrating because the music was so varied, which is fun, but when you turn up at a club, nobody knows what you'll play, and you also don't know yourself. I always wanted to have that situation where the music would fit perfectly alongside the types of dance music we liked, that way people would know what to expect, and it helps us with our vision.
Joel – It just seemed like a natural progression as everytime we got together we'd be dancing around to each others new music discoveries, which then led us to think "wouldn't it be great if we made some music together which we could play alongside all this other cool music that we love"
When We Dip – Who are some of the artists & labels that you look to for inspiration when in the studio these days?
Simon – Well, early on we were listening to Chaos in the CBD's earlier stuff, Young Marco, loads of all the old classic house, Metro Area, Kerrier District, loads of 80s boogie, COEO, stuff on SOBO and so on. The list is pretty massive of who we love to be honest! But we also love so much stuff from the 1950s onwards that loads of little influences pop up, not necessarily current ones.
Joel – Yeah we always come back to the Flamingos and Marcos Valle!  
When We Dip – How does your process change when creating as a duo, as opposed to individual projects?
Simon – We tend to jam off each other, and I love working that way. We'll build lots of variations in the drum machines, set up the synths and have chord sequences ready to trigger, and then perform it in Ableton Live. Working by yourself, you don't get to perform with each other, you have to keep going back and jamming on top of yourself. It's a completely different dynamic. There's loads of effects/movement that we add in realtime too, like old tape echos, and various twiddling!
Joel – It's so much fun to jam together as you react to what the other person is playing which inspires you and sends you off in a different direction which wouldn't have happened if you were working on your own.
When We Dip – What excites you about being involved in the music industry these days? Are there new sounds, systems, or stories that have inspired you recently?
Simon – Well, music has just been my life since I can remember. I've always been obsessed with the tech side as well, so seeing new technology, and marrying it with vintage always excites me. I couldn't do anything else really, it will always be my passion, playing it or making it.
Joel – Meeting new people from all over the world to share ideas and experiences with, like you guys!
When We Dip – If you could choose one DJ to open for, who would it be?
Simon – That's tricky! I really love Lone, and he's a fellow Nottingham guy, so I pick him.
Joel – Motor City Drum Ensemble. 
When We Dip – If you had to pick a favorite Somethin' Sanctified from the journey thus far, which would it be and why?
Simon – Again, tricky! I guess Soul Glo was a fave, simply because it had such a great response and so much work went into nailing the arrangement and getting the vocals right.
Joel – CYA would be the one for me I think. Simon picked me up from the airport and we went straight to his studio. We started jamming as soon as we got there, playing some chords and beats and the whole track just seemed to fall into place immediately.
When We Dip – I'm sure there are many more classics in store! We can't wait to hear what's coming. Any projects upcoming in the next couple of months we should know about?
Simon – Well, I'm always non stop on various stuff, we're getting more Sanctified stuff together, I'm doing a couple of more chilled mixes for Defected under my own name, and I'm also working on a new Bent album. I've also just released 39 tracks across 2 compilations of everything I've done since 1991: "Simon Mills – Shelf Life"… Vols 1 and 2! I put that out on Bandcamp as I love that platform for my solo work.
Joel – I've been doing some writing and vocals for other projects and am hoping to to get some of my own stuff finished at some point too!
When We Dip – Guys, thanks again for everything! So happy to connect with you – hope we can meet on a dancefloor sometime soon. All the best!
Simon – Thanks for having us and yes.. Let's arrange something! Cheers! 😉
Joel – That would be awesome, thank you to you guys for having us!
Somethin' Sanctified – Taqui EP [TOR027]
Stream – https://xyzlabel.lnk.to/Taqui
Follow Somethin' Sanctified
Soundcloud – https://soundcloud.com/somethinsanctified
Instagram – https://www.instagram.com/_simonmills_/
Facebook – https://www.facebook.com/somethinsanctified/
Connect with XYZ – https://linktr.ee/wwd.xyz
Stream releases in full via Spotify: https://spoti.fi/2uDd07z