18 January 2022
Germany's Koelle made his XYZ debut last year in alluring fashion. The classically trained musician out of Ingolstadt collected a stellar team on the Fall In Time EP, with vocalist Margret and producer Into The Ether each deeply involved throughout the release. After a raucous applause for the original material, we are thrilled to revisit the project with a riveting roster of remixers. As we dive into the new year. we happily present Fall In Time (The Remixes).
Greece's DSF is at the forefront of a surging wave of modern deep house producers, blending sounds from across the international electronic spectrum. His funk-laden Fraoula EP showcased his knack for the unexpected, and we welcome him back on remix duty as he takes on the A-side. Fall In Time harnesses the original trio's incredible brand of vocal melodic house, as Margret's soaring chops meet DSF's dreamy take on the melodics on this sublime cut.
Westseven is growing into a pillar of XYZ's output, thoroughly impressing the masses with last year's enigmatic single – Compass. The Londoner is no stranger to the scene, constantly crafting a stellar reputation throughout the years via productions teeming with quality. He's stepped into the driver's seat on City Lights, twisting the original into a heady dancefloor groover. Rolling synthetics keep the vibe alive from start to finish, with the deep nature offering a powerful tool for any selectors. Lots more to come in 2022 from Westseven – keep it locked!
David Orin has been a key figure in New York's surging deep and melodic scene for years, and is also one of the nicest gents on the circuit. We couldn't be happier to have him back on XYZ with his version of City Lights. Orin harnesses a revolving & bountiful bassline as the foundation, utilizing the original's powerful synth stabs to elevate energy in pristine fashion. 
Montreal is the lifeblood of When We Dip, and we are ecstatic to welcome one of the city's most promising rising talents into the XYZ fold for her debut. Sinca quickly caught the ear with her first ever release coming on the behemoth Anjunadeep. She turns the dial on her first remix, welcoming an understated grit through a throbbing bassline and delightfully searing synthetics floating over bouncy percussion. Margret's chopped vocals ask the question at the center of it all – Is it Love? Indeed it is.
To celebrate the Fall In Time remixes, we caught up with DSF to find out more on the project and what 2022 will look like for the Greek producer.  
Ioannis, thanks for chatting with us today.  Where are you writing from today?
Hi WWD. Actually from the basement of my house in Zooberi, Greece where I live and create my music.
Big congrats on the remix release! What specifically do you look for in a track when considering a remix proposal?
Well, first of all I want everybody to be happy. Me, the label, the original artist, and of course the people. If everybody is happy then the remix will be a success. Hopefully it will hit the charts and DJs will support it.  
Personally, my main goal is to treat it as I would do with my original tracks. For me there is no difference between working on an original or a remix. You have to pay the same attention. Both must be perfect. The challenge is bigger when you like the original but it's not totally your style. Then the "game" starts for me. Ideas start coming in my head. Which one to choose?  Maybe this or that? I love this part.
We saw you were recently in Ibiza for the first time! What was it like visiting the mecca of dance music?
Indeed it was my first time in Ibiza. If somebody told me I would visit Ibiza for the first time in the winter time, I wouldn't believe it. But it happened and the reason is that the island has locals that need to party even in the winter. Of course, it's not like the summer time. But you can definitely feel you are in the mecca of dance music. 
Have you been touring recently? Which party has been your favorite over the past year? 
That summer was very difficult with all the Covid restrictions, but I can't complain. I played in Hungary twice, Romania, Moscow, St. Petersburg and Greece. I can't tell which one was my favourite, but I can tell you the most special one. It was in Romania at DeepForest Festival in Valcea city. I played in front of 3,000 people somewhere deep in the forest and the mountains.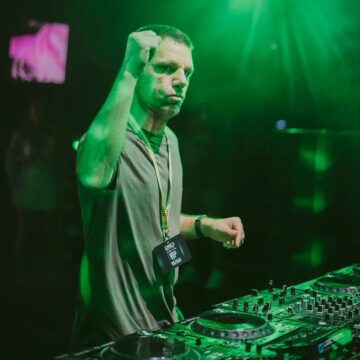 What's the music scene in Greece like right now? Have shows been possible given the crazy global situation?
Right now there is no scene in Greece because of Covid. Actually, the problem started from the beginning of the pandemic. We had and still have long periods with restrictions. Even last summer when music was allowed we had to throw parties with only seated people. Well this is not a party. Is it? Regarding our scene, Greece wasn't ready for our music. Unfortunately, the pandemic made it worse. That's the reason why I play more often abroad than in my home country.  
What artists have you been listening to as of late? Any in particular that you are playing every set?
Do you want me to forget someone and have issues? ….lol. I love them all! I mostly love the unknown or upcoming artists that people haven't discovered yet. There are a lot of them among us. I think it's a matter of time for them to become well known and established artists. My USB sticks are full of their tracks – thank god they trust me and send me their beautiful music.   
Do you have any exciting projects coming up that we should know about?  What are you hoping to accomplish in this New Year?
Is it a cliché to say 2022 will be very promising? In 2022, I will have my first overseas tour in Latin America. Also, I thought the most creative year in music for me was 2019 when I released my music on All Day I Dream. I feel 2022 is going to be double creative because of the quantity and quality that's coming from me. 
Ioannis, thanks for talking with us. Congrats again on the remix and we are looking forward to hearing more from you in 2022
Efharesto (thanks in Greek).
Connect with DSF
Soundcloud – https://soundcloud.com/DSF-Greece
Facebook – https://www.facebook.com/dsfofficialpage/
Instagram – https://www.instagram.com/dsf_music_greece/
Connect with XYZ – https://linktr.ee/wwd.xyz
Stream releases in full via Spotify: https://spoti.fi/2uDd07z
Koelle – Fall In Time (The Remixes) [XYZ049].
Release Date – 01.14.22
Stream – https://xyzlabel.lnk.to/FallInTimeRemixes