14 March 2022
In the heart of winter, we revisit Mitch Oliver's first solo EP on the label, Exil. The Montrealer is growing into a pillar of XYZ's output, while also turning heads on the international scene through his powerful productions. We've enlisted a top-tier roster of remixers to take the reins on the original material, and these three maestros have absolutely nailed it! Raw Main, Maxi Degrassi, and Facundo Mohrr come together to present Exil (The Remixes).
Raw Main is one of the most forward-thinking producers in our global community of musicians. With projects everflowing on the likes of Abracadabra, Saisons, and Bar25, he's got a distinct knack for balancing the foreign and familiar. The Frenchman has flipped Intrepid on its head, enlisting a heady acid-laced groove drenched in psychedelia. A touch of vocal bliss alongside organic riffs counter the synthetic foundation, placing this instant classic in a world of its own.
We're thrilled to welcome back Maxi Degrassi on remix duty, as he steps into the driver's seat on Wildfire. The Argentinian aficionado peruses through punchy percussion and haunting hooks, keeping the groove-centric vibe alive from start to finish. Lush builds add flavor at every turn, ensuring this dancefloor burner catches the ear of the globe's finest selectors; a tantalizing tool!
Harnessing inspiration from a rejuvenating weekend of shows in NYC, Facundo Mohrr captures a perfect Sunday flow with his remix of Exil. Playful synths snap into focus on top of punchy kicks, as the vocal performance from Tea Verdene receives a trippy twist. Facundo produces yet another unpredictable groover that has become the signature of his sound, balancing immense dancefloor effect with bespoke melodic character. 
To celebrate the release of Raw Main's remix, we caught up with him for a chat on all things Raw Main.
WWD: Romain, thanks for joining us today and congrats on the release!  How did you approach this remix? You have certainly given it that unique Raw Main sound that we love so much.
I really like to listen to the original mix before starting a remix. It always gives me ideas to understand the artist, and not do the same vibe on the remix. The approach is always to get surprised, and go further than usual.  I de-structured the original, like a new breath. I never know what I'm going to do before, it's really spontaneous.  The only things that are the same on my productions are are my Ableton live template, and my synths. 
WWD:  It looks like you have been on the road touring lately.  What's been the best party to play in the last few months?
Well, I have played in Dubai, Switzerland and Paris.  All these gigs were amazing!
Different parties, but an amazing vibe everywhere!  You can really feel it – people are more receptive to music. After all that's happened: Covid restrictions, lockdown, curfew, postponed events, PCR tests… 
You can feel that people want to get back to normal.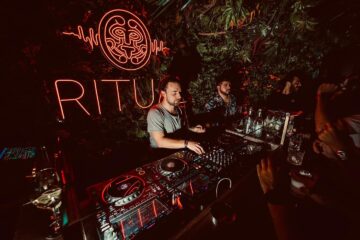 WWD: What have you been jammin' to recently? Any artists or labels that we should know about?
"Boys be Kko" an artist from Japan who recently released an album called "Hensa" on Atomnation Records. It's a bomb Album!
WWD: Tell us about your hometown, the French electronic scene, and the role it has played in your journey thus far.
Paris, is the city where I grew up. And in the last 15 years I have seen Paris evolve. Everything's going so fast; new promoters, new producers, new dj's, new venues,  I dont think it's only in France, I mean, it's in all of the world. The electronic scene became more popular. And it's a good point !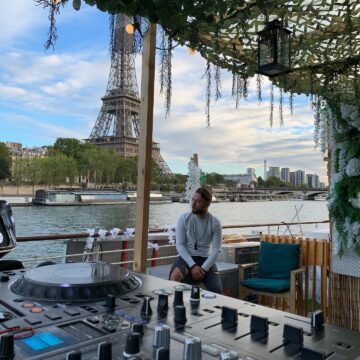 WWD: What keeps you busy outside of music? We saw you were recently hitting the slopes in Courchevel! 
I have 2 kids, I spend a lot of time with them.  Yes, Courchevel was really fun – mountain fresh air. It was time to take one week off before everything reopened and it was the perfect timing. Slowing down social media, and music is the best way to find inspiration and get ready for what's coming :D.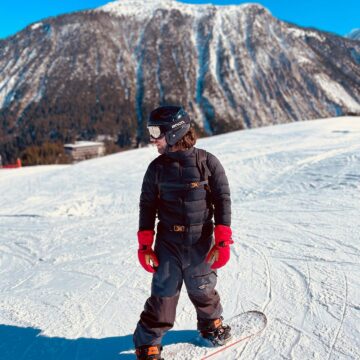 WWD: What's going on in the studio these days… any exciting projects we should keep an eye out for?
Ohhhh yes, good music is coming!  "My Live Set" also is coming this year 😀 Stay tuned!          
WWD: Romain, thanks for joining us! Congrats again on release and hope to see you soon!
Happy to be a part of this beautiful release and to talk with you 🙂
Connect with Raw Main
Soundcloud – https://soundcloud.com/rawmain
Facebook – https://www.facebook.com/rawmainmusic
Instagram – https://www.instagram.com/rawmain_music/
Connect with XYZ – https://linktr.ee/wwd.xyz
Stream releases in full via Spotify: https://spoti.fi/2uDd07z
Mitch Oliver – Exil (The Remixes) [XYZ052].
Release Date – 03.11.22
Stream – https://xyzlabel.lnk.to/ExilRemixes