16 September 2022
After an incredible summer and with winter in the offing, it is light that we seek. And light it is that The Gardens of Babylon promises to bring back to its yearly 'The Seekers of Light' ADE showcase in Amsterdam with the likes of Audiofly, Britta Arnold, Christian Löffler, Deer Jade, Jan Blomqvist, Jenia Tarsol, MAGA, Oliver Koletzki, YokoO and Yulia Niko to name just a few.
The Gardens of Babylon is set to transform Amsterdam's WesterUnie into a magical and playful garden decorated into detail by 100 helping hands. At The Seekers of Light ADE, you may lose yourself in the eclectic line up from mesmerising DJ sets to compelling live acts.
But that's not all, The Gardens of Babylon will also implement an exciting spiritual program with facilitators from all over the world. From one on one sessions such as Couples Connection Therapy, Psychic and Tarot Readings, to Sacred and Ecstatic Dances. The ever-surprising The Gardens of Babylon HQ team is preparing for an ADE show sequence as never before.
Tickets for all shows are now available HERE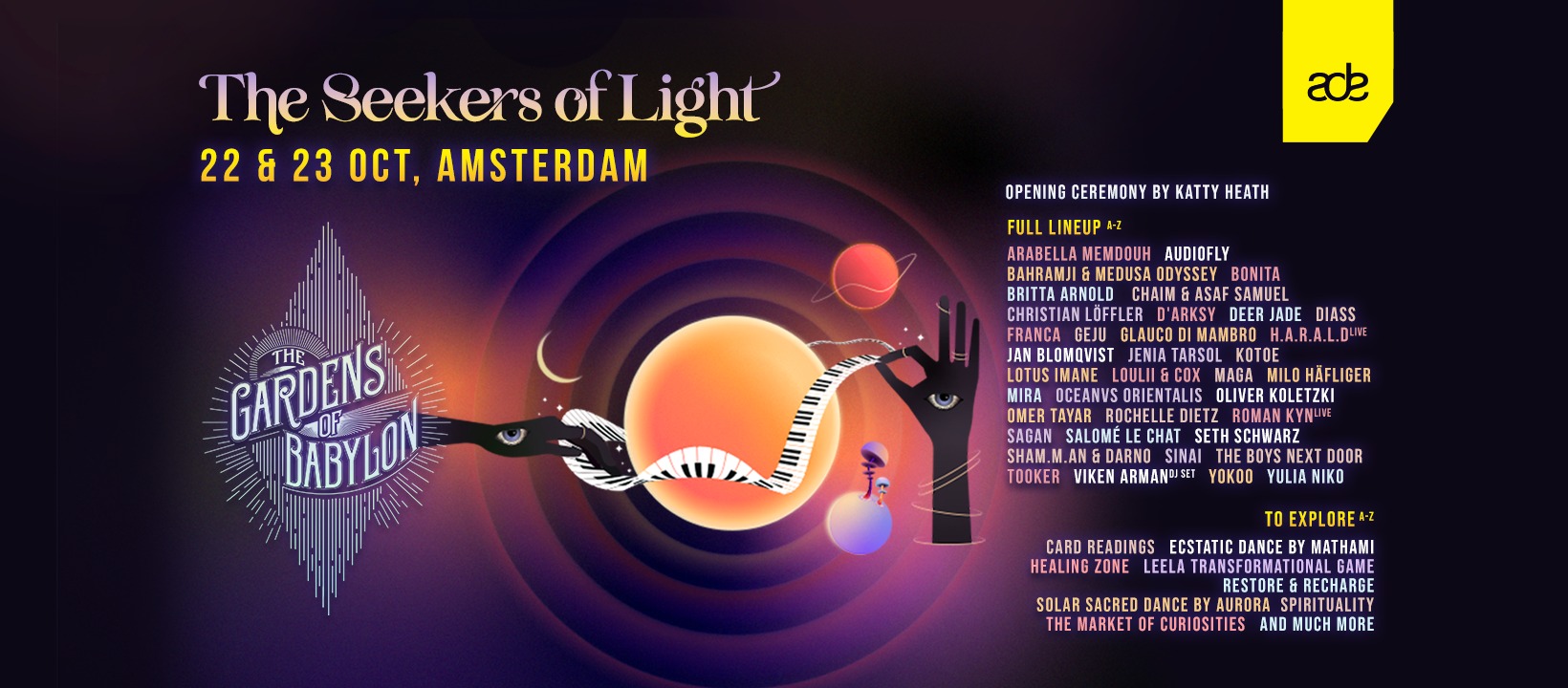 The Gardens of Babylon is an international event series that originated in Amsterdam in 2016. By connecting music with spirituality, they create meaningful experiences wherever they go. The beautiful community that surrounds this fast growing organisation is what signifies them the most. With their unique formula they have connected so many people in more than 20 countries and 30 cities worldwide.
The Gardens of Babylon will host three shows during ADE at Amsterdam's WesterUnie on October 22 and 23 under the name The Seekers of Light ADE:
The Seekers of Light ADE Saturday Day on October 22
The Seekers of Light ADE Saturday Night on October 22
The Seekers of Light ADE Sunday Day & Night on October 23
Full lineup:
Audiofly – Bahramji & Medusa Odyssey – Britta Arnold – Chaim & Asaf Samuel – Christian Löffler [live] – Deer Jade – Jan Blomqvist – Jenia Tarsol – MAGA – Mira – Oceanvs Orientals – Oliver Koletzki – Salomé le Chat – Viken Arman [DJ] – YokoO – Yulia Niko – Arabella Memdouh – Bonita – D'Arksy – Diass – Franca – Geju – Glauco di Mambro – H.A.R.A.L.D live – Kotoe Lotus Imane – Loulii & Cox – Mathami (Ecstatic Dance) – Milo Häfliger – Omer Tayar – Rochelle Dietz – Roman Kyn live – Sagan – Seth Schwarz – Sham.m.an & DARNO – Sinai – The Boys Next Door – TOOKER