13 December 2022
We are ecstatic to welcome back one or TOR's most essential artists : Margee. The Frenchman first caught our ear with his stunning edits of Tommy Guerrero and Daniel Norgren, before making his debut on the imprint with the sensational Plantalk EP; Still to this day one of the best projects we've put out!
Margee's mastery of low-slung groove and heady hooks continue to cut through the crowd. The French guitarist and producer showcases his distinct sound on his latest single – Something Beautiful.
The downtempo groover opens with light rhythms flowing over chopped vocal cuts. Devine drums and lush synthetic stabs balance a signature bouncy bassline, as Appolonie seizes the senses with her vibrant vocal performance. Pristine prose about the beautiful creations of life.
To celebrate the release of 'Something Beautiful' we caught up with the French producer to talk ADE and 2023 plans.
WWD: Margee, congrats on the release and welcome back! Where are you joining us from today?
Hey guys, thanks for having me!  Currently in the train from Paris to Beaulieu (close to Nice).
WWD:  We saw you were recently in Marseille for your first gig there. How have the shows been recently?
Hell yes it was a good night warming up for Moojo!  Playing here and there at the moment but nothing to fill my schedule entirely. After a long season of work I thought I deserved some rest!  Leaving to the Alpes in January and got some gigs in New York in February, exciting times ahead before starting a new season with Indie Group, in sunny South of France!
WWD:  We loved your set at our showcase at ADE, and it was great to touch base with you and the Dip family in person. What was your favorite moment at this year's ADE – perhaps a particularly memorable party or track?
Thanks a lot!!  Had a lot of fun playing this groovy set and meeting everyone of you!  My favourite special party was again the Giegling showcase (like the year before), although Rainbow Disco Club at Lofi was something too!
"No I'm not an Easy Girl" – Bell Towers
WWD:  We're so thrilled to have you back on TOR, this time with the sensational single 'Something Beautiful'. How did you connect with Appolonie on this project?
The pleasure is mine!  We met this summer in the South of France.  Appolonie is a friend of a friend of mine and they both play in the same band.  This summer they came to play at the place I was working at (Afterbeach, Grimaud) and decided to collaborate!
WWD: Your ability to craft rich & eccentric grooves really cuts right through. Your tracks can feel downtempo but immensely groovy at the same time. Where do you look for inspiration in your sound?
I don't really know, I'm a big fan of funk, disco, soul and everything that grooves.  At the same time, I get really inspired by the ketapop movement, Laut & Luise, Das Komplex… and all the stuff I put in my Spotify playlist Margee's Ratatouille 🙂
WWD:  What artists or labels have you been listening to / playing out recently?
labels: 
-the very Polish cut outs
-no sense necessary
-isitbalearic
-Moodmusic
-kaputt.wav 
Artists:
-Das Komplex
-Gabe Gurnsey
-Vinny Villebass & Sommerfeldt
-Sababa 5 (a lot)
-Men I Trust (always)
WWD: If you could open for any artist in history, who would it be? 
David August for sure!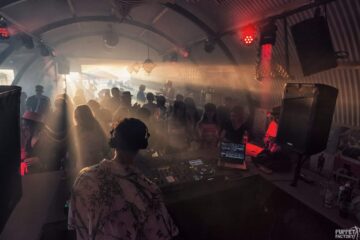 WWD: What is next for Margee?  Any new projects or shows that we should be on the lookout for in 2023?
Probably another EP on TOR coming February, finishing up some track for a Parisian label and building up a new studio in the south of France.
Gigs wise, I'll be working for Indie Group next year but still looking for a booker or agency for a European tour!
WWD: Margee, thanks for chatting with us and many congrats on the release! Enjoy the holidays, and we hope to see you in Montreal next year.
Thanks to you guys!  I will definitely hit you up if I'm in Montreal.  All the best and keep up the good work with the label.  It's always a pleasure to work with professionals who have taste in music!
Connect with Margee
Soundcloud – https://soundcloud.com/margeemusic
Facebook – https://www.facebook.com/margeemusic
Instagram – https://www.instagram.com/margeeandsound/
Connect with XYZ – https://linktr.ee/wwd.xyz
Stream releases in full via Spotify: https://spoti.fi/2uDd07z
Margee feat. Appolonie – Something Beautiful [TOR038]
Release Date – 12.09.22
Stream – https://xyzlabel.lnk.to/SomethingBeautiful