31 January 2023
As we move into the heart of the winter here in Montreal, we are proud to welcome back the talented Quebecois producer – Monarke. Hailing from Quebec City, he has gained international acclaim in recent years as a key figure for Soul Button's Steyoyoke. His 2021 debut on XYZ – Edge of Reality – struck a chord with global groovers. We are thrilled to have Monarke return for his sophomore release on the imprint : Footprints.
On the A-side, Monarke connects with Whirl for a collaborative gem. Footprints flows effortlessly into a sultry mood, allowing bespoke synthetics to capture the mind. Momentum rises as the track floats onwards, lifting ethereal tones from start to finish. Simply a beautiful production.
On the flip, Monarke turns the dial on Intricate. A warm breakbeat sets us in lockstep, and crisp percussives bring riveting rhythms. Utilizing enveloping energy and ominous melodics, the Canadian's progressive production swirls us into a sensational soundscape. A B-side built for the dancers.
To celebrate the release of 'Footprints EP' we caught up with the Canadian producer to discuss his recent doings in and out of the studio
WWD: Fabrice, congrats on the release and welcome back to XYZ.  Where are you joining us from today? 
Hi guys! Many thanks, I'm so happy about this release 🙂 Well it's Saturday morning, I'm just hitting the studio, I love morning studio sessions!
WWD:  Where did you find inspiration for this project? 
This track (Footprints) is probably the track I worked on the most in my life, we had this beautiful chord written by Whirl that he sent me. I fell in love instantly. From there we were at the end of 2020 I believe, a rough year, and those chords, full of so much hope, have brought me lots of inspiration. I finished really quickly; structure, drum, bass, etc. But we wanted it so perfect, that we went back and forth with the project for 6 months before saying OK she is done, she is perfect. 
For this Break track, Intricate, I would say it has come naturally, I love making those kinds of "pensive" songs. There are a lot of Monarke sound signatures, especially this bass LFO who really is the main character of the track.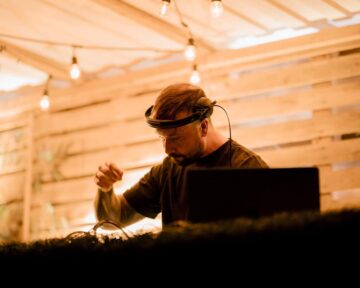 WWD: Have you been touring lately? What has been your favorite party in play in the last few months? The Montreal NYE show looked stellar.
I started to play a little bit more, things are getting back strongly this year, but yes 2022 started with Berlin for the Steyoyoke showcase. Berlin is always amazing, everytime, I just love it. Then I was approached to play at the Illusion festival near Montreal, actually a beautiful festival with lots of scenes hidden in the woods. And of course The Velvet, the lovely speakeasy cave, that I played with my good Montreal friend, Haffenfold. Cherry on the top was the NYE party with front rite at the fonderie darling. It was AMAZING playing with my good friend soul Button. It was packed, it was PERFECT ! 
WWD:  Tell us about your travels during 2022.  It looks like you had quite the trip to Nepal.  
Oh it was something else, YES Népal was really intense trip, but I had this trip in mind for long time, The main ideas to go in Népal was hiking in the Himalaya, so we did a 3 week trek and go up to 5400 meters. It was the end of winter, lots of snow up there, almost everything close (it was still in the pandemic). But an unforgettable trip of a lifetime, you walk 10 hours a day in between the highest mountain of the world, you learn living with the locals, you are completely disconnected from the society, barely no signal, it was perfect.  2 years of high stress and you know all about how we passed. It was the best trip of my life.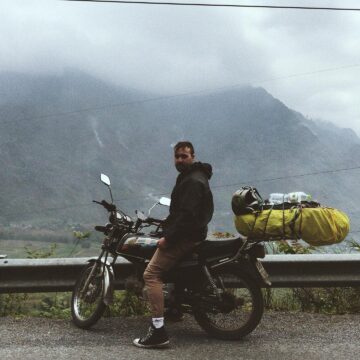 WWD:  What hobbies keep you busy outside of the studio?  Are there any hobbies you hope to pick up in the new year? 
To many, I would say producing music is my only geek activity, other than spending time in the studio, I'm a really handy guy, so I really like spending time outside, doing plenty of sports, skiing, snowboarding, and hiking. BUT I really want to learn an instrument deeply soon… I used to play really tiny bit piano but.. it always been something I would love to know, like intermediary I would say!
WWD:  For people that have not listened to you before, how would you describe the Monarke sound? 
Chaotic, ahaha, no but yes, I would describe my music chaotic in a certain moment, but for me it makes sense, I would say LOTS of emotions in my music. Of course Melodies! I can't stand out. I always feel I need a strong story in terms of Harmony.
WWD: What is going on in the studio these days?  Any upcoming projects that we should keep an eye out for? 
Definitely always music in the pipeline, a lots of stuff been written since Monarke project, lots of mood… but more and more this year I feel I want to hear and see my music on the dance floor, I really focus on it, I want my music be played and dance more and more 🙂
WWD: Fabrice, thanks for chatting with us and congrats again on the release.  We hope to see you again soon!
Many thanks guys, it's really fun to grow with xyz, there are so many talented artists, I'm really blessed. 
Connect with Monarke
Soundcloud – https://soundcloud.com/monarke
Facebook – https://www.facebook.com/monarkemusic/
Instagram – https://www.instagram.com/monarkemusic/
Connect with XYZ – https://linktr.ee/wwd.xyz
Stream releases in full via Spotify: https://spoti.fi/2uDd07z
Monarke – Footprints [XYZ062]
Release Date – 01.27.23
Stream – https://xyzlabel.lnk.to/Footprints