7 March 2023
Producers are the backbone of any label; developing supportive and genuine relationships with our artists is the core principle of XYZ's development. Our Oppo series is an ode to the figures that we feel are at the foundation of the label's journey thus far.
Mitch Oliver has cemented himself as a pillar of XYZ's artistic direction over the last few years. He's caressed two of the imprint's most emblematic tracks to date. Same Light seized attention with a remix from the one-and-only Hernan Cattaneo, before the sensational Alleghanys skyrocketed to global applause. His Exil EP continued his bespoke impact on the label, and now we pass him the wheel on our seminal series – Oppo.
Oppo gives full creative control to the producer, who essentially functions as the label head on the project. Curating sounds from artists around the world who've influenced his journey thus far, as well as a pristine production of his own, Mitch Oliver presents a project that fully represents his tastes as an artist.
On the A-side, Mitch connects with Carl Sylvestre with an instant classic. 'When You Run' cuts deep into the groove, providing soaring emotive energy with sensational vocal work.
Label favorites Death on the Balcony return to XYZ on the B-side. 'One Big Circle' captures all that we love about the British duo, harnessing timeless house tones with blissful spoken word.
Germany's Flowers On Monday continues the backbone of Oppo – deep melodic movement with crisp basslines carrying the groove from start to finish. 'Dream On' is a delightful offering from two of the scene's finest gents.
Mexico's Eduardo McGregor will be well known to the When We Dip family, as he's been an essential artist on our TOR imprint. He comes correct with playful percussion and swaying synthetic sounds on 'The Hunter'.
David Orin is back! The New Yorker never fails to provide the magic. 'Turquoise' welcomes an Eastern edge, as soothing and surreal vibes rise with an underlying quality that is omnipresent in Orin's work.
Closing out this prolific project is a collaboration between Bodaishin & Lupe Republic. 'Oceans' features NiN, with chopped vocal cuts balancing dreamy delights to ease us out of Oppo.
To celebrate the release of 'Oppo III' we sat down with the Canadian producer, Mitch Oliver, to break down the project and his recent travels.
WWD: Mitch, thanks for joining us and congrats on the release! Where are you joining us from today?
Thanks guys, absolutely thrilled to be back on XYZ. I'm currently in Golden British Columbia, where I came to spend a few days skiing in the Rockies. As you know, skiing is a huge part of my life so after a few very creative weeks in the studio I came to spend some quality time on the slopes.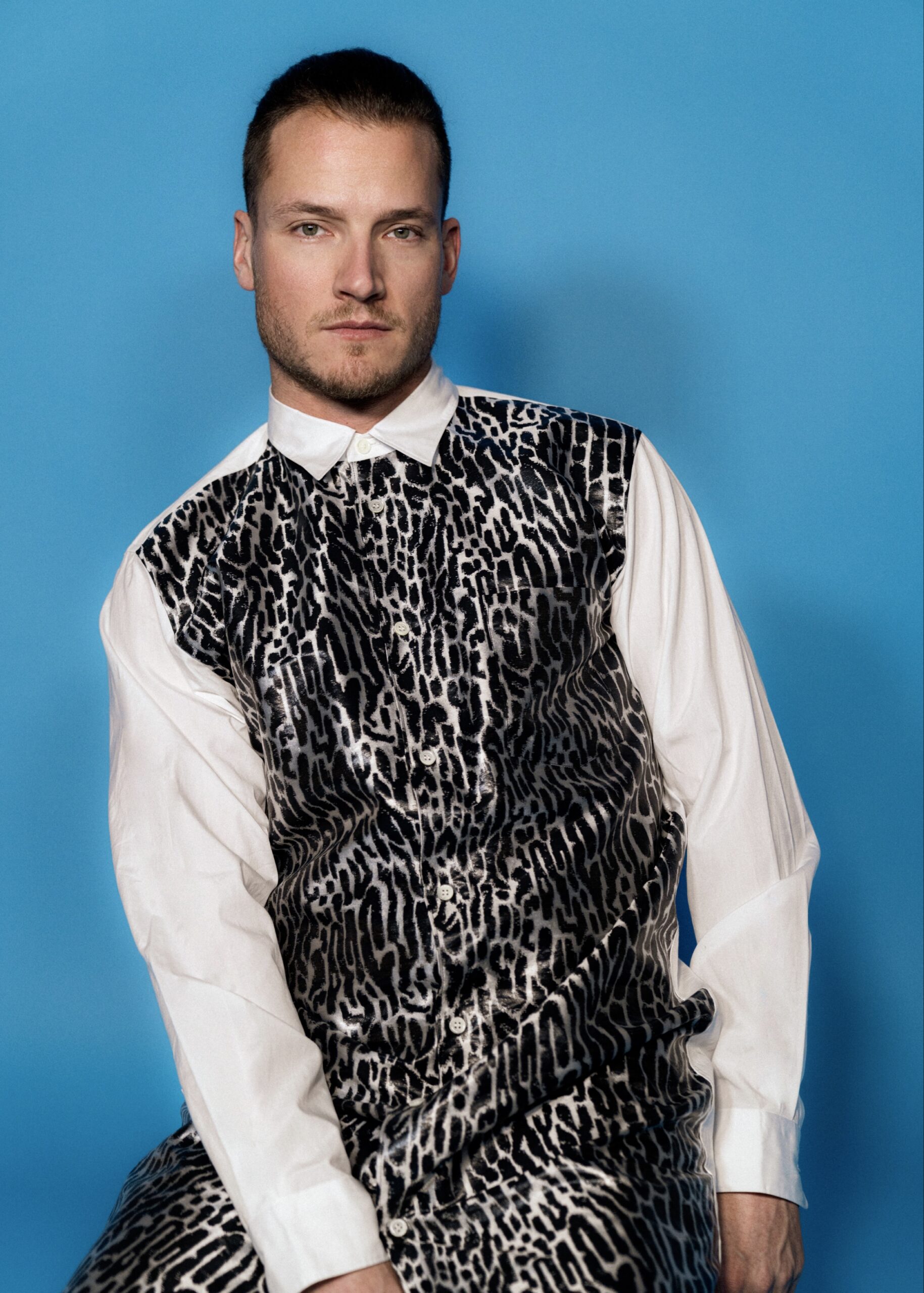 WWD: What was it like to curate a project like this? What was the first step you took once the idea was presented? 
It was truly an amazing experience to have the opportunity to act as A&R for this music project. As music producers, it's always a challenging thing to find the right home for our music works. I really enjoyed having the opportunity to offer a quality platform such as XYZ to some of my favorite artists and friends to express themselves musically. I couldn't be happier about how each track sounds and I'm grateful to present you with this stunning compilation.  
My first step was to figure out who I wanted to invite to take part in the project and it wasn't an easy task. There are a lot of artists I admire and who I wanted to include so it was challenging to narrow it down to a shortlist. Thankfully, ADE allowed me to meet a lot of producers who I had been in contact with over the years. I started to reach out to a few of them to propose the project and was thrilled by the enthusiastic response. 
WWD: Tell us about the artists you have brought together, and what they each mean to you in your journey thus far? 
I feel like I would need to write a whole book to correctly answer this question! Honestly, all these artists have either had an impact on my musical direction, and taste, or literally became friends throughout the years simply through our passion for music. The power of social media is truly a blessing when it allows us to connect to like-minded individuals who live across the globe. Let me try to describe a little bit about what each artist means to me and how we connected: 
DOTB: One of the first artists I came across when I dove into the "Organic House" sound. I fell in love with their unique sound, tasty grooves and delicious basslines. Mark and Paul are true gems. I've been playing their music in so many of my sets and I was delighted when they accepted to take part in the project. I'm heading to the UK in June and really can't wait to have the opportunity to finally meet them. 
FOM: Another brilliant duo, whose tracks have been found in my USB sticks for a long time. The boys have a definitive touch in the studio that I've always admired. They've been true to their sound and vision from the start of their project and I deeply respect that. Their passion for nature, especially the mountains and the ocean definitely also resonates with me. I'm grateful they have accepted to take part in this project and looking forward to meeting them in Germany soon.
Eduardo: This guy is such a brilliant musician. We got to connect last Summer when he came to Montreal for a show and we quickly clicked. I now consider him a close friend and we've actually ended up collaborating on a few songs, 2 of which will come out very soon. More on that a little later 😉 
David: The sweetest New Yorker I've met. I had the opportunity to share the same stage with him at Piknic this Summer and it was so much fun. He's the nicest and warmest guy. Oh, and it happens that it's kinda badass when it comes to making some magic in the studio, so I'm super pumped to have him on board. 
BODA: I got to meet Brian in Ibiza last Summer and he is such a lovely guy. True to his Argentinian roots, this guy has such a deep love for our music that it's contagious. We've quickly become friends and I'm glad to have him close this project. I even had the opportunity to do a remix for his great label Circle of Life which came out a few weeks ago. 
WWD: What was your inspiration for the leading track, 'When You Run'?  What was it like working with Carl Sylvestre?
My first inspiration for the track was my relationship with Mountains (yeah again, I know). 
I wanted to write a track with lots of energy, powerful yet mysterious, gloomy at times and loaded with emotions. I had the main idea for the song done for a while but it was missing an "ah" moment. I showed it to Carl and he instantly found some magic and the rest is history. Carl is such a talented producer. He's written hits in so many music genres and learns so fast that it's truly disarming. He's one of those who has that magic ear, and it's a true blessing we've got to work together. Guess I'm pretty lucky he's my girlfriend's brother 🙂 
WWD: Have you been touring recently? Tell us about your latest travels.  
My Summer and Fall of last year were very busy, with shows all across the US. As for the beginning of 2023, I've spent most of my time writing new music, working on my branding and fixing that skiing problem I have 😉 Most recently I got to headline at StereoBar which was absolutely magical. I also just did a show in North Carolina which was lots of fun. 
WWD: If you could play anywhere in 2023, where would that be and who would it be with?
That's definitely not an easy one to answer, but I have a few in mind for sure. 
I've played Stereo before, but if I could play there for an extended set it would be magical for sure. Otherwise, I'd love to play at Fabric in London or Kater Blau in Berlin. Those would be my club picks. As for festivals, of course, Tomorrowland would be a dream come true. I also can't wait to have the opportunity to play in South America. The music lovers down there are known to be absolutely passionate and connoisseurs and I've seen and heard so many good things about their parties and their industry's culture that It's a must for me. 
WWD:  What is going on in the studio these days? Any upcoming projects that we should be keeping an eye out for?
I have been very creative these past weeks. My sound is evolving and you are about to hear more music from me that is a lot more energetic, and funkier yet still sexy and groovy. I have 2 tracks I made with Eduardo McGregor that are coming out this week on Lee Burridge's label TrybesOf which I'm very excited about. Later this Spring I have a track coming out on Sounds Of Khemit that I can't wait to finally get out. There is also another EP from me coming out later this Summer which I'll share more about soon. Otherwise, I'm planning a Mexico tour in April and a European Tour in June which I'm super thrilled about. 
WWD: Mitch, thanks again for joining us and for all your hard work on this project.  Looking forward to next time.
The pleasure was all mine. Having the opportunity to give these producers this platform to share their music and showcase my sound influences has been a true gem. 
Connect with Mitch Oliver
Soundcloud – https://soundcloud.com/mitch_oliver
Facebook – https://www.facebook.com/mitcholiver.dj/
Instagram – https://www.instagram.com/mitch.oliver_dj/?hl=en
Connect with XYZ – https://linktr.ee/wwd.xyz
Stream releases in full via Spotify: https://spoti.fi/2uDd07z
Oppo III [XYZ063]
Release Date – 02.17.23
Stream – https://xyzlabel.lnk.to/OppoThree