13 March 2023
Island Hill (Al, Barry and Dibby) met by a twist of fate at a typhoon party on the rugged, volcanic island of Jeju in South Korea. A shared love of vintage synths, blues guitar, and psychedelic electronic music has produced Strangers in Paradise – their debut album, a musical snapshot of their time together on Jeju. We catch up with Al, Barry and Dibby to discuss this unique collaboration. Enjoy reading the full interview while listening to the full premiere of 'Teenage Bride (Macho Cutie's Shit Disco Remix)' exclusively on When We Dip. Enjoy!
WWD: Hi guys, great to be chatting with you. So what exactly is a typhoon party, and how did you come to be there?
Al: In late summer of 2019, we were all recently hired as teachers at an International School in Jeju, South Korea. The beginning of the school year is during typhoon season; we would usually get hit by three or four every year. This was during our first few weeks in Jeju, and we decided to throw a party to get to know each other and have a bit of fun during the madness of typhoon weather. We braved the weather and made our way to Dibby's house; Barry brought his guitar, Ciara had her ukulele, and before you knew it, we were jamming with new friends and forging the earliest pieces of Island Hill.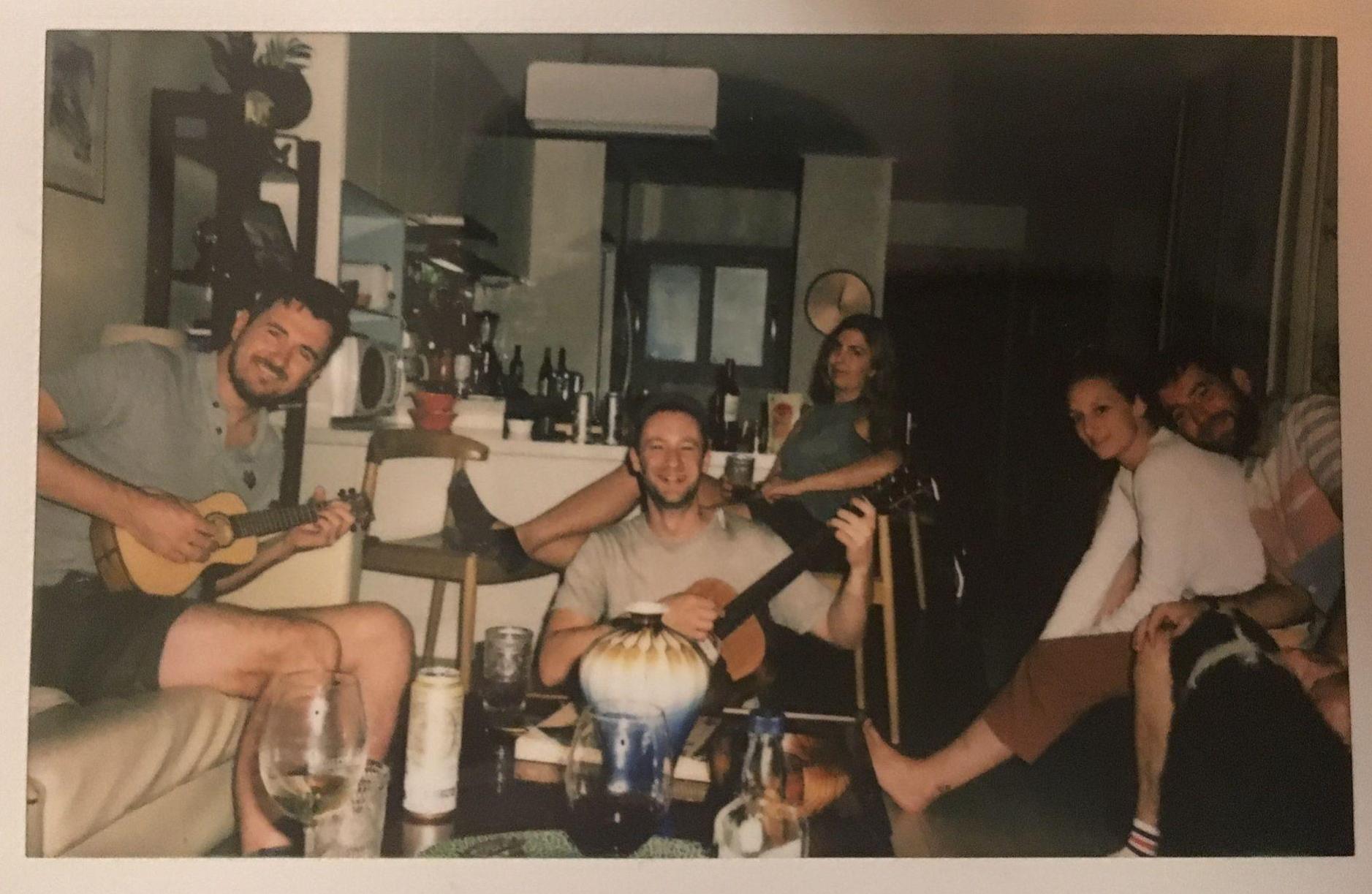 First music session, during Typhoon Lingling
WWD: So, after the typhoon party, you started working together whilst still in Jeju. Did you start by jamming and take it from there, or did you come to the studio with ideas already in the bank?
Al: By the time we started really playing together, Barry and myself were already playing in a rock band with some other teachers, and we had plenty of song ideas in our notebooks.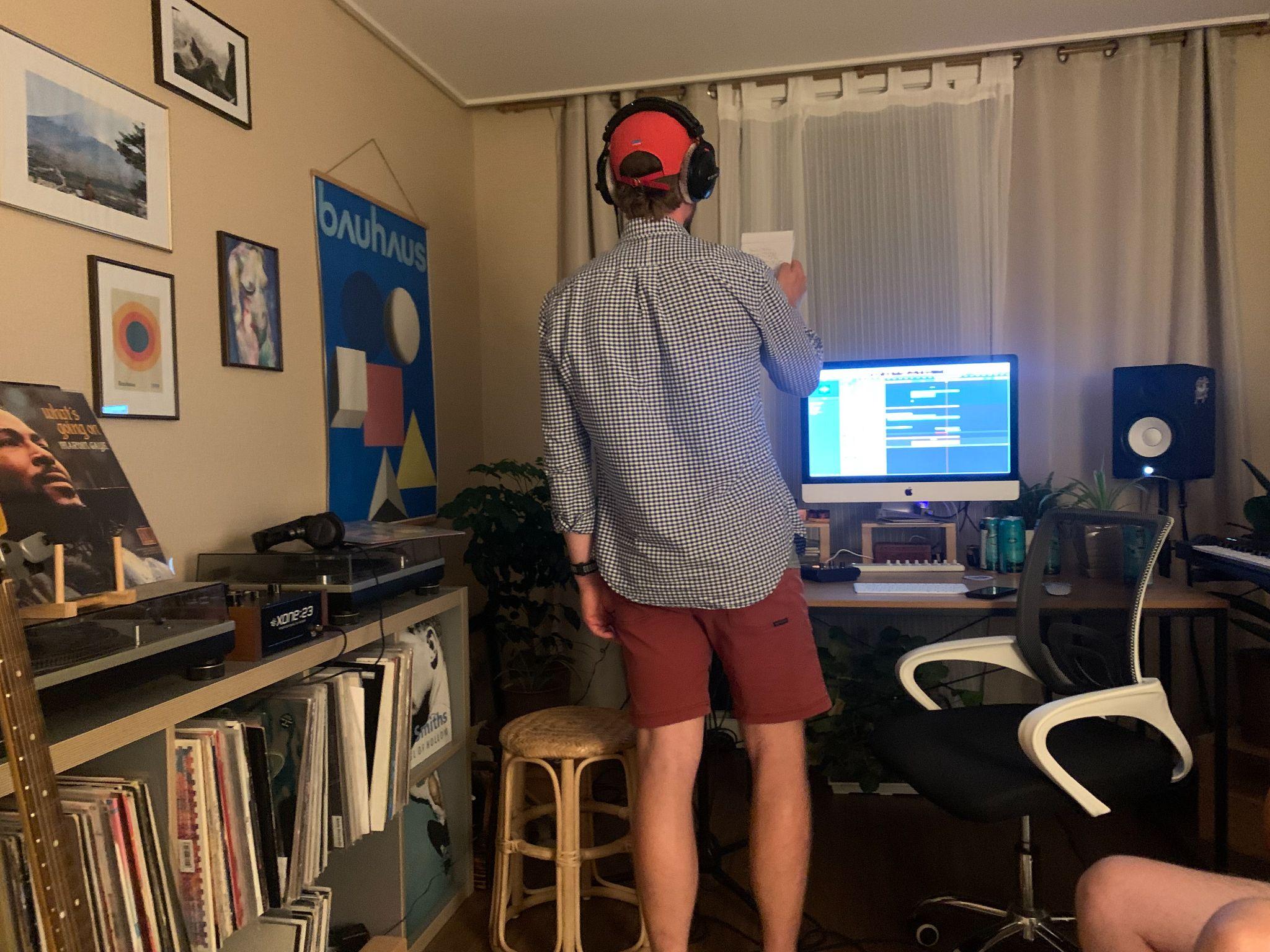 Albert and his infamous little notebook full of lyrics 
COVID put a halt on live gigs, and one day, Dibby mentioned that he had a few ideas queued up in his Logic library that could use some of our guitar and vocal magic.
We started spending Saturday nights at Dibby's experimenting over a few glasses of red wine, and songs like 'Killer of Fate' and 'Stella' came together quite quickly. From there, we followed a fairly similar process of starting with some drums and synths and writing songs in the room together or in fragments from our home studios.
Island Hill studio
WWD: The album is a unique fusion of different sounds and ideas, with a definite 'Pacific' vibe running through it. How did you each contribute to this soundscape?
Dibby brings his past life as a DJ to start us off with drums, bass, and synths. He usually is the one that builds the initial bones of the song. He's constantly sending us clips from tracks of artists that reflect a vocal or guitar sound that he envisions will complement his drums and synths.
Dibby at the controls
After me and Barry record guitars and vocals, he also makes most of the arrangement. Our songs often start as fragmented parts that he chops up and turns into something completely new.
Al comes in with his many years of songwriting, studio recording, and live performance to bring most of the organic elements to the songs. Most of the electric guitars, main vocals and lyrics come from his contribution. The "Pacific" surfy guitar licks are a prominent motif on this record, which were recorded with a J Mascis signature Jazzmaster.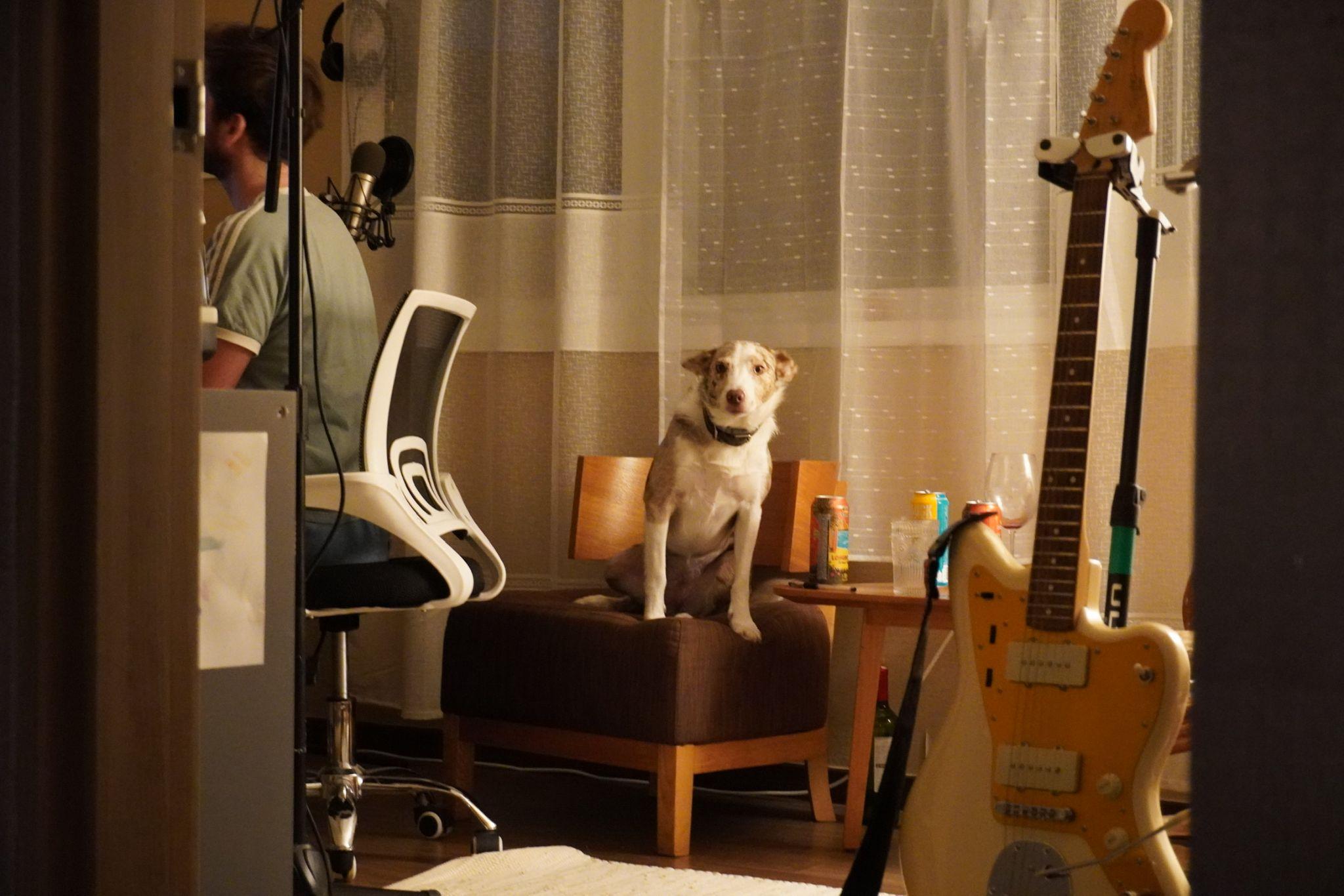 Jazzmaster and Yoko
Barry is the secret sauce of Island Hill, bringing all other elements together with a variety of contributions. He often collaborates with Al on writing, guitars, and vocal hooks and is responsible for some of the catchiest melodies on the record. He has been songwriting and playing guitar for ages, bringing many old and new ideas to each song.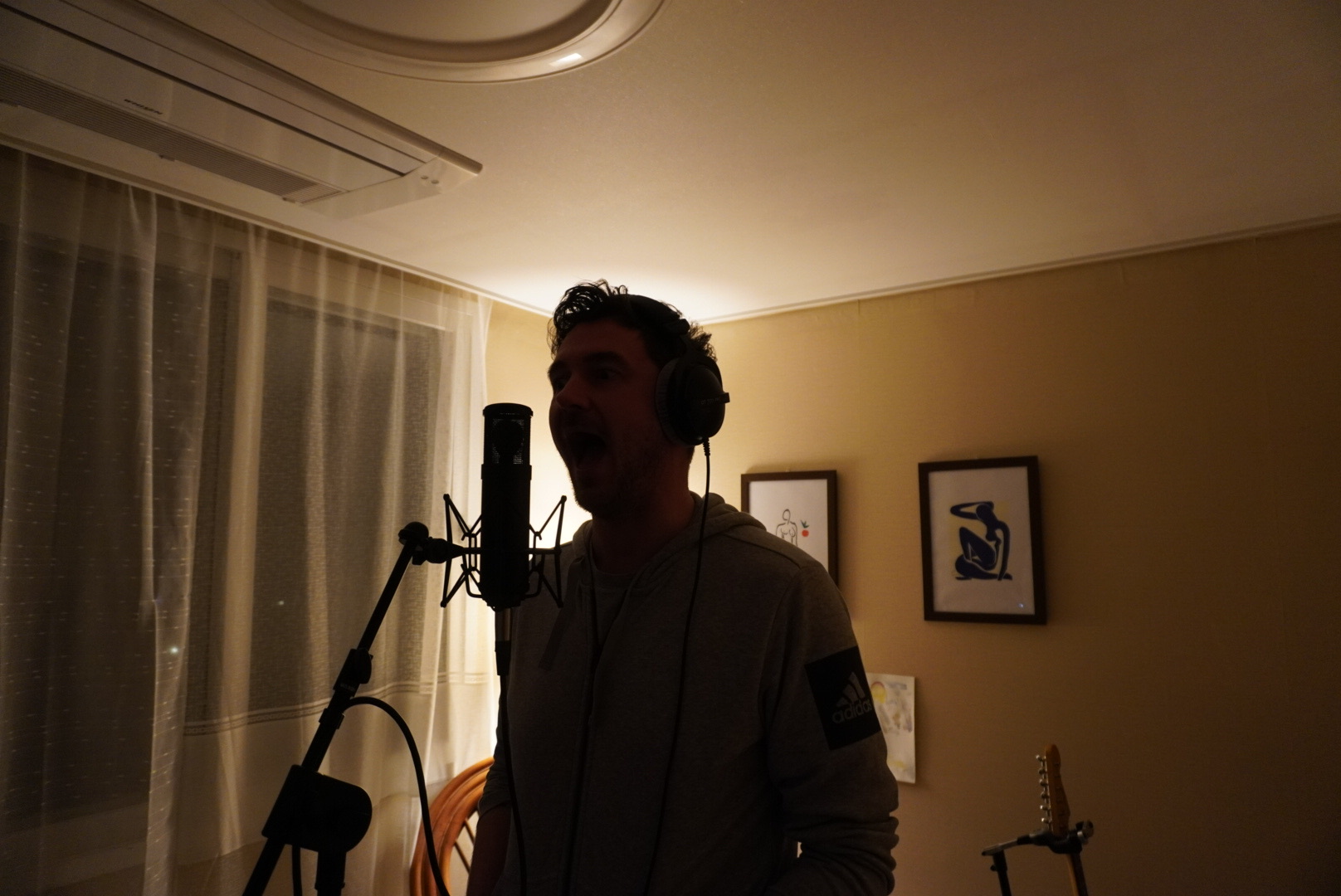 Barry hits them notes
WWD: How did you come to the attention of the legend that is John Digweed and his label, Bedrock?
As mentioned earlier, Dibby was a DJ and producer a few years ago; he had occasionally played with John and met Scott via Dave Seaman's AudioTherapy. Dibby had signed tracks to Audio Therapy and had music on one of Dave's Renaissance mix compilations and one of John's mix CDs, hence the connection. When the first two or three tracks were made, he sent them to Scott as they had kept in touch over the years, and he sent them to Digweed, who then asked for us to make an album.
WWD: It's obvious that the three of you are globetrotters. Where have you most enjoyed travelling? And where in the world are each of you now?
Dibby: I've been living in Asia for the past ten years. Right now, I'm poolside in Bali, just returned from an incredible wreck dive. I am based in Singapore with my wife, baby girl and two border collies. The top three countries I recommend you visit are Norway, Peru and Namibia.
Al: I am absolutely in love with Asian markets. The night markets in Taiwan are damn near my favourite places on the planet. Same for markets in Thailand. Foody paradise. When I'm not in the city sampling culinary wonders, I'm usually hiking mountains and bicycle touring, which makes my current post in Costa Rica ideal.
Barry: Korea has to be my number one place to have travelled. Not only does Korea have the culture, traditions, volcanoes and unbelievable food, but it's also where I met my wife and our first son was born. I first travelled there over ten years ago on a whim, and since leaving, it is a place that has remained with me every day. Whenever I meet someone who is thinking of travelling to Asia, I try to convince them to visit and experience Korea. I am currently living in Saudi Arabia, swapping typhoons for sand storms!
WWD: If you pressed 'play' on your music system right now, what would I hear and on what format?
Our musical tastes are pretty eclectic. On any given day, our playlist might range from artists who are similar in style to and have influenced our music—Bonobo, Tycho, Jungle, to name a few—but the list will shift to genres from all around the world—Irish folk tunes, Tom Waits, Ravi Shankar, Kendrick Lamar, Big Thief, James Brown.
Al is currently obsessed with Lil Yachty's recent record Let's Start Here.
Dibby is still a vinyl guy who spends much time hunting for gems on Discogs.
Barry listens to whatever Dibby tells him to! Being the least in touch with electronic music, Barry brings his love of Irish folk, acoustic music and blues to Island Hill.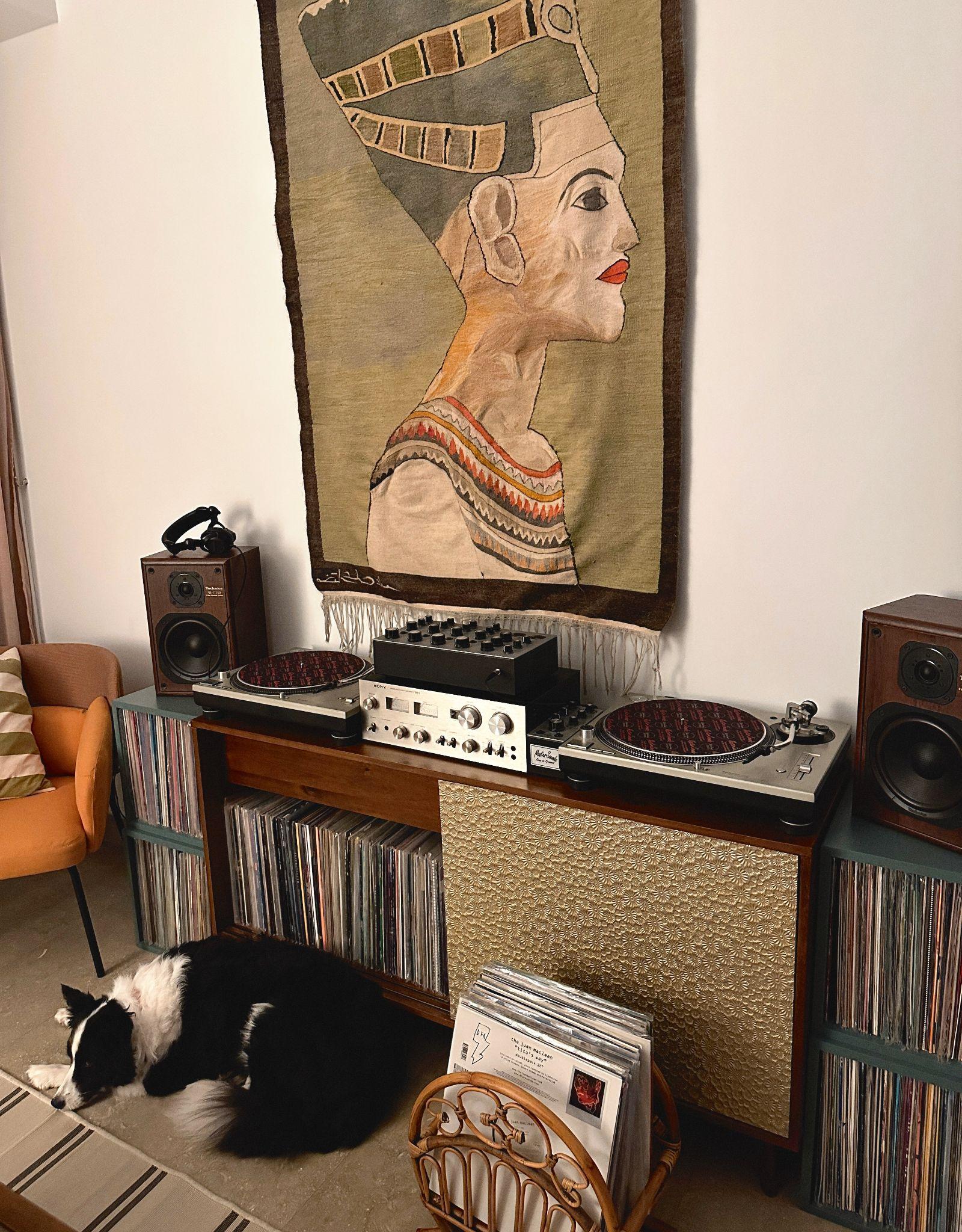 Dibby's home vinyl space
WWD: It's obvious Island Hill like to experiment with different instruments and sounds. What's the weirdest instrument that you've ever played?
Al: One of my favourite memories is jamming with an Australian teacher comrade, David Kelly, a killer visual artist, photographer, and didgeridoo player. He gave me a few lessons on the "didge", and we have had some truly primal jams around a few beachside campfires. Check his great work out at https://davidkelly.studio/
Dibby: I wouldn't call it weird, but I picked up a vintage Yamaha CS synth in an underground second-hand music store in Seoul that is featured quite heavily in parts of the album.
Barry: Trying to see if an Irish mandolin will work on an electronic track is up there with one of my more courageous moves.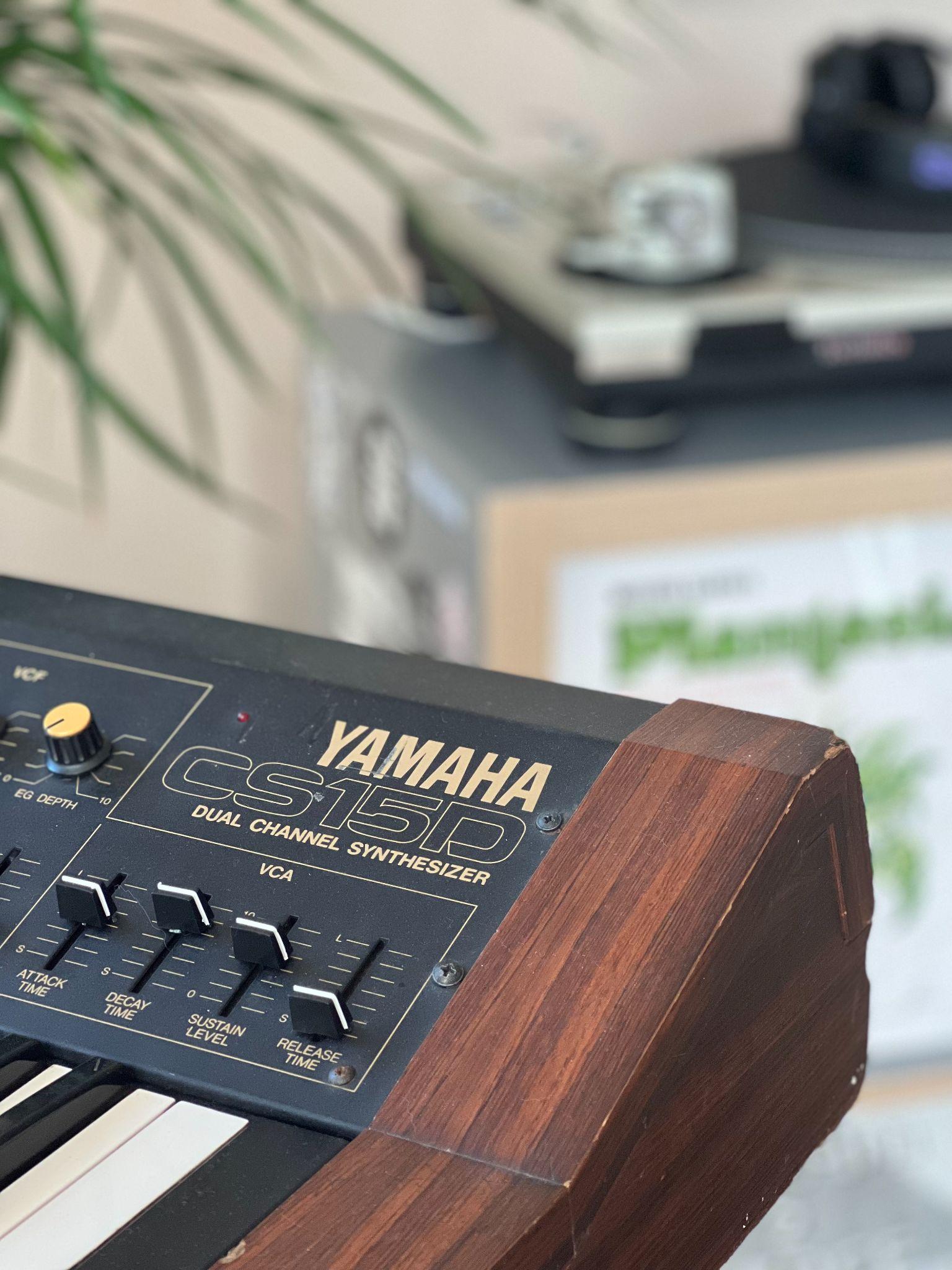 WWD: And finally, what should we expect from Island Hill in the year to come?
In the months before the release of our debut record, Strangers in Paradise, we have been busier than ever promoting the album, working on music videos, and putting all the final touches on our work from last year, but that hasn't stopped us from getting ideas recorded for our next album. We are really excited about some of the new songs we are putting together and hope to make our sophomore record even better than the first.
Al has also been working on some live versions of our songs, so expect to see some live loops, stripped-back acoustic performances, and plenty of spacey soundscapes for your viewing and listening pleasure.
Release Date: March 10th, 2023. Buy Here
Island Hill: Facebook // SoundCloud
Macho Cutie: Instagram // SoundCloud
Bedrock: Facebook // SoundCloud