27 April 2023
Sumdayz is back to take up its position as the most crucial minimal techno event in Rome from Friday September 22nd to Sunday 24th. This year taking place at Ippodromo Capannelle, it offers an immersive a mix of unique world class headliners such as Craig Richards B2B Francesco Del Garda, Binh b2b DJ Masda, Dungeon Meat, Dyed Soundorom B2B tINI, Mathew Jonson LIVE, Rhadoo, Samuel Deep B2B Doudou MD, Sonja Moonear and Sweely amongst many more.
After an epic debut last year, Sumdayz ups the levels this year as it returns to the new venue of Ippodromo Capannelle, an epic arena that was constructed in 1881 and rebuilt in 1926 as one of Italy's most famous racecourses. It is a unique venue that makes for a special unique atmosphere in the historic city as the multi-stage festival provides immersive audio and visual experiences across the entire weekend. Sumdayz was founded by a creative team of long-term collaborators, with the sole aim of creating the most experience-based music festival in Italy and boasts some top talents.
This year's line up is another carefully curated one with cultured sounds from across the house, minimal and techno spectrum, plenty of top live acts such as Mathew Jonson and Paul Lution, some magical b2bs including Alex Dima B2B Cristian Sarde B2B Munir Nadir, Brasi b2b Gabbs, Craig Richards B2B Francesco Del Garda, Binh B2B DJ Masda, Dyed Soundorom B2B tINI, Samuel Deep B2B Doudou MD and plenty more from the likes of Rhadoo, Sonja Moonear, Sweely, DJ Senc, Dungeon Meat, Fabrizio Sala, Harry McCanna, Laidlaw, Luc and many more.
This is the ultimate electronic experience in the heart of Rome and a must visit festival for those in the know. Get your tickets now HERE.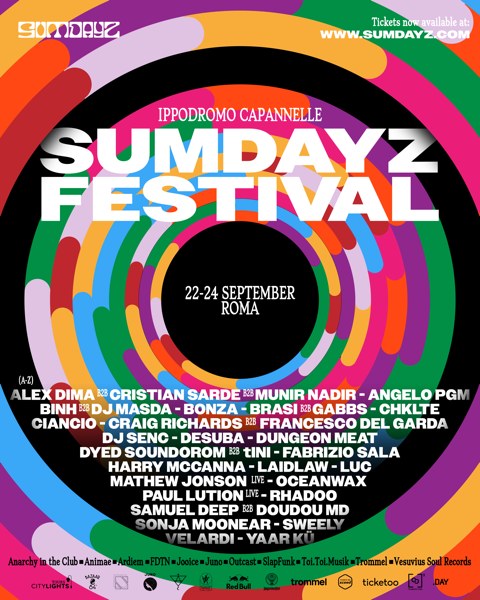 LINE UP
Alex Dima B2B Cristian Sarde B2B Munir Nadir
Angelo PGM
Bonza
Brasi b2b Gabbs
CHKLTE
Ciancio
Craig Richards B2B Francesco Del Garda
Binh B2B DJ Masda
DJ Senc
Desuba
Dungeon Meat
Dyed Soundorom B2B tINI
Fabrizio Sala
Harry McCanna
Laidlaw
Luc
Mathew Jonson LIVE
Oceanwax
Paul Lution LIVE
Rhadoo
Samuel Deep B2B Doudou MD
Sonja Moonear
Sweely
Velardi
Yaar Kü