17 May 2023
Multi-instrumentalist sensation BORA UZER welcomes a vibrant array of exhilarating special guests as 'OJO' returns for a new season at Blue Marlin Ibiza this Summer. Returning in 2023 as the new Friday day & night residency, for 13 weeks across what is expected to be one of the biggest Ibiza summers to date.
Mesmerising live artist Bora Uzer and world-renowned Blue Marlin have revealed the lineup for one of Ibiza's most sought-after and vibrant events; 'OJO'. Bursting with word-class talent, OJO's uber cool lineup is set to include:
Adam Ten, Ariel Vromen, Arodes, Bruz, Chambord, Deer Jade, Doozie, Eelke Klein, Elif, Guy Laliberte, Jose Noventa, JACKSON, Kimonos, Maga, Malone, Nick Warren, Oona Dahl, Valentin Huedo & more…
Bora Uzer is a captivating artist that has seen a rapid rise in electronic music over the last eighteen months. His inimitable sound and unparalleled performances, in combination with his unique aura and inspiring personality, have taken the scene by storm and have seen him collaborate with globally renowned labels, events, festivals and brands.
In a world thirsting for unity, connection and meaning, Bora Uzer is a relentlessly positive force that has dedicated his life to the creation of sonic moments of shared bliss. The 'OJO' event series is a real world manifestation of Bora's vision and ethos, his way of life and his uplifting contribution to an increasingly challenging world.
'OJO' is an inviting and uplifting party revered for its illuminating audio/visual experiences that enliven, awaken and inspire those present to flourish in the moment under the enthralling Ibiza sunset. Unexpected and otherworldly, OJO will take you on a trip far from your day to day reality. 'OJO' is not a sound, nor a space. It is a feeling, and a place deep within your mind's eye.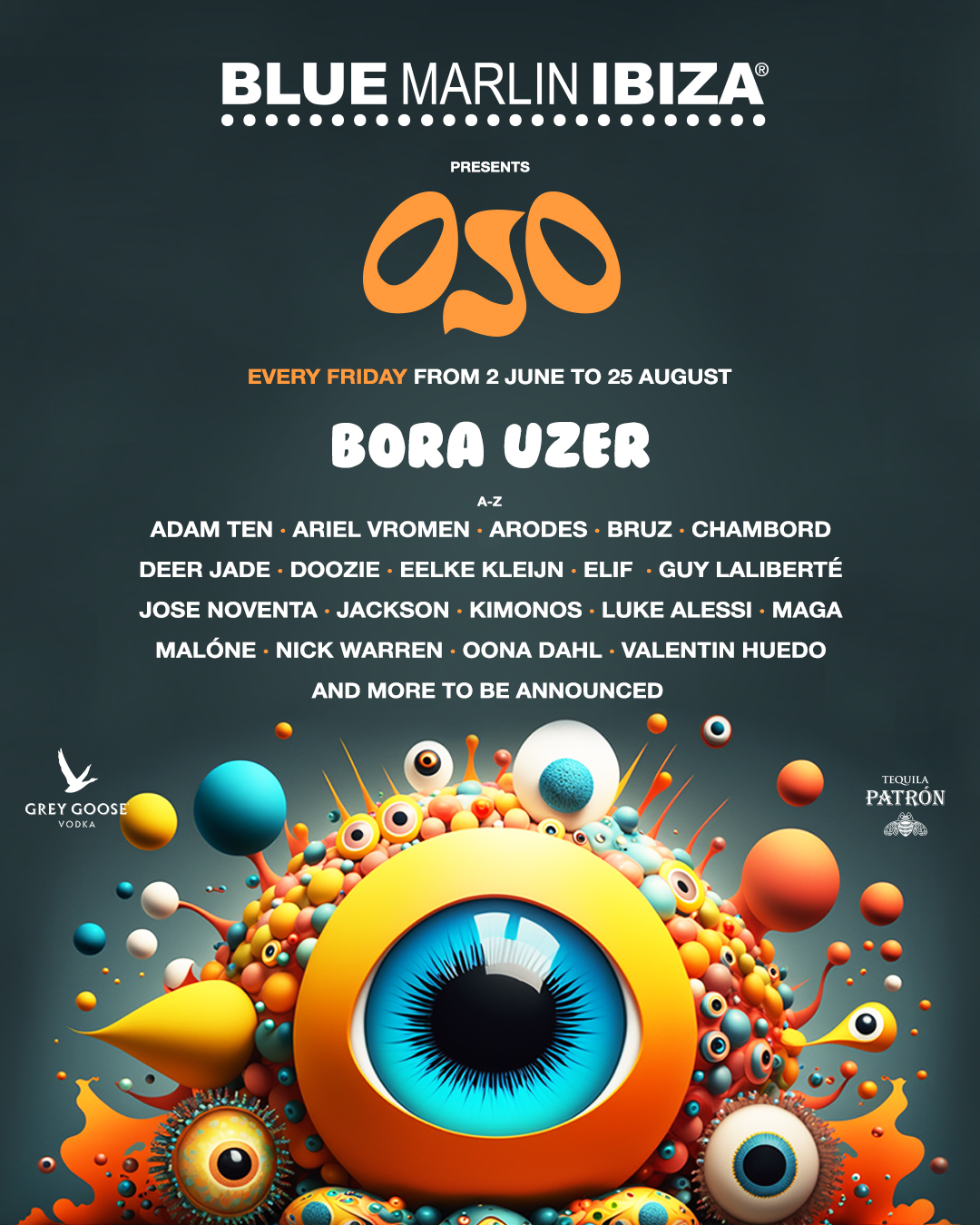 Follow Bora Uzer :
Instagram | Spotify | Soundcloud
A journey across two decades and multiple continents has inspired effervescent multi-instrumentalist and wordsmith Bora Uzer, fuelling a drive to connect the dance-floor with a blend of thrilling electronic strands, mesmerising melodics and captivating vocal work in what is now his inimitable, energising sound. His vibrant musical productions have been released by global tastemakers including Sol Selectas, Solomun's Diynamic label and legendary UK imprint Renaissance.
The last 12 months saw Bora Uzer join the renowned Rufus Du Sol across the United States on their most recent tour, while also performing in iconic venues from Denver's Red Rocks to Ibiza's Blue Marlin and Scorpios of Mykonos. Not to mention, appearances at globally renowned festivals such as BPM Festival, Tecate Pal Norte, Festival Estéreo Picnic, Tropico Festival, and much more. A mastery of emotion and a vision of connection sees him deliver unifying live performances that push the boundaries of electronic music with off the cuff instrumentation and an enthralling creativity.