22 May 2023
Wassu will always hold a special mantle at the TOR imprint, as the man who inaugurated the label with his Andu EP in 2020. Since then, the New Yorker has turned heads with a string of prolific releases on the likes of Anjunadeep, All Day I Dream, and When We Dip XYZ. With each passing project, Wassu's mastery of warm melodies and boastful basslines deepens. His latest offering, the Not So Random EP, is a distinct sign of his current studio soundscapes, and showcases the ever-evolving sound of the wizardly Wassu.
The title track Not So Random opens with a driving kick drum moving us right into high gear. A throbbing bassline widens the breadth, as classic piano chords bring a touch of the timeless. Energy elevates through the build, rich with reverb, as the big kick returns to offer quintessential dancefloor moments.
On the B-side Loux, Wassu brings a touch of percussive flavor to greet a very playful underbelly. Progressive tones reach deep into the cosmos to twinkle the senses, as floating melodies and distant vocal chops surge us towards higher planes.
Closing out the trio is Club 201, merging melodic movements to showcase Wassu's sound at its most magical. Rhythmic and riveting synthetics swirl, allowing a deep groove to cut through and send sun-drenched dancefloors into euphoria.
To celebrate the release of the 'Not So Random EP' we caught up with the American producer to talk about life as of recently in and outside of the studio.
WWD: Weston, congrats on the new release and many thanks for chatting with us.  We are so excited to have you back! 
Hey guys, thanks! Excited to be back on the label!
WWD: Tell us a bit about this project and what it means to you.  Where did you draw inspiration from? 
I wrote the lead track ("Not So Random") back in the Summer of 2021. This was when we got a glimpse of normal life again post-Covid. I wanted to write something that was a little more suitable for the late night dance floors, hence the 90s rave vibe you hear throughout the track. 
Club 201 was written around the same time, with the goal of the track being more club-friendly. Loux is dedicated to my grandfather who passed in 2019, with a sample of him laughing together recorded on my Zoom H4N a few years ago during a family Christmas in Ocean City, Maryland. We had some great memories together (playing golf, him roasting me about my dating life haha, etc.) that I'll never forget. It's one of the faster tracks, written at 125 BPM, which still leads me to believe that it could be a good closer for my sets, which seems to have worked well over the last year or so!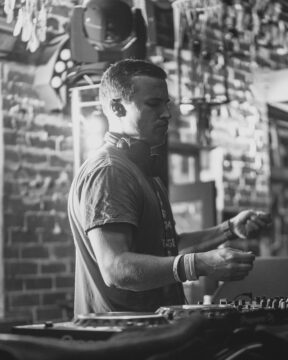 WWD:  For those who don't know you yet, how would you describe the 'Wassu' sound in 3 words?
Emotional, Melodic, Radgetastic
WWD:  It looks like you've been touring around recently.  What has been your most memorable party to play in the last few months? 
Yeah, it's been so nice getting back on the road and seeing a different city every weekend. Recently, I have to say the shows in San Diego, Los Angeles, and Chicago are ones I'll never forget.  Packed houses at all three and you could clearly tell that the people were there exclusively for the music and good vibes!
Big shoutout to Jimbo James at Love Life Party, Christian Piniero at SET Underground, and Alfred Clayton at Chicago Progressive House for throwing three parties I'll remember forever <3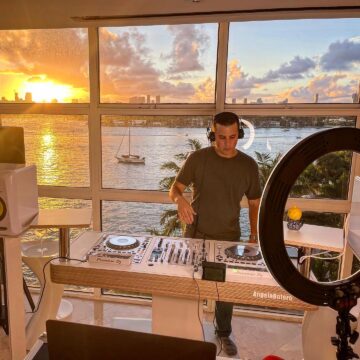 WWD:  Let's talk about your dream party. If you could play a party anywhere, with anyone on the lineup… what would it look like? 
I've been really wanting to play a sunset boat party for quite some time now. The last proper one I played was August of 2019, so that's almost four years ago. 
If I had to pick the line up for a boat party to play with me, I would pick Guy J. He's been my favorites since I can remember.
WWD: Tell us about your life outside of the studio. We hear you've been running up a storm recently. 
Yes, running a lot haha (on avg anywhere from 55-70 miles per week). It's a lot to juggle, not to mention I'm balancing a full-time corporate job outside of the studio. I love it, though. My co-workers and managers have been supportive and I'm forever thankful to work with them. Most of them have actually seen me perform at this point haha (between my shows in NYC and Charlotte, where the company is headquartered).
Also have to give a big shout out to my good friend Daivik (aka "Devi) who's been diligent in writing up my training schedule for running. He's been very understanding of my hectic tour schedule, haha.
WWD:  What's usually on your headphones when you are running?
It really depends on my mood but lately: Third Eye Blind, Foo Fighters, Tim Green (his new Balance album is superb), Nils Frahm, Dennis Lloyd, Filter, Darius, Guy J, Simon Doty, Marsh, TV, Phonic Youth, Sum 41 (saw on social media they're winding down their touring / breaking up, which is unfortunate), and David Orin.
Haha – it's quite eclectic – really depends on my mood!
WWD:  What is going on in the studio these days?  Any upcoming projects or parties we should keep an eye out for? 
Oh yeah, quite a lot! I have releases scheduled for every month for the remainder of the year including new label debuts I've been shooting for for quite some time now! I have shows confirmed in Indianapolis, Nashville, Toronto, Denver, San Diego, and San Francisco this year, so please follow me on Songkick / Bandsintown to stay up-to-date!
Also likely have some international debuts happening this summer, so please be on the lookout for those as well!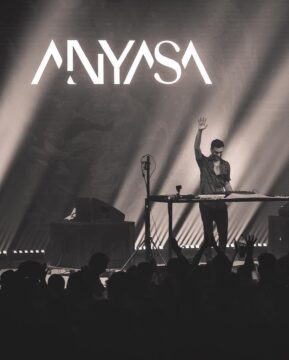 WWD:  Thanks again for chatting with us Weston.  We hope to see you again soon! 
Thanks again, guys! Always love working with the Dip family and hanging with the guys, so I hope our paths cross again in-person soon!
Connect with Wassu
Soundcloud – https://soundcloud.com/wassumusic
Facebook – https://www.facebook.com/wassumusic
Instagram – https://www.instagram.com/wassumusic/
Connect with XYZ – https://linktr.ee/wwd.xyz
Stream releases in full via Spotify: https://spoti.fi/2uDd07z
Wassu – Not So Random [TOR040]
Release Date – 04.28.23
Stream & Buy – https://xyzlabel.lnk.to/NotSoRandom